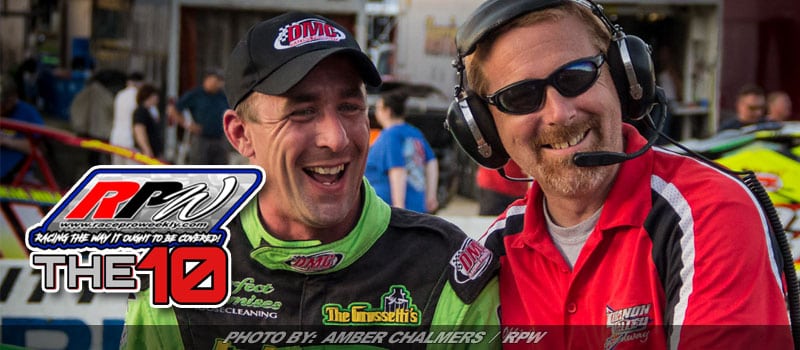 Column By: RYAN HILL / RPW – AVERILL PARK, NY – Today's installment of RPW's "The Ten" turns away from drivers and puts Lebanon Valley Speedway Chief Starter Rodney Rescott on the hot seat. Rodney out of Averill Park, NY has been officiating on the high banks since 1996.
1- HOW DID YOU GET YOUR START AS AN OFFICIAL?
In '96 when I started under the Pit Stewart Mark Fluery, I was actually flagging at the adjoining go-kart track next door to the speedway during open throttle racing nights. Mark had asked me to help out over at the dirt track, and so I began doing little things each week as I was just starting to get my feet wet. I went from manning the starting cone for each start which was simply just pulling in a traffic cone on a rope when the races started. I then moved on to working the end of pit road for a couple of years. I drove the pace car for a season or two, and then moved to the backstretch flagger. After a few years as a backstretch flagger, I then moved to back up flagger, then Chief Starter for the last dozen years or so.
2- WHAT IS THE ONE RACE YOU WOULD LIKE TO WAVE THE CHECKERED FLAG?
I have always wanted to be the Chief Starter at Super Dirt Week. Before I was a flagger I wanted to race the Moody Mile during SDW, but realizing that wasn't going to be an option for me for my lack of funding, so when I became a flagman, my goal changed to being on the big stage at the greatest party on Dirt!
3- IS THERE A FINISH THAT WAS THE MOST EXCITING?
Over the course of years doing what I do, you always enjoy the nights where you get to see firsts! Driver's first wins in heat races, qualifying for their first main events, but it's those firsts, though overwhelming and exciting for the drivers, it is for me as a flagman, but as a fan too. I have three that stand out most in my mind that are very special to my heart. The first is being able to give the double checkers to a very special young man that has since left us all way to soon, that being the #77J of JC Flach. That was special on that night for many reasons, including being his first win as a big block modified driver; but in hindsight, as bittersweet as he passed away later that same year. The 2nd most exciting for me had to be the most recent which was seeing the veteran racer Denny Soltis pull off the upset win at the final night of the 2017 season (and seeing John Ruchel score his first top 2!). And lastly, the most important and exciting for me was being able to double checkered the first career win of one the 'good guys', and one of the nicest racers you will ever meet in the pits, that being the legendary Mike King #55. Being able to celebrate with him, his crew, his family and fans, was by far one of the longest victory lane celebrations at the Valley in history! I have been so lucky to be able to flag races won by so many drivers, so many legends and Hall of Famers over the years. From Kenny Tremont Jr, Brett Hearn, Billy Decker, Matt Sheppard, Stewart Friesen, Eddie Marshall, and Donnie Ackner to just name a few.
4- HAS THERE BEEN ANY UNIQUE OR STRANGE RACES THAT COME TO MIND?
Luckily for me I have not had any strange or unique finishes over the years. At the starts, yes, during the race, certainly, but as for a finish, they are all exciting when you have two drivers laying it all out there for the last 100 yards to be able to add their names to the record books as a winning at what is considered the hardest track in the Northeast to win at.
5- DO YOU HAVE A BUCKET LIST TRACK TO FLAG AT?
My bucket list of tracks to flag at are from a Dirt Track perspective, Eldora has to be at the top, followed by Knoxville, Tulsa for the Chili Bowl, The Dirt Track at Charlotte, and of course the legendary local tracks of Albany Saratoga, and Fonda Speedway! Though I would never turn down an opportunity to flag the paved tracks either like Daytona, Talladega, or Bristol!
6- WHAT IS A TYPICAL RACE DAY LIKE FOR YOU?
My typical race day consists of first, getting my family to the track with me. In racing, there is nothing more important than family! For the most part, we all come to the track together at the beginning of the night. After that I check in with the Pit Steward for any updates or rules issues. I usually check in with the track promoter and owner Howard Commander to discuss any program notes, promotions, or track related concerns. I also like to touch base with the drivers and crews just to let them know I am always available to talk or discuss rules or just to chat. Usually by then, my trusty assistant for the better part of dozen years or so, John Castarella Sr, is telling me to quit my socializing and lets me know it's time to get to work on the stand. Once I'm in my 'office', it's time to get to the business of running races.
7- DO YOU THINK RACING HAS CHANGED FROM THE START OF YOUR CAREER?
Over the years, the racing has changed. Some for the good, some not so much. I grew up going to the races every Saturday night all through the 70's and 80's where there was a bit of a no holds barred attitude in racing. But that was also back when there was one or two guys in a dusty shed building their own version of a race car out of parts and pieces of what they could find at a local junk yard to try and compete. Lots of time and effort, but not a lot of money. Now a days, it has evolved into who has the biggest budget. Don't get me wrong, there is still a lot of time and effort into today's race teams, but it's not half of what it used to be. Now you can buy a part and put in on a car, back in the day, you had to make that part first. The racing and racers are still just as passionate, but just for different reasons. So in a way it has changed, but in the same breath, it is still the same!
8- WHAT DO YOU SAY TO THE DRIVERS WHEN YOU WALK THE FRONT STRETCH PRE-RACE?
A few years ago I started walking through the field before each Modified Feature to wish each driver a safe race and wish them all good luck. There was no real underlying reason I started doing that except for being a race fan at heart, and this gave me that opportunity to do what the fans on the other side of the fence wish they could.
9- WHAT MAKES YOU PROUD ABOUT YOUR POSITION?
My proudest moment or moments is usually pretty simple and small compared to the bigger picture of the race or the whole night. It's when we get it right. And when I say we, I mean every official that is part of the night. From my assistant on the stand, to the Pit Steward, to the Race Director, the Tow Truck drivers, the backstretch flagger, the pit road flagger, and the guys that do the handicapping and line-ups, all of them play an important part of a successful night and when it all goes right from start to finish, that is my proudest moment because I know I did my part and the team did theirs.
10- IS THERE ANYTHING UNIQUE TO FLAGGING AT LEBANON VALLEY SPEEDWAY?
Lebanon Valley Speedway is the largest weekly tracks that teams typically race on. To flag Lebanon, you have to really be a multi-tasker. When the night starts to when we finish, it's a lot of work. And with such a large track, the field spreads out quicker, and you have to be aware of all of it and manage that the best you can. Experience has taught me many things over the years; always expect the unexpected, never turn your back to the cars, and never drop the flags! At the end of the day, I am there to make sure the drivers race within the rules, and have a race as safe as humanly possible. We are also there to make sure the fans in the stands enjoy their experience when they come out to the track to support their drivers and teams.
As a side note, Rodney would like to add that he is proud to say that he waved the checkered flag over the winning sprint car of Erin Crocker, the first female driver ever to win a World Of Outlaw Sprint Car A Main in history! Rodney also wants to thank his family for enjoying the sport he loves so much, allowing him to do what he does every Saturday night from April to September, and the sacrifices they make for him.