Yetman, Duell, Meltz Want To Be Pro Stock King In '17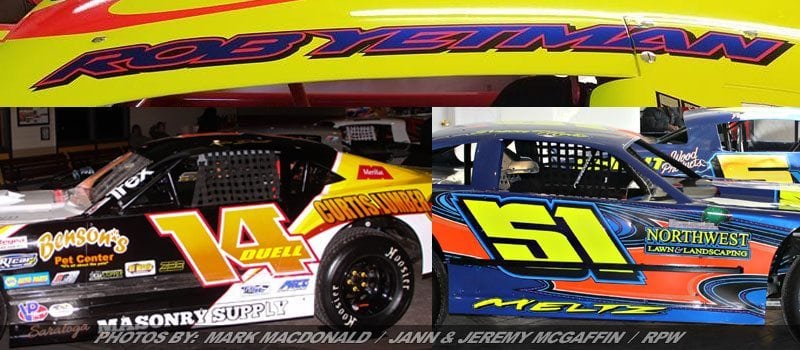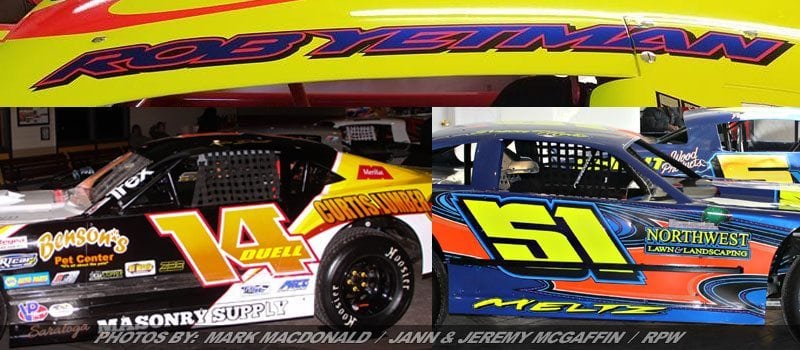 Information By: ROB HAZER / KING OF DIRT – FONDA, NY – Three talented drivers have thrown their hats into the ring in search of the 2017 King of Dirt Pro Stock Series crown.
For two consecutive seasons Rob Yetman has been one of the stars in the Lazzaro's Auto Body King Of Dirt Racing Pro Stock Series. In both seasons he's found himself just shy of the championship finishing 3rd (2015) and 2nd (2016) in points. There's only one spot to improve for the four-time Super Dirt Week champion and that's to dethrone King Robbie the 1st.
Yetman has run well at every track KOD Pro Stocks have visited, but every super hero has their kryptonite. Albany-Saratoga has been a tough race to finish strong for Yetman, as he's only cracked the top five once in four KOD races. Will 2017 be the season multi-time champion and SDW winner Rob Yetman puts it all together or will rivals have the last laugh. The throw down for the crown begins May 14th at Utica Rome Speedway.
Kim Duell needs no introduction. He's been around racing longer than KOD Promoter Rob Hazer has been alive. He's won since the moment he sat in a racecar seat. In 2017 he'll take his talents on the road chasing the Lazzaro's Auto Body King Of Dirt Pro Stock crown.
Duell has set ambitious goals for 2017 driving a pair of Pro Stocks prepared out of his race shop. His Twister chassis is a design of his own built by himself and Dave Madej, which he'll race weekly at Albany-Saratoga. Duell will take the Joe Mulvaney Jr. owned Cannizarro chassis on tour following the KOD and DIRTcar Pro Stock tours.
Jason Meltz has been a talented force in the Street Stock division around the Capital District for some time now. He's a feature winner, a champion, and an avid supporter of full-fender racing. In 2017 he'll challenge himself by not only moving up to the Pro Stock division, but also touring with the talent rich drivers of the Lazzaro's Auto Body King Of Dirt Racing Pro Stock Series.
Meltz will contend for the Newcomer Of The Year honors on tour, along with his family business Meltz Lumber presenting the August 26th KOD Pro Stock race at Lebanon Valley. He will join the likes of Speed, Yetman, Stone, Older, Brownell, Charbonneau, Routhier, Dumblewski, Wescott, Casey, Horning, Hollner, and more making for must see Pro Stock events with arguably some of the best full-fender talent on dirt.
KING OF DIRT RACING is brought to you in part by sponsors and partners that include: Albany-Saratoga Speedway, Devil's Bowl Speedway, Fonda Speedway, Lebanon Valley Speedway, Utica Rome Speedway, 1-800-GOT-JUNK?, A-1 Installers, Andy's Speed Shop, Beyea Custom Headers & Exhaust, Bicknell Racing Products, Bill McGaffin Photography, Bruno's Towing & Recovery, Buff's Auto Service, Burt's Tree Service, Dean's Electrical Service, DE Signs & Designs, Dirt Track Digest, DKM Fabrication, Dodson Construction, Electric City Taxi, Elmo's Auto Body, Elmo's Speed Supply, Extreme Speed & Performance, Fast Axle, Fastline Performance, Flach Performance Products, Fox Racing Shocks, HICO Fabrication, Herrington Farms Inc., Hoosier Racing Tire, J-Tees Screen Printing, Lazzaro's Auto Body, Macedon Parts Plus, Mayhem Motorsports, Moore 2 Music Entertainment, NAPA Auto Parts Of Gloversville/Johnstown, Next Generation Roofing, PFC Brakes, R3 Graphics, Race Pro Weekly, Racers Guide, Redline Graphics, Saratoga Masonry, Simplicity Designs, Speed's Garage, Stone Motorsports.