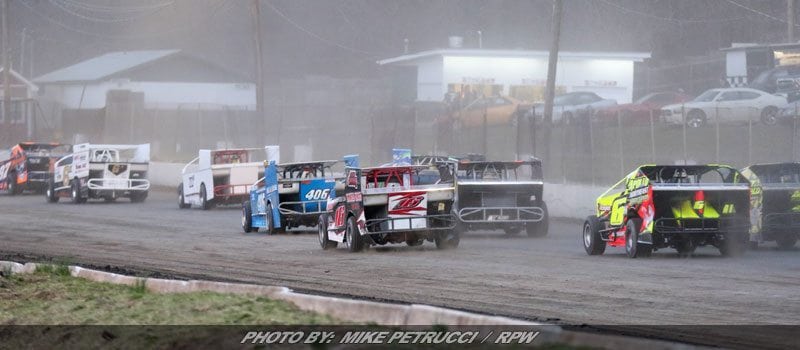 Story By: BRETT DEYO / SHORT TRACK SUPER SERIES – MIDDLETOWN, NY – Due to predicted rainfall during the week and a harsh winter, the 'Hard Clay Open' at Orange County Fair Speedway has been postponed by one day, to Sunday, April 9.
OCFS promoter Michael Gurda IV opted to push practice back to Saturday, April 8 and the race to Sunday with the best interest of competitors in mind.
"Looking at the forecast for this week, our best option to put on a quality show is to slide back a day to Saturday and Sunday," Gurda said. "We are expecting significant rain Thursday into the overnight and Friday morning. The extra day will allow the facility to dry out and have the track prepped properly.
"Saturday will be reserved for open practice. I feel we will have a much better surface for the race after completing a practice session on the track. The 'Hard Clay Open' has become one of those races on the Orange County schedule our fans and teams look forward to and we want to provide the best track conditions and facility possible."
April 9 had been listed as the scheduled rain date for the event since the Bob Hilbert Sportswear Short Track Super Series (STSS) Fueled By VP schedule was released in December.
"We want the best conditions possible for this event and were happy to make the adjustment," STSS organizer Brett Deyo said.
On Saturday, open practice will take place from 1-5 p.m. with pit gates opening at 11 a.m. Pit admission is $25 for practice and grandstand admission is free.
Sunday will serve as the Halmar International North Region Race No. 1 for the STSS Modifieds with the 'Hard Clay Open' 50-lap, $5,000-to-win, $1,000 for 10th, $500 to take the green big-block/small-block Modified event. Also on the card are Crate 602 Sportsman, following weekly Orange County rules, paying $1,000 to win and $100 to start.
The Sunday time schedule will remain as posted: pit gates open at 11 a.m., grandstand and drive-in gates at noon, hot laps at 3 p.m. and racing at 4 p.m.
Adult admission is $22. Seniors pay $20. Kids 12 and under are $2. Pit admission is $35, with no license required.