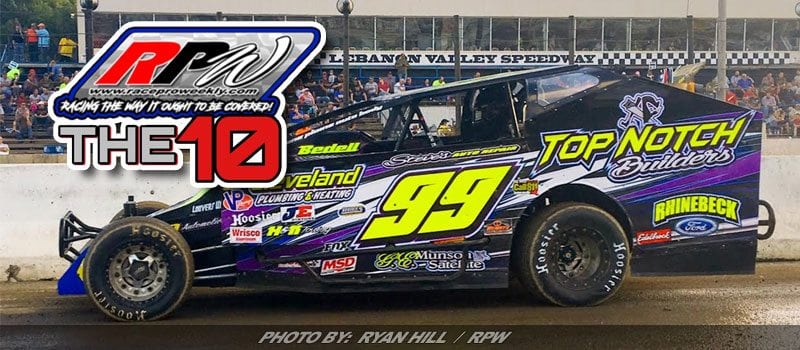 Column By: RYAN HILL / RPW – STAATSBURG, NY – Welcome to RPW's THE TEN.  In THE TEN we will introduce you to drivers of all levels and disciplines by asking them ten quick hit questions.  Kolby Schroder straps in for our inaugural installment of THE TEN. Kolby is the driver of the Top Notch Builders 99 Teo Pro Car Big Block Modified at Lebanon Valley Speedway in West Lebanon, NY.
1- WHY ARE YOU # 99?
When I raced karts I was number 9, but when I moved up to the Sportsman Division at Lebanon Valley Speedway the number 9 was taken, so we went with 98 because we bought our first car from Eddie Marshall.  When the deal came together to move up to Big Block Modified racing we became the 98S, but after a few seasons we wanted to have our own identity.  My father and everyone on our crew, in one way or another, was involved on Dickie Larkin's team, so in 2016 we changed our number to 99 to honor that tradition.
2- IF YOU WERE NOT DRIVING A MODIFIED WHAT WOULD YOU LIKE TO DRIVE?
I would like to go Late Model racing.  I would stay racing on dirt because the drivers are still involved in working on the cars.
3- WHAT IS YOUR PROUDEST RACING MOMENT?
Definitely my first big block modified win.  I watched modifieds my whole life and winning that race meant we finally made it.  I had a lot of big karting wins, but that first big block win was special; it was only our seventh big block race ever.
4- WHAT IS YOUR MOST EMBARRASSING RACING MOMENT?
That has to be racing the Junior 1 class at Albany Saratoga Speedway back in the karting days.  We were doing well at a lot of places, but struggled there the whole season.  We always ran 2nd to Steve Mabey, but one night we finally hit the set up.  I was leading when the white flag came out …. I pulled in; I thought the checkers had come out.
5- WHAT IS RACE DAY LIKE FOR YOU?
I go over the car, make sure I stay hydrated, stay calm and try not to let things bother me. When we are under caution I try to get myself fired up so my adrenaline does not spike when the green flag waves, especially if I am mid pack.
6- WHAT RACE DO YOU WANT TO WIN THE MOST?
Super Dirt Week would be awesome to win, it is our Daytona 500. I love how the event stands alone, and that so much work goes into racing the event.
7- WHAT ARE YOUR OFFSEASON ACTIVITIES?
Snowmobiling and working on the race car.  It is always exciting to be in the shop getting the car ready for the next season.
8- WHAT DO YOU FEEL ARE YOUR STRENGTHS?
Being as smooth as possible.  I try to do a lot with my throttle control and steering, which goes back to karting where one bad steering move can ruin your race.
9- WHAT DO YOU NEED TO WORK ON?
I need more Big Block experience to have the confidence to know what to do in certain situations.  Traveling to different tracks would be a big help with that too.
10- HOW DOES RACING AFFECT YOUR PERSONAL LIFE?
Time is the #1 thing.  I would say that ¾ of my life has been devoted to racing.  I didn't play school sports and things like that; vacations get sacrificed to be able to do this.
Kolby added that he would like to his family, loyal sponsors and the 99 crew for everything they do to make it possible for him to race, Kolby is also a fan of racing and thanks everybody that works hard at the tracks, in the press and in the stands making our sport a success.