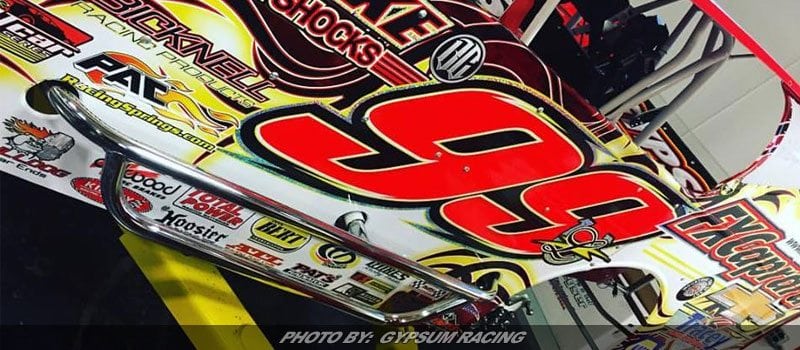 Story By: GYPSUM RACING – FULTON, NY – Off season preparation for the upcoming race season is just about done! Since the Chili Bowl, all focus has turned back to Big-Block racing. The winter has allowed for numerous upgrades for both Gypsum Racing drivers, Larry Wight & Pat Ward.
Each were able to get a new Bicknell Chassis. After a busy 2016 race season, time was finally available to go through and organize the hauler and fully stock them.
Larry has his sights set on getting his first win at the big half mile oval of Volusia Speedway Park. Larry has had success over the last couple of years, coming away with the "Big Gator" in 2015 and 6 top 5's in 21 starts over his career. This will be the team's first time back to Volusia with a Bicknell since the 2012 racing season.
After switching to Bicknell's in July 2016, Wight finished the season strong. Wight, along with Crew Chief Scott Jeffery and the rest of the crew are excited to get 2017 underway. After coming off a 13th place run at the Chili Bowl, Larry and crew hope to keep the momentum rolling into Florida, and throughout the 2017 racing season.
Pat Ward has also had a busy off season preparing for 2017. After finishing 2016 strong in Charlotte coming home with a 4th and 2nd, Ward plans on keeping the success flowing in 2017. After switching to Penske Racing Shocks and with help from Dave Reedy last season, Ward is ready to tackle the upcoming season with confidence.
We are excited to welcome FX Caprara Chevy to our team for the upcoming season. FX Caprara is located right off of Interstate 81 in Pulaski. If you're in need of a new or used car give them a call at (866)-925-2612!
Returning sponsors include Gypsum Express, Gypsum Wholesalers, Big Red Towing, Tracy Road Equipment, Napa Auto Parts, Penske Racing Shocks, Pac Racing Springs, Simpson Racing Gear, Syracuse Haulers, Industrial Tire of CNY, and Stadium International Trucks.
For updates throughout Speedweeks like us on Facebook (Gypsum Racing) and Follow us on twitter (@gypsumracing). Also, add us on Snap Chat for all the behind the scenes action (@gypsumracing).