Column By: RACE PRO WEEKLY STAFF – BARBERSVILLE, FL – The Big Block Modifieds came to life Tuesday night at the Volusia Speedway Park with three rounds of practice.  This allowed the teams in attendance to get their first cracks at the speedway they will be running on four the next four nights.
Fastest in the first two rounds was Edwards, NY's Tim Fuller.  Fuller, who parted ways with car owner Dave Rauscher at the end of 2016, was extremely quick in his new Graham Racing #19 Bicknell Machine.  Max McLaughlin was second fast followed by Rick Laubach, Larry Wight and Jimmy Horton.
With Edwards quickest in the second set as well, the rest of the top five was a who's who of Big Block superstar power with T-Bone, Justin Haers clocking in second followed by Wight, defending Super DIRTcar Series Champion Matt Sheppard and Brett Hearn.
The third and final round of practice saw Stewart Friesen at the top of the chart.  Friesen, who will be running the full NASCAR Camping World Truck Series schedule this year, has brought a DKM Fabrication-chassis machine to the Barbersville, FL oval this week.  He ran it a handful of times last year at tracks like Fonda and Utica-Rome, but this will be a great way for he and the car builders to dial it in.
Young Erick Rudolph was second on the speed charts in the session followed by Fuller, Billy Dunn and Sheppard.
Competition for the Modifieds is set to begin on Wednesday night in the first of four straight nights.  Stick to Race Pro Weekly to get all the news.
Practice #1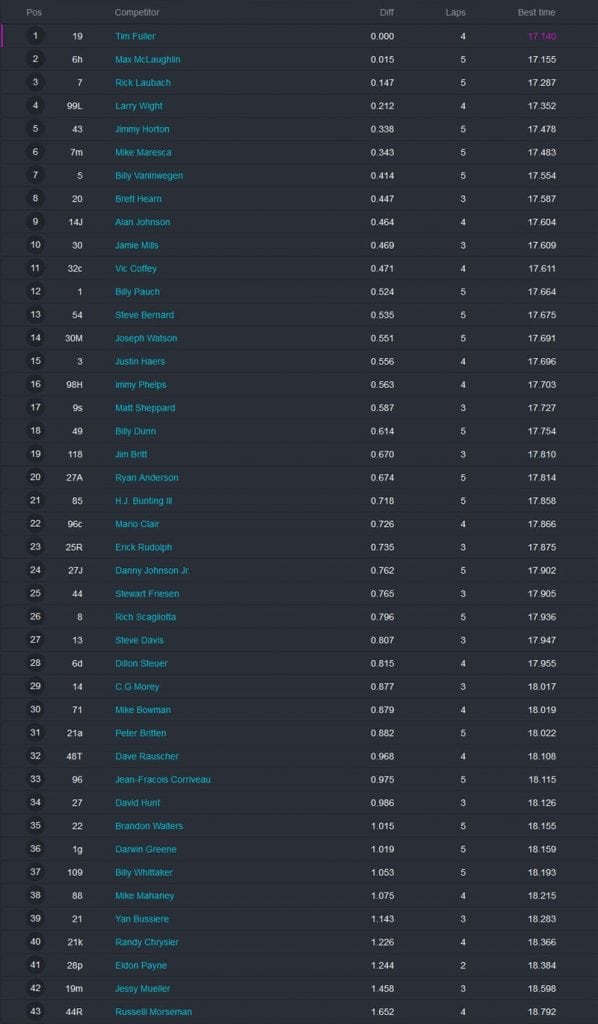 Practice #2
Practice #3