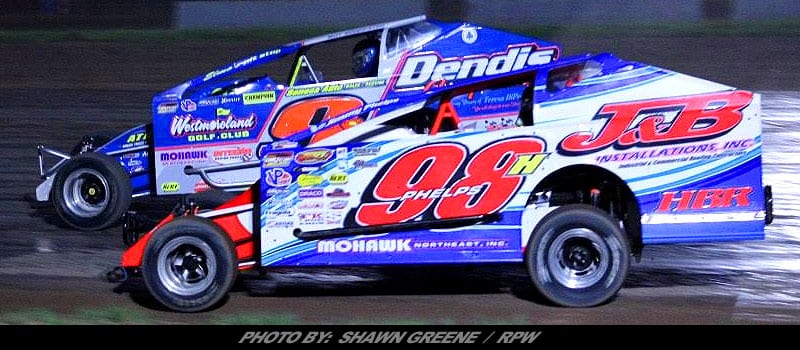 Story By: MANDEE PAUCH / HBR – WEEDSPORT, NY – The Heinke-Baldwin race team kicked off the season opener at their Saturday night home track, Land of Legends Raceway, this past weekend with two solid top-ten finishes.
Max McLaughlin and his No.6h team have been itching to go racing and decided to make the trip to Albany-Saratoga Speedway Friday night to do a little experimenting on the No.6h Big Block Modified.
"We were really good Friday night," he said. "We started last in the heat and drove up to finish second. We were right on them coming to the checkered."
Unfortunately, rain hit after the heat races forcing the track to postpone the remainder of the evening.
"We were playing around with the new car and played with some out-of-the-box stuff that I've been wanting to try before the series gets going and found some good speed with it. I'm really looking forward to perfecting the cars for this weekend."
Friday evenings make-up feature will be held this upcoming Friday where McLaughlin will start fourth.
Saturday evening saw both teams at Land of Legends Raceway in Canandaigua, NY to commence their season opener.
Phelps and McLaughlin rolled off in the same heat race. The dynamic duo pulled away from the field to finish first and second.
"We threw some more stuff at it for the feature and kind of missed it a little bit," McLaughlin said. "We found some things that we'll need to change for slick conditions and we should be better next time out with it."
McLaughlin rounded out the night with an eighth-place finish.
Teammate, Jimmy Phelps, had a strong showing Saturday evening at Land of Legends Raceway after pulling away with a heat race win.
"We had a decent pill draw right off the bat," Phelps said. "After our heat race win it panned out that we got to start out front since it was heads up."
Phelps lined up on the inside of the second row for the main event.
"We didn't have a whole lot for the top two cars," he said. "I thought we were good as third. All in all, I think it was a decent night where we learned some stuff about the track and the car. It had been a while since we ran there. We were in the ball park, but I think we got a good handle on the direction we will be going in this week."
Phelps capped off the evening with a fourth-place finish in the No.98h Big Block Modified.
Phelps and his team are on slate for Land of Legends Raceway this Saturday night. McLaughlin will return to Albany-Saratoga Speedway Friday evening and will head to Land of Legends Raceway on Saturday.