Jimmy Zacharias Claims Big-Time Victory; Wins Wade Decker Memorial At Thunder Mountain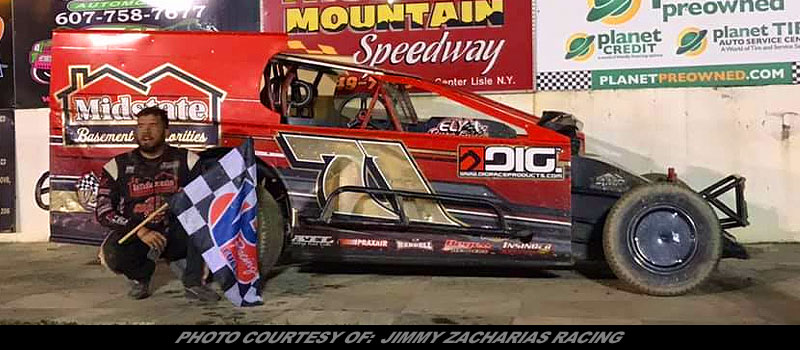 Story By: PAUL SZMAL / THUNDER MOUNTAIN SPEEDWAY – CENTER LISLE, NY – After Sunday rains postponed the Wade Decker Memorial event at Thunder Mountain Speedway, fans and teams returned on Labor Day under sunny skies for the rescheduled event.
Tom Collins Jr was the pole sitter for the 51-lap Wade Decker Memorial for Modifieds, but his good luck in the draw turned bad after losing the lead to Darren Smith at the start. Collins Jr brought out the first yellow with a flat left front tire on lap 4. When racing resumed, Eric Leet and Ryan Jordan charged forward, with Leet grabbing the top spot on lap 9. While Leet was pulling away, Jimmy Zacharias moved into the top five and made a great move on a restart to grab second spot. On lap 22, Zacharias was able to make the move on Leet to take the lead. Behind them, track champion Alan Barker was also on a charge, moving into third spot past Jordan on lap 40. In the final ten laps, Zacharias threaded through lapped traffic and brought home the win and its $5,000 payday, followed by Leet, Barker, Smith, and Jordan.
The Wheeler Excavating Street Stock portion of the Wade Decker Memorial was led from the green by Kurt Decker, but outside pole sitter Steven Deinhardt moved past him on lap 8 to take the top spot as Glenn Whritenour moved into third. Whritenour moved past Kurt Decker into second just before a lap 13 caution, then took the lead from Deinhardt on a restart. Shane Wolff Jr was also on the move, grabbing second just after the halfway point, but he dropped out on lap 20 with a mechanical issue. Whitenour pulled away on the last restart and cruised home for his second win in a Wade Decker Memorial event, with Kurt Decker third. Mike Wilbur and Jerry Lobdell Jr fought hard for fourth and fifth in the final few laps, with coming away with the fourth spot by mere inches.
In the DIRTcar Crate Sportsman feature, Austin Germinio and Jordan Millard traded the lead early as Tom Collins Jr battled with Mike Austin. Collins was able to get past Germinio and set his sights on Millard, taking the lead on a lap 13 restart. Mike Austin was also able to move past Germinio and Millard into second at the lap 19 mark and put pressure on Collins but soon had to deal with Alan Fink, who had moved from 19th starting spot to third. At the finish, Collins won by several car lengths over Austin, with Fink right behind him, and Germinio held off Hunter Lapp for fourth.
In the 600cc Modified feature, Devon Green held off repeated challenges from Jaek Waibel over the 25-lap distance and brought home his second win of the season. Ali Scutt was able to move up froma mid pack starting spot to take third, followed by Justin LaDue and Brett Gray.
The final event of the 2021 Thunder Mountain Speedway season will be 'The Unruly Race' on Sunday, September 12th, which will also feature the CRSA 305 Sprint cars and the NY6A Sprint Tour.
RACE SUMMARY-THUNDER MOUNTAIN SPEEDWAY-SPETEMBER 6, 2021
WADE DECKER MEMORIAL MODIFIEDS-JIMMY ZACHARIAS, Eric Leet, Alan Barker, Darren Smith, Ryan Jordan, Nick Nye, Danny Creden, Chris Stull, Bailey Boyd, Rusty Smith, Jeff Taylor, Tom Collins Jr, Tyler Siri, Glenn Forward, Gary Smith, Colton Wilson, Tom Velez, Lucas Heintz, Johnathan Fowlston, Landon Cummings, Marc Goodwin, Ron Cartwright Jr, Randy Bushnell.
DIRTcar SPORTSMAN-TOM COLLINS JR, Mike Austin, Alan Fink, Austin Germinio, Hunter Lapp, Jordan Millard, Ray Leonard, Tim Guild, Steve Schrader, Bobby Heintz, Eric Winsor, Kinser Hill, Rich Talada, Daryl Krebs, Bryan Bartos, Jeremy Hamilton, Jamie Kamrowski, Tyler Murray, Josh Akshar,, Dane Hedlund, David Dickey, Tay Reynolds, Brian White.
WHEELER EXCAVATING WADE DECKER MEMORIAL STREET STOCKS-GLENN WHRITENOUR, Steven Deinhardt, Kurt Decker, Mike Wilbur, Jerry Lobdell Jr, Don Russell, Rich Green, Gene Sharpsteen, Butch Green, Tyler Stoddard, Jon Carpenter, CJ Guererri, Mike Morse, Marcus Springer, Nick Robinson, Abe Romanick, Shane Wolff Jr, Chris Woodard, Damon Decker, Brian Steigerwald, Trevor Dudley, Brad Hurlburt, Dusty Decker, Kurt Stebbins (DNS).
600CC MODIFIEDS-DEVON GREEN, Jake Waibel, Ali Scutt, Justin LaDue, Brett Gray, Brenton Miller, Tyler Smith, Jared Green, Eli Akshar, Bailey Boyd, Nolan Smith, Tracy Oliver, TJ Smith, Taylor Wilk, Jason Rhodes, Aiden Miller, Doug Windhausen, Nicholas Johnson.