Austin Wood Wins Labor Day Event At Merrittville; Mike Bowman Crowned Champion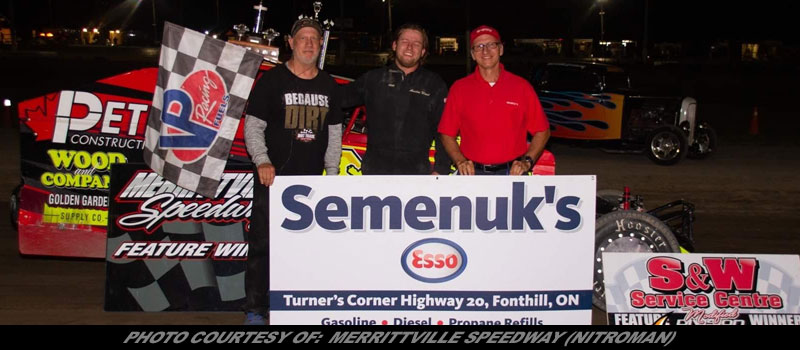 Story By: JONATHON HOWE / MERRITTVILLE SPEEDWAY – THOROLD, ONT – Semenuk's Esso Night at Merrittville Speedway was once again the backdrop for the final points night of the 2021 racing season and it did not lack for drama as points battles came down to the last lap of the main events, as well as wild crashes.
Austin Wood from Thorold, Ontario won his first career S&W Service Centre 358 Modified feature, and it was a big one as it was the John Spencer Memorial. Brent Begolo from Thorold, Ontario won his second Rick's Delivery Sportsman feature of the season. Dave Bailey from Hagersville, Ontario won his seventh Hoosier Stock feature of the season. Jay Moulton from Niagara Falls, Ontario won his second consecutive Glo & Go 4 Cylinder main event. Tyler Winger from Fort Erie, Ontario picked up his second RONA/Doidge Building Centre Mod Lite feature of the season. Jordan Fidler from Port Colborne, Ontario won his second straight James Auto V6 victory.
Mike Bowman from St. Catharines, Ontario was crowned the S&W Service Centre 358 Modified track champion for 2021. It is Bowman's second title at Merrittville, as he won the Sportsman title back in 2008. Cody McPherson from St. Catharines, Ontario won his fifth career Rick's Delivery Sportsman track championship. It was McPherson's fifth divisional title since 2012. Dave Bailey from Hagersville, Ontario won his third Hoosier Stock track title, and first since 2017. Kyle Rothwell from Welland, Ontario locked up his first Glo & Go 4 Cylinder track championship as a driver. Third-generation driver Brent Begolo from Thorold, Ontario won his third RONA/Doidge Building Centres Mod Lite track championship. Dustin Duga from Welland, Ontario became the third different champion in the James Auto V6 division.
In James Auto V6 action, Dustin Duga's mid-season dominance secured him his points championship simply by starting the feature. When the race began, it was Jordan Fidler, looking for back-to-back wins to cap off the season, who got out front early. Josh Dymtrow spent most of the race, chasing Fidler, but could never bring his 801-ride close enough to challenge. Fidler took the checkers and Duga captured the title.
Another driver who would make it back-to-back wins was Jay Moulton in the Glo and Go Tanning 4 Cylinders. Moulton started 6th, quickly found his way to the front of the field in a bad fast race car. Points leader Kyle Rothwell started 12th and carried a 14-point lead into the final race over Tyler Lafantasie. Unfortunately, Lafantasie would have to start 23rd after mechanical issues plagued him earlier in the evening. Anthony Kelly posed the biggest threat to Moulton, but Moulton's car was too strong upfront while negotiating traffic. Moulton took the victory while Kyle Rothwell's 7th place finish was enough to clinch the championship.
A fuller field than usual made for an action-packed Rona Doidge Building Centre's RM Racing Lubricants Modified Lite feature event. Brent Begolo all but clinched the championship when he took the green flag. With Jeffery May absent, it would have taken a win by Randy Giroux and finish outside the top 20 for Begolo to lose the crown. Josh Sliter started the race as the dominant car, getting the lead from the 6th starting spot. As the field of 23 danced around the track, multiple leaders would make mistakes including Sliter, who slowed suddenly in corners 1 and 2 after nearly spinning. This handed the lead to Tyler Winger who would take the win. Randy Giroux would finish a strong 3rd, but it wouldn't be enough to knock off Begolo, who came home 7th.
When we think of Hoosier Stocks at Merrittville Speedway in 2021, we will think of one driver only: Dave Bailey. On the final points night of the year, Bailey put on another masterclass. He started 17th, with the championship well in hand, Bailey was able to find the front of the field, despite having to take evasive maneuvers to avoid a first lap incident when Polesitter Adam Plazek was spun in front of the field by Go Fast Teeple. Bailey would find his way to the front though, exercising extreme patience and car control. Clinton Nicholls, Evan Curtis, Ron Loggie, Kyle Pelrine, and Jason Fontaine all showed speed throughout the race, but they were no match for race winner and track champion Dave Bailey.
Brent Begolo had a chance to make it two track championships on the night, as he came into the Rick's Delivery RM Racing Lubricants Sportsman feature 18 points behind Cody McPherson. Begolo started 8th and got to the front after just a few laps. After a scary incident involving Justin Sharp and Dave Flannigan that saw Luke Carleton rollover, James Friesen would take the lead from Begolo. However, bad luck struck Friesen for the second week in a row after John Babion spun in front of the leader, collecting the 72 Bobcat of Hamilton machine. Begolo would inherit the lead and line up alongside his championship rival McPherson on the final restart. Begolo would get the race win, but the championship belonged to Cody McPherson.
The 50 lap John Spencer Memorial 358 Modified race provided the perfect setting for the tightest Championship battle of the night. With Mat Williamson racing elsewhere, the S&W Service Centre 358 Modified point title came down to Mike Bowman, Pete Bicknell, and Gary Lindberg. Bowman lead Bicknell by just 3 points and Lindberg by 17. Bowman would draw the pole for the feature, but it was outside pole sitter Austin Wood who would spoil the party in dominating fashion. Wood took the lead from defending race winner Bowman before the lap 5 mark and never looked back. Gary Lindberg who started 7th, got by Bowman for 2nd and closed on Austin Wood in lap traffic. Behind them, Pete Bicknell had to work hard to get up from the 10th starting spot and could only get up to sixth as the caution-free event did Mr. Small Block no favors. Once Austin Wood cleared traffic, he was able to hold off Lindberg and take his first feature win in one of Merrittville's biggest races. Mike Bowman finished third and would be crowned champion.
Merrittville is back in action on Saturday, September 11 as the 360 Sprint Cars return. The Sportsman will run a 50-lap feature paying $1000 to win. It is also the Duel on the Dirt finales for the Hoosier Stocks and 4 Cylinders, plus the Mod Lites and V6 are on the card. Main gates open at 5:30pm and racing begins at 7pm.
RACE RESULTS – SEMENUK'S ESSO PRESENTS SEASON CHAMPIONSHIP NIGHT- September 4, 2021
S&W Service Center 358 Modifieds: AUSTIN WOOD, Gary Lindberg, Mike Bowman, Fred Carleton, Chad Chevalier, Pete Bicknell, Tyler Willard, Jay Mallory, Shayne Pierce, Trevor Wright, Dylan Davidson, Derek VanMil, Tanner Podwinski, Todd Gordon, Scott Wood
Qualifying Heats: Mike Bowman, Fred Carleton
Rick's Delivery Sportsman: BRENT BEGOLO, Cody McPherson, Ryan Ferri, Jay Mallory, Brad Rouse, Billy Bleich Jr, Adam Leslie, Dave Flannigan Jr, Rob Knapp, Jordan Cosco, Taylor Vanderzanden, Justin Sharp, James Friesen, Mitch Dumont, Terry Smith, Dave Mamo, Jason VanMil, Nathan Peattie, Chris Storm, John Babion, Daniel McKay, Cameron Lane, Noah Mamo, Luke Carleton, Curtis Friesen
Qualifying Heats: Nathan Peattie, Dave Flannigan Jr, Cody McPherson
Hoosier Stocks: DAVE BAILEY, Kyle Pelrine, Chris Hale, Jason Fontaine, Ryan Beagle, Evan Curtis, Ron Loggie, Clinton Nicholls, Go Fast Teeple, Rob Murray, Jim Lampman, Dave Small, Spencer Smolders, Kasey Huffman, Mike Thorne, Adam Plazek, Zach Bleich, Cory Sawyer, Logan Shwedyk, Robbie General, Robert Disher, Kyle Wert, Ryan Dinning
Qualifying Heats: Spencer Smolders, Rob Murray, Ron Loggie
Glo n' Go 4 Cylinders: JAY MOULTON, Anthony Kelly, Kenny Hair, Austyn Werstroh, Fabio Olivieri, Trevor DeBoer, Kyle Rothwell, Tyler Lafantaisie, John Lubeck, Nick Erskine, Brian Aube, Tim DeBoer, Clinton Barrick, Ray Cerenzia, Richard Hadler, Randy Always, Braden Keus, Danny Wurster, Hana Rothwell, Jordan Denobriga, Donnie Deagle, Sam Iftody, Mike Giberson, Dan Muir, Kourtney Kocarik, Kevin Aube
Qualifying Heats: Kyle Rothwell, Trevor DeBoer, Fabio Olivieri
RONA/Doidge Building Centre Mod Lites: TYLER WINGER, Chris Watson, Randy Giroux, Josh Sliter, Shawn Sliter, Eric Desilets, Brent Begolo, Sean Iftody, RJ Pietz, Paul Klager, Keven Boucher Carrier, Marty DeMoel, Dylan Sliter, Ryleigh Sliter, Dan Kviring, Ryan Anderson, Charlo-Antoine Bessette, Dave Cornish, Craig Martin, Gavin Hill, Steve Comeau, Tim Anderson, Alexia Roux
Qualifying Heats: Dylan Sliter, Shawn Sliter, Josh Sliter
James' Auto V6: JORDAN FIDLER, Joshua Dmytrow, Jeff Marsh, James Small, Dustin Duga, Tina Ronning, Zach Dmytrow, John Couture
Qualifying Heat: John Couture