Mat Williamson Repeats As Jerry Winger Memorial Winner At Merrittville Speedway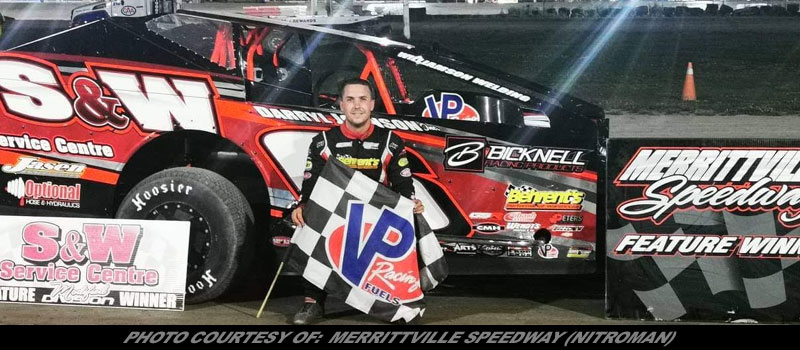 Story By: JONATHAN HOWE / MERRITTVILLE SPEEDWAY – THOROLD, ONT – Merrittville Speedway celebrated its 70th anniversary with CAA of Niagara and Auto FX Graphics and Signs presenting Bobcat of Hamilton Weekly Racing.
The Night began with Tim Breadman, "The Bomber" Glenn Baker, Gary Moreash, and "Mr. Small Block" Pete Bicknell being inducted onto the Wall of Fame at the speedway, while Chris Long of RCM Racing Equipment was honored with the CAA Niagara Dedication to Racing Award.
Later in the evening, Mat Williamson, Cody McPherson, Tyler Lafantasie, and Matt Harbourer, who was celebrating in victory lane.
The Vintage Modified's put on a great battle to open the night. A competitive field of 16 cars took the green, and soon a four-car battle for the lead would emerge, with Mark Shadwell, Rick St. Pierre, Andy Imbeault, and Matt Harbourer. When St. Pierre and Shadwell tangled while battling for the lead, Harbourer would sneak on by and would go on to collect the victory.
Danny Wurster and Jay Moulton started on the front of the Glo & Go Tanning 4-cylinder feature. Wurster found himself in trouble early after tangling with a car on the backstretch and bringing out a yellow. Meanwhile, Moulton proved to have the dominant car throughout much of the race, holding off Fabio Olivieri, Ken Hair, and Tyler Lafantasie's challenges. With under 5 laps to go, a puff of blue smoke exited the rear of the Moulton 10 car, and his car came to a stop after leading the majority of the race. This set up a Green White Checkered finish with Tyler Lafantasie in control, who would subdue a late charge from Ken Hair and score the victory over Hair, Austyn Werstroh, Anthony Kelly, and Kyle Rothwell.
The Rick's Delivery and RM Racing Lubricants Sportsman gave racing fans a heck of an appetizer before the 358 Modified main course. Nathan Peattie and Noah Mamo lead them to green as the field got to racing three and even sometimes four- wide on the straights at Merrittville Speedway. This tight racing led to several cautions including a what could have been a scary incident on the front stretch when Brent Begolo collided with Darrell Faraway. Jay Mallory would lead early, but soon Billy Bleich Jr. emerged as the strongest contender. As Bleich caught lap traffic, Cody McPherson started to reel in the 108 of Bleich. Into turn one, McPherson used a lap car as a pick and jumped to the outside of Bleich and took the lead off turn two. McPherson would go on to win over Bleich, James Friesen, Luke Carleton, and Brad Rouse.
It was a special night in the S&W Service Centre 358 Modifieds as the field ran for 50 laps to see who would claim the Jerry Winger Memorial Trophy. Fred Carleton started on but has mechanical issues as the field went green, quickly bring out the yellow. This set up a duel between Gary Lindberg and Mat Williamson. The two top contenders drove away from the field and battled for multiple laps before Williamson, the defending race winner, would clear Lindberg and begin to drive away. Soon it was Wall of Fame Inductee, Pete Bicknell who would bring his 42 towards the front after starting 9th. Bicknell took a few laps and exercised veteran patience before making his way around 2nd place Lindberg. Meanwhile, Williamson was driving away, putting multiple lap cars between himself in Bicknell. As Williamson encountered more lap traffic, Bicknell began to close, but the gap would be too much, and Mat Williamson would hold on to win the 50-lap event for the third time in a row. Bicknell was second, with Lindberg third, Mike Bowman fourth, and Austin Wood finishing fifth.
Merrittville is back in action on Saturday, August 28 as Country 89 and GIANT FM present Family Autograph Night. A full Bobcat of Hamilton Weekly Racing Series Program will take place. Main gates open at 5:30 pm and racing begins at 7 pm.
RACE RESULTS – NOSTALGIA NIGHT 2021 – August 21, 2021
S&W Service Center 358 Modifieds: MAT WILLIAMSON, Pete Bicknell, Gary Lindberg, Mike Bowman, Austin Wood, Darren Peters, Tyler Willard, Chad Chevalier, Trevor Wright, Scott Wood, Todd Gordon, Ryan Susice, Boyd MacTavish, Shayne Pierce, Tom Neale, Glenn Styres, Derek VanMil, Tanner Podwinski, Dylan Davidson, Fred Carleton
Qualifying Heats: Chad Chevalier, Mat Williamson, Scott Wood
Rick's Delivery Sportsman: CODY MCPHERSON, Billy Bleich Jr, James Friesen, Luke Carleton, Brad Rouse, Jay Mallory, Ryan Ferri, Adam Leslie, Brent Begolo, Rob Knapp, Justin Sharp, Terry Smith, Noah Mamo, Brandon Gruhl, Daniel McKay, Nathan Peattie, Cameron Lane, Darrell Farraway, Dave Mamo, Caleb Taylor, John Babion, Dave Flannigan Jr, Curtis Friesen, Jason VanMil
Qualifying Heats: Cody McPherson, Darrell Farraway, Jay Mallory
Glo n' Go 4 Cylinders: TYLER LAFANTAISIE, Kenny Hair, Austyn Werstroh, Anthony Kelly, Kyle Rothwell, Fabio Olivieri, Rob Shaw, Brian Aube, Trevor DeBoer, John Lubeck, Chris Laskey, Kourtney Kocarik, Donny Deagle, Danny Wurster, Sam Iftody, Ray Cerenzia, Nick Erskine, Richard Hadler, Dylan Llord, Jordan Denobriga, Jay Moulton, Hana Rothwell
Qualifying Heats: Kenny Hair, Fabio Olivieri, Tyler Lafantaisie