RPW Column: A Night For Marky; Mike Vigiletti Gets Win In Marky Traverse Memorial At OCFS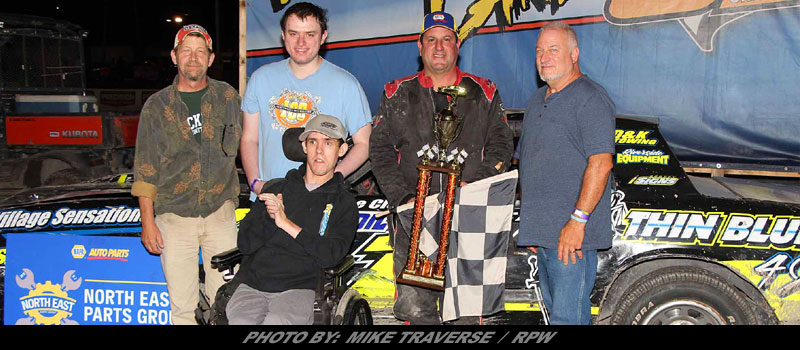 Column By: MIKE TRAVERSE / RPW – MIDDLETOWN, NY – It was a race that he had told this writer on more than one occasion that he wanted to win, and Saturday night was his night.
Mike Vigiletti took the victory in the NAPA North East Parts Group Marky Traverse Memorial Race at the Orange County Fair Speedway.
Vigiletti took the lead at the start and was strong on few restarts as he took the win over Ray Tarantino and Charlie Donald.
According to OCFS officials, this was the highest purse in Street Stock history at the track. Over $9,000 was up for grabs. The base purse was supplemented by well over $4,000 in added bonus money done for the competitors and in memory of Marky Traverse.
Dan Maher and Vigiletti had the front row as the feature got underway. Mike got the jump but caution was out after one lap was scored. As the race back to green, Vigiletti was again in command as Tarantino was quickly into the top 5 from his 12th starting spot. By lap 3, Tarantino was up to 2nd and started his pursuit of Vigiletti. But Mike was very strong and stretched his lead.
With Vigiletti and Tarantino not being challenged, attention turned to the great racing in positions 3-6 with Donald, Maher, Jack Beaumont and Jim Hajkowski . With the torrid side-by-side action for many laps for those spots, something had to give. And it was Hajkowski on the wrong end of it when caution came out after 17 down.
This gave Tarantino a chance. But again, Vigiletti was too strong. Mike survived one final restart to grab the prestigious win over Tarantino, in a rare OCFS appearance. Donald was 3rd followed by Maher and Beaumont. Danny Carlough recovered from an early flat to finish 6th with Rob Taylor 7th. Walt Henry had a big crash at Accord the night before, but he was determined to make it to this race and after a late arrival, finished 8th with Joel Murns Jr 9th and Hajkowski 10th.
"It's an honor to win this race and I am at a loss for words," Vigiletti said in the tech area. "This was one that eluded me for quite a few years. I know how much the other competitors want to win this race. I was concerned on those last restarts. Ray Tarantino has been a great competitor for many years and I was worried. I wanted to win this race for the Traverse Family."
"It was a tough one tonight," said the runner up Tarantino in the tech area. "Running against Mike and Charlie brings back memories from many years. The 3 of us on the podium, I can't even imagine how many laps we've raced together. It was awesome, I came up on Mike one time, but I backed off, I didn't want to touch him. I have too much respect for these guys to race like that."
Third place Donald echoed Tarantino's thoughts.
"We put on as good of a show as I think we could of," said Donald, "I was talking with Ray and we were thinking how many laps that he, Mike and I have run together over the years. A good starting spot helped tonight. And the track started to come around right at the end of our race. Track prep was good and my crew got me the best car that we could have."
Earlier heat race action saw Danny Hedges and Beaumont take the wins.
Terrible luck for prerace favorites, defending memorial race winner Bob Sleight and 3 time winner Jimmy Maher. After turning fast laps in the warmups, both were done for then night with engine trouble.
A.J. Holland was the winner of the enduro.
Speaking on behalf of the Traverse Family, I just want to thank all the people at the Orange County Fair Speedway who did such a great job on this event. So much hard work and it was great seeing such a nice paying event for the Street Stocks.
We would also like to thank all the competitors who raced in the event tonight. Very much appreciated by our family.
Mike Vigiletti was not the only winner at OCFS on Saturday night. The 30 plus people who added their money to the race purse for a division that doesn't get to often race for that kind of money are all winners. And many did so in memory of my son Marky. I am truly humbled by the events of the past week, The Traverse family thanks you all.