Georgetown Speedway To Host Short Track Super Series' 'Blast At The Beach' August 24th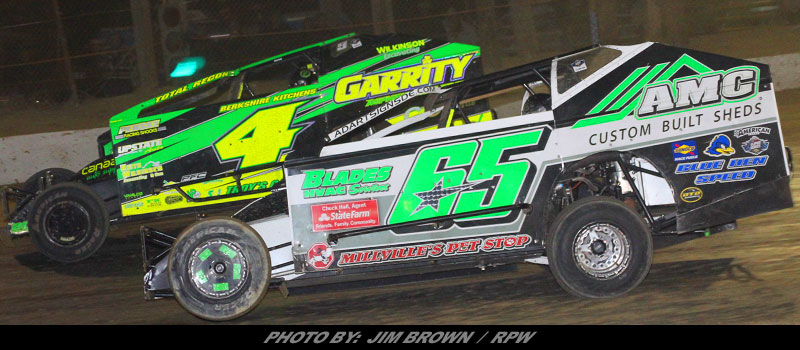 Story By: CHRIS MOORE / SHORT TRACK SUPER SERIES – GEORGETOWN, DE – Summer Fun. The Bob Hilbert Sportswear Short Track Super Series (STSS) Fueled By Sunoco heads back to one of its 'home bases' at Georgetown Speedway for the eighth running of the 'Blast at the Beach' presented by Melon 1 and Earth Movers LLC.
The Velocita-USA South Region presented by Design for Vision & Sunglass Central takes center stage for Round No. 7 of the $10,000 championship pursuit. The STSS big-block/small-block Modifieds will go 35-laps for a $6,000 payday
King Ferry, N.Y., native Mike Mahaney continues to set the pace for the STSS Modifieds on the South Region, just as he has for much of the season.
Despite not winning yet this season with the STSS, Mahaney's run of consistent finishes has the pack chasing him with four races remaining on the South Region.
Mahaney placed third when the South Region kicked off back in March for the 'Melvin L. Joseph Memorial' at the Sussex County half-mile.
Savannah, N.Y.'s Matt Sheppard, who sits second in points, was the winner back in March, coming from the 19th starting position for his second career Georgetown win.
The 2018 'Blast at the Beach' winner Anthony Perrego, of Middletown, N.Y., sits third in points, 39 markers off Mahaney's pace.
Both Perrego and Sheppard are perched inside the top-three in both the North and South Region points battles as the season winds down.
Frenchtown, N.J.'s Billy Pauch Jr. has shown plenty of strength at Georgetown in the past couple years. The 'Kid's Kid' was the 2019 winner of the 'Blast at the Beach,' outdueling Matt Sheppard, and finished runner-up to Sprakers, N.Y.'s Stewart Friesen in the 2020 edition on a last-lap pass.
Pauch Jr., a winner already this season at Georgetown, heads to the famous half-mile sitting fifth in points, looking to make a charge in the remaining four races.
The only two time 'Blast at the Beach' winner is Friesen, who has picked up his two wins in thrilling fashion. His 2016 triumph was a classic, side-by-side battle with Ryan Watt. The previously mentioned 2020 victory was one where Friesen started from the 23rd position, passing Billy Pauch Jr. on the final lap.
The Belmont's Garage Crate 602 Sportsman will join the Modifieds in Round No. 6 of their 2021 championship chase.
The 'Melvin L. Joseph Memorial' winner, Horseheads, N.Y.'s Ajay Potrzebowski Jr. leads the Crate 602 Sportsman back to Georgetown, as the field chases him just as they have all season long.
Also on the card will be the Delmarva Chargers and the Delaware Super Trucks in 12-lap feature only events.
STSS 'BLAST AT THE BEACH' HISTORY: PAST EVENT WINNERS
August 25, 2020 – STEWART FRIESEN – Billy Pauch Jr. – Anthony Perrego – Matt Sheppard – Jeff Strunk
August 27, 2019 – BILLY PAUCH JR. – Matt Sheppard – Andy Bachetti – Billy Pauch Sr. – David Van Horn
August 28, 2018 – ANTHONY PERREGO – Craig Von Dohren – Duane Howard – David Van Horn – Ryan Watt
August 30, 2017 – DUANE HOWARD – Ryan Watt – David Van Horn – Jamie Mills – Ryan Godown
August 30, 2016 – STEWART FRIESEN – Ryan Watt – Jimmy Horton – Duane Howard – Craig Von Dohren
September 1, 2015 – JORDAN WATSON – Howard O'Neal – Jimmy Horton – Ryan Watt – Andy Bachetti
August 26, 2014 (Not STSS Sanctioned) – TYLER DIPPEL – Jamie Mills – Duane Howard – Rick Laubach – Ryan Godown