Brad Rouse Takes DIRTcar Sportsman Main Event Win Sunday Night At Humberstone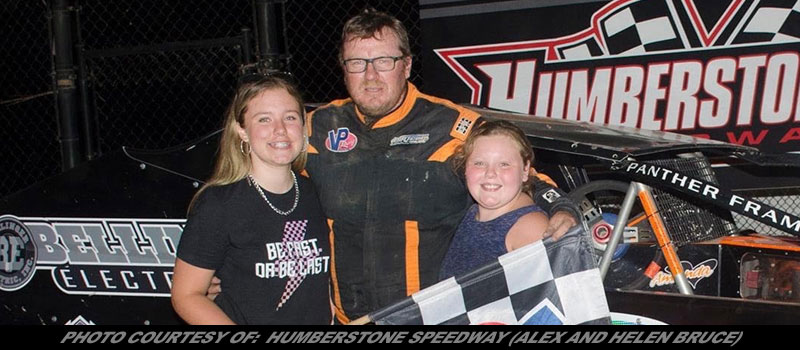 Story By: STEVEN PETTY / HUMBERSTONE SPEEDWAY – PORT COLBORNE, ONT – The Humberstone Speedway hosted the annual Nostalgia Night Sunday night, with four familiar faces finding their way to victory lane.
Former Mr. DIRTcar Sportsman champion and divisional champion Brad Rouse from Fort Erie, Ontario won the main event for the Stirling Lubricants/Champion Racing Oil DIRTcar Sportsman.
Sam Pennacchio from Niagara Falls, Ontario won the main event for the Pro Fabrication/Luke's Racing Engines Late Models.
Multi-time GR Enviro Rail Street Stock track champion Jason Fontaine from Port Colborne, Ontario won the Street Stock main event.
Tyler Lafantaisie from Thorold, Ontario won the Dow Auto Supply Mini Stock feature event. Matt Barbour from Brockville, Ontario won the Dirt Modified Nostalgia Tour feature event.
It was a very efficient show as the racing program began at 6:29 pm and the final checkered flag flew on the field at 9:05 pm.
Humberstone Speedway will return to action on Sunday, August 29th for the annual Pete Cosco Memorial, featuring the 40-lap $3017 to win Modified feature.
The DIRTcar Sportsman will race for $1517 to win, the Late Models $1017, Street Stocks racing for $817 to win, and the Mini Stocks racing for $517 to win. Bonus lap money will also be given away for all classes.
The program will get underway at 6:30 pm and tickets will only be available at the grandstand gates.
RACE RESULTS – NOSTALGIA NIGHT – SUNDAY, AUGUST 22
Stirling Lubricants/Champion Racing Oil DIRTcar Sportsman: BRAD ROUSE, Cody McPherson, James Friesen, Greg Panunte, Luke Carleton, Curtis Friesen, Bill Bleich, Jordan Cosco, Tyler Puchalski, Jeff Panunte, Dave Flannigan Jr, John Babion, Daniel McKay, Jay Mallory, Noah Mamo, Bill Gill, Cameron Lane, Adam Leslie, Matt Sharpe, Terry Smith, Dave Mamo
Qualifying Heats: Brad Rouse, Jordan Cosco, James Friesen
Pro Fabrication/Luke's Racing Engines Late Models: SAM PENNACCHIO, Rob Ledingham, Jake Hooker, Tim Gillespie, Rob Pietz, Mike Greene
Qualifying Heat: Rob Pietz
GR Enviro Rail Street Stocks: JASON FONTAINE, Ken Sargent, Pete Reid, Dave Bailey, Barry Beck Jr, Jeff Larmet, Donny Lampman, Bryce Richardson, Zach Bleich, Jeff Bean, Jim Lampman, Kevin Sharpe, Go Fast Teeple, Blake Bomberry Sr, Blake Bomberry Jr, Rob Murray, Lorraine Overholt
Qualifying Heats: Pete Reid, Jason Fontaine
Dow Auto Supply Mini Stocks: TYLER LAFANTAISIE, Kenny Hair, Leroy Buscumb, Mark Bazuin, Mike Sarantakos, Brian Aube, John Lubeck, Fabio Olivieri, Jeff Elsliger, Kevin Kocarik, Ray Cerenzia, Danny Wurster
Qualifying Heats: Kenny Hair, Mark Bazuin