RPW Column: Matt Sheppard Dominates Orange County's Modified Main Event Again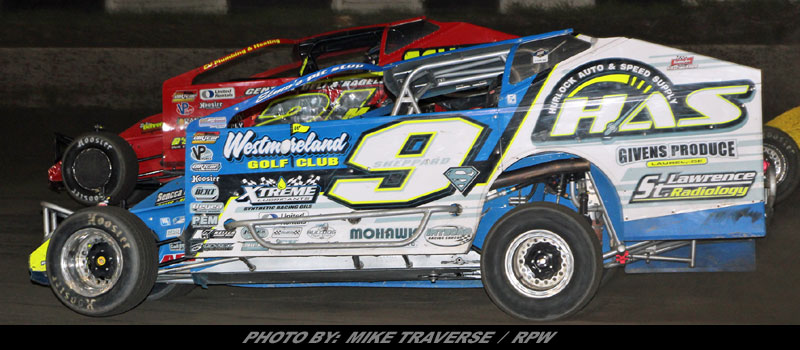 Column By: MIKE TRAVERSE / RPW – MIDDLETOWN, NY – Matt Sheppard continued on his hot streak at OCFS by winning the United Rentals DIRTcar 30 lap feature Saturday as he distanced Anthony Perrego and Max McLaughlin.
After the redraw, Dillon Steuer and Perrego had the front row for the feature. Steuer led at the drop of the green with Perrego close behind. After a lap was scored, caution came out. On the restart, Perrego nosed into the lead, but caution was back out before the lap was scored. Steuer was back in front on the restart, but he was feeling heavy pressure from Perrego. Billy Decker with a flat brought out the caution on lap 6.
It was still Steuer over Perrego on the restart as Sheppard raced his way up to 3rd from 8th starting spot. Sheppard passed Perrego for 2nd on lap 11 and quickly closed the gap on Steuer. As Super Matt made the lap 13 pass on Steuer, the Zubi's 17Z slowed and retired to the pits. After Jimmy Horton brought out the last caution of the race a lap later, it was Sheppard checking out.
With Sheppard in total control. attention shifted to the race for 2nd as Perrego and McLaughlin were having a great race. At the checkered flag, it was Sheppard with a nearly 8 second margin over Perrego who held off the challenges of Mad Max. Tommy Meier finished 4th with Tyler Boniface in 5th. Sixth thru 10th were Billy VanInwegen, Craig Mitchell, Bob McGannon, Keith Flach and Decker.
"The track has been really fast the last few times we've been here," said Sheppard. "We have a pretty decent setup for that it seems. The rain threw everyone a little bit of a curve tonight. But I had a really good racecar. I can't thank my whole team enough."
It took Super Matt a long time to get into the OCFS Victory Lane, finally scoring that first win in 2019. But he has been the biggest Modified winner since then, recording his 11th career OCFS Modified win Saturday. it was his 4th this season and his 3rd in a row. It looks like Sheppard may be the man to beat to win the $25,000 OCFS Big Block Championship in 2021.
With the completion of Saturday's event, the field is set for the Final 8 in the chase for the OCFS Modified Championship. In addition to OCFS 2021 Big Block winners Sheppard, Meier and Stewart Friesen, the rest of the Final 8 are Decker, Perrego, McGannon, VanInwegen and Boniface. Good luck to all 8 of these drivers as they go to battle to take home the big end of season prize.
Danny Creeden has been one of the consistent front runners in the H.O.Penn 358 Small Block Modified division in 2021. Solidly in the top 5 in points all season, Creeden was impressive Saturday night in winning the 25 lap 358 feature over Chris Shultz and Roger Henion Jr.
Jerry Higbie and Shultz led the field at the start with Shultz grabbing the lead. The only stoppage of the race occurred after one lap as the red flag was out for a frontstretch crash with Bob McGannon and Craig Mitchell. Billy Decker was also slightly involved, but he was able to drive back into the pits while McGannon and Mitchell were towed off and done.
Shultz again was again out front with Henion Jr moving into 2nd. Creeden was on the move early, passing Richie Eurich for 3rd on lap 3. Shultz pulled out to a nice lead as Creeden was closing on Henion Jr. Danny passed Roger on lap 8 and slowly started to reel in Shultz. Lapped traffic started to become a factor as the race was now running caution free.
Creeden made the pass on Shultz on lap 19 and stretched it out the final 6 laps to take the win by 3.2 seconds over Shultz with Henion Jr nosing out Dillion Steuer for 3rd. Allison Ricci was 5th with Eurich 6th, Jimmy Horton 7th, Chris Stevens 8th, Jimmy Spellmon 9th and Anthony Perrego 10th.
"When I got to 2nd, Chris Shultz was well out front. But I started to catch him a bit and the lapped traffic was helping me to close the gap. We won one at Accord in lapped traffic and we got another one tonight. I don't know what we figured out, but this thing is rolling," Creeden said. "We got a real good hot rod here right now. After the last race here, we scaled it and just let it sit on the jacks. It was great tonight."
After heat race action, 358 points leader Perrego had to scratch his #44. But Anthony was able to pick up a ride in Ryan McCartney's #18 and he was able to race it from the back into 10th. A great gesture by the McCartney team which will most likely keep Perrego in good shape in the 358 point battle.
Cody Higbie held off multi time 2021 feature winner Brian Krummel to take his 2nd career OCFS Arkel Motors Sportsman win with John Bockhorn taking 3rd spot on the podium.
Tyler Banks, just up from the rookies, and Ryan Walter paced the field at the start. Before a lap was scored, Jeff Hulseapple's recent string of bad racing luck continued as he dropped out after a brush with the wall. A complete restart saw Walther take the lead with Bockhorn in 2nd by lap 2. Higbie was on the move early, going from 10th to 4th by lap 3. Krummel, from 23rd spot, was also moving quickly through the pack, racing his way to 4th when the caution flew again after 6 were down.
Bockhorn took the lead on the restart with Higbie up to 2nd. Lap 11 saw Cody taking the lead as Krummel had already moved past Walther for 3rd. With 4 to go, Krummel passed Bockhorn for 2nd, but Higbie was too far out front for Brian to mount a serious challenge. At the finish, it was Higbie with a .461 margin over Krummel with Bockhorn taking 3rd and a great job by Walther, holding off points leader Joe Bonetti to finish 4th. Matt Shultz, Jared LaBagh, Mel Schrufer, Clinton Mills and Josh Allen completed the top 10 running order.
"It was really fun running the top, it was great. I kept seeing the 12 (Krummel) on the leader board and I knew he was coming. It's awesome to be able to beat someone that good. I can't thank everyone on this car enough. It's a big team deal here and I thank all of my crew," Higbie said in Victory Lane.
Walt Henry raced to his first ever OCFS win in the NAPA North East Parts Group Street Stock division over Bob Sleight and Charlie Donald.
Ron Constable led lap 1 with Dillon Gannon taking the lead on lap 2. Sleight took the lead from Gannon on lap 6. When caution waved with 4 laps to go, it was determined by track officials that leader Sleight committed a restart infraction and he was moved back to 3rd. This moved Gannon back to the lead with Henry now 2nd.
With one to go caution waved again setting up a final lap race to the checkers. A bunch up at the front saw Gannon spinning and Henry taking the lead. Henry held off Sleight by a scant 1/10th of a second to get the OCFS win that he wanted so badly. Donald finished 3rd with Jim Hajkowski 4th and Jack Beaumont 5th. Mike Vigiletti recovered from a flat to finish 6th with spots 7-10 going to Constable, Ben Richard, Gannon and Ryan Modiano.
"I enjoy this track, I'm racing with good people. I've been waiting a long time for this one," Henry said.
In addition to Sheppard, Creeden, Higbie and Henry, there were many other smiling faces that left OCFS Saturday night. The bike giveaway was a huge success with 43 bikes and 23 helmets raffled off. It was a great job by the OCFS staff, especially Kids Club Director Christina Contento, who did a magnificent job organizing the bike giveaway and her biggest Kids Club turnout of the season. Well done by Christina and all.
And congratulations to Lily Soizowski, the new Little Ms. OCFS 2021. She is a huge Anthony Perrego fan and I'm sure she will be a familiar sight in the OCFS Victory Lane for the balance of the 2021 season.
Racing will return to the House of Power on July 17th with a two division show featuring the 358 Modifieds and Sportsman will be in competition.