RPW Column: Tommy Meier Dominates Orange County's Opener; Takes Home $5K Payday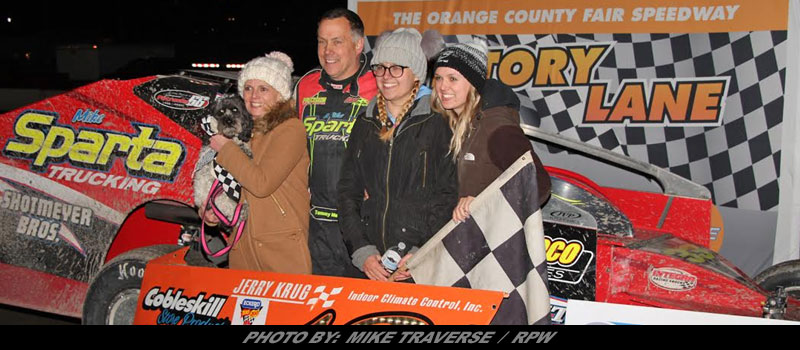 Column By: MIKE TRAVERSE / RPW – MIDDLETOWN, NY – After the redraw was held at the Orange County Fair Speedway for the Opening Night 40 Lap Oval Kickoff United Rentals DIRTcar feature, it was going to be Matt Sheppard and Stewart Friesen who would be leading the field to green. Somewhere in the Northeast Dirt Racing Handbook, it would say that there would be no doubt that one of those two would be holding the checkered flag in Victory Lane when the checkers waved.
Unfortunately for Sheppard, Friesen and 26 other competitors in the feature, Tommy Meier's family dog, who was at the track Saturday, got a hold of that handbook and chewed that page up, making it unreadable. Meier proceeded to go on to a dominating win that with the Autism Awareness Bonus amounted to $5,000. Sheppard crossed the finish line 2nd, but came up light at the scales. This elevated Larry Wight to 2nd and Max McLaughlin to 3rd.
In a feature that took many twists and turns, Sheppard jumped out to the lead at the start with Friesen in pursuit. A quick caution flag waved for Chris Hile. After a debris caution on lap 3, it was still Sheppard in control, Further back, Anthony Perrego was moving up from 10th starting spot as was Meier from 11th. Perrego did pass Friesen for 2nd on lap 8, but caution came out before the lap was scored.
Sheppard again led on the restart with Meier quickly moving into the top 4 on lap 11. Caution waved after 15 down with Sheppard leading over Friesen, Perrego, Meier and Billy Decker. Meier quickly made passes of Perrego and Friesen to move into 2nd and began to close in on Sheppard. Meier made the pass of Sheppard on lap 18 and started to pull away. At halfway, it was Meier leading over Sheppard, Friesen, Wight and Decker.
Meier really stretched out the lead with quite a few consecutive green flag laps, eventually leading Sheppard by half a lap. Friesen was started to fade, losing spots to Wight, Decker and McLaughlin. Meier lost his big lead with 33 laps down as the caution flag came out when Tyler Jashembowski lost a wheel. Friesen retired to the pits at this point.
Meier had no problem putting distance between him and Sheppard on the restart with Wight 3rd and Perrego 4th. Meier easily prevailed on one final restart with 5 to go as Perrego started to drop back in the field and dropped out on lap 38. At the finish, it was Meier more than 5 seconds over Sheppard. With Sheppard's post race penalty, it moved Wight to 2nd and McLaughlin 3rd with Marc Johnson 4th and Mat Williamson 5th. 6-10 were Decker, Tyler Dippel, Peter Britten, Jack Lehner and Craig Mitchell.
"The car ran like it was on a railroad track out there it handled so well," said Meier in Victory Lane. "I found a lane above the bump in turn 2 and it worked well. I just got to thank everyone who works on this car and everyone who keeps me going. All the big boys were in town and it's nice to race with then and beat them. What a great start to the season, there was a lot of bite out there. We had a very good car tonight."
The win was Tommy's 24th career Modified win, breaking a tie with Frank Cozze for 15th on the all time OCFS Modified winner's list.
Heat race wins went to Jessica Friesen, Meier, Perrego and Wight with Tyler Boniface and Britten winning the consis. 41 Modifieds were in competition with many strong running invaders in attendance. But on this Saturday night, it was an OCFS regular taking the glory with an outstanding performance. Congratulations to the Meier family, an awesome group of people.
A very nice invocation prior to the events by OCFS announcer Tim Pitts remembering Jack Johnson, Whitey Memmelaar, other folks from racing and the victims of the Covid-19 pandemic.
A door panel from one of Jack's 12A cars graced Victory Lane Saturday evening.
It looked to be a very successful Opening Night of racing to kick off year 102 of OCFS. The track was in great condition, a good amount of cars in the drive in section and great racing.
Next event on April 10th will feature the 358 Small Blocks, Sportsman and Rookie Sportsman.