Six Week Fab Four Stretch Kicks Off Friday With Nostalgia Night At Lernerville Speedway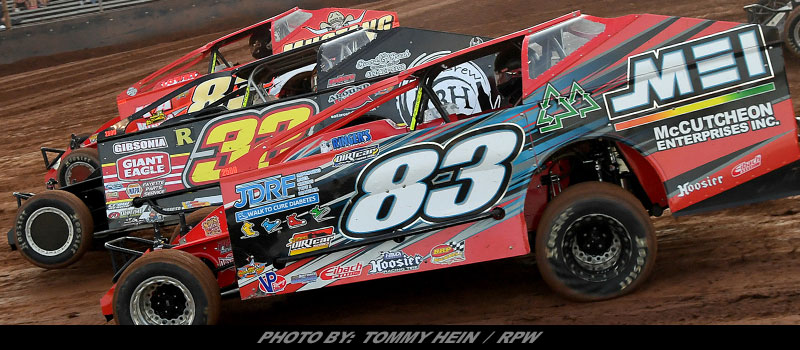 Story By: GARY HEEMAN / LERNERVILLE SPEEDWAY – SARVER, PA – The time has come to get the the meat of the matter with regards to the 2020 weekly season as this Friday starts a string of six consecutive Fab4 Friday nights Revved up with Marburger Farm Dairy.
The Peoples Natural Gas DIRTcar Sprints, Precise Racing Products DIRTcar Late Models, Diehl Automotive DIRTcar Big Block Modifieds and Millerstown Pic-A-Part DIRTcar Pro Stocks will be keeping fans entertained in the grandstands with their thrilling brand of racing, and penchant for dramatic feature finishes.
And there will be some special treats for fans beforehand as Nostalgia Night brings some a wide variety of very sharp looking cars from the past that prowled on the area speedways to the delight of everyone in attendance. Fans can meet and mingle with the drivers, take pictures and bask in the glory of years gone by while getting an up close view of cars that were legendary and history making. The display will take place behind the turn four side grandstands in the fenced in area.
Peoples Natural Gas Sprints
Based on three nights of points races, one thing looks to be clear for the Peoples Natural Gas Sprint Cars. That is that consistency may be the key in taking the honors at the end of the season. Thus far, defending champion Jack Sodeman Jr., and three time champ AJ Flick have fallen behind with some hard luck nights in their quests to add yet another piece of hardware to their respective trophy cases. At the top, Carl Bowser, Brandon Spithaler and Dan Kuriger as well as Brandon Matus have all shown speed and demonstrated that they've all got some momentum working in their favor. Bowser and Spithaler have each shown said speed in victories at Tri City Speedway so far in 2020 with Spithaler hanging tough and towards the front of the fields at Wayne County Speedway on select Saturday nights. Neither Flick nor Sodeman are in eminent danger this early in the season and are basically one win and some bad luck the other way from being right back in the mix with the front runners. But at this time, the battle for the title may be as wide open as has any in recent memory, especially considering that first time Lernerville feature winner Michael Bauer will only be getting better and more consistent as the weeks pass.
Point Standings Entering Friday Night (Car number in parentheses)
(11) Carl Bowser- 106 ; 1 feature win in 2020
(22) Brandon Spithaler- 91
(08) Dan Kuriger- 87
(13) Brandon Matus- 86
(2) AJ Flick-84
(46) Michael Bauer- 83; 1 feature win in 2020
(33) Brent Matus- 82
(7) Dan Shetler- 78
(23jr) Jack Sodeman Jr.- 76 ; 1 feature win in 2020
(J4) John Garvin Jr.- 67
Precise Racing Products Late Models
So far, the battle for Late Model supremacy looks like it's picking up just where it left off in 2019 in terms of the same drivers running neck and neck each week. Defending champion Kenny Schaltenbrand has been as fast as he was last season but has suffered some early season tough breaks, allowing for Colton Flinner and Tyler Dietz to ascend to the front for the time being. Two intriguing drivers may be throwing their hats in the ring for a points title as regional veteran wheel man Clate Copeman sits just 13 markers off the lead, and Will Thomas, in just his first season in a Late Model, has looked very fast and capable of winning on either of the first two points events thus far and had a very stout performance in this year's Firecracker 100. Wins have been hard to come by for the top 10 thus far as Russ King and Tommy Beck each made one visit and left with one win to this point. Former track champion and World of Outlaws Morton Buildings Late Model Series feature winner Michael Norris is expected to be competing on Friday night as well.
Point Standings Entering Friday Night (Car number in parentheses)
(48) Colton Flinner- 67
(27) Tyler Dietz- 59
(28c) Clate Copeman- 54
(9T) Will Thomas- 48
(29) Ken Schaltenbrand- 48
(92) Jayme Beck- 47
(W3) John Weaver- 45
(15*) Kelvin Kohan- 42
(91) Tommy Beck- 40; 1 feature win
(56) Russ King- 40; 1 feature win
Diehl Automotive Big Block Modifieds
Garrett Krummert brings a solid lead into Friday night and has been one of the fastest cars running in area Big Block Modified action. Krummert is currently three for three with regards to podium appearances thus far and has collected two feature wins and six top five finishes in eight starts at area speedways in 2020. Behind him, eight time track champion and DIRTcar Northeast Hall of Famer Brian Swartzlander is looking for his first win of the season, a feat accomplished by John Mollick in the last Lernervile Modified main event on July 17. It was his first career Big Block Modified triumph and may be a sign of things to come as he currently rests just two points behind Swartzlander, asserting himself as one of the early front runners for the season championship.
Point Standings Coming Into Friday Night (Car number in parentheses)
(29) Garrett Krummert- 109; 1 feature win
(83) Brian Swartzlander- 94
(4J) John Mollick- 92; 1 feature win
(61) Dave Murdick- 89
(165) Rex King Jr- 84
(37MD) Jeremiah Shingledecker- 82
(65) Rex King- 72
(45) Steve Feder- 72
(13) Rick Regalski- 72
(18) Colton Walters- 70
*3 main events completed. Eric Rudolph was victorious on July 3.
*25 show up points were awarded to all participants on July 3 (BRP Mod Tour Event)
Millerstown Pic- A – Part DIRTcar Pro Stocks
Tyler Dietz has picked up right where he left off in 2019, on top of the season standings in Pro Stock action, amassing two feature wins in four attempts so far this year. While that may have been expected, the re-emergence of Mike Miller at the front of the standings has come as a welcome surprise. Following the offseason switch back to open engines in the division, Miller has turned back the clock in terms of performance with an opening night victory while putting all four finishes in the top five. Behind them, Corey McPherson may not have had his best nights of the year yet, but following some reworking of things that were not up to par, appears ready to make a charge towards the title while in fourth place, Joey Zambotti will be looking for more wins and consistency as the weeks gear up and could very well be in the hunt for his first Action Track title in 2020.
Point Standings Entering Friday Night (Car number in parentheses)
(27) Tyler Dietz- 149; 2 feature wins
(81) Mike Miller- 138; 1 feature win
(C33) Corey McPherson- 137
(948) Joey Zambotti- 122; 1 feature win
(66) Joe Kelley- 99
(25) Brett McDonald- 87
(26) Mike Bordt- 82
(4*) Douglas Eck- 71
(30) Bob Egley- 70
(73) Jason Fosnaught- 69
The Lernerville Kids Club will once again be in action as they channel their inner artists with rock painting and will also be leading the crowd in the reciting of our pledge of allegiance during our pre race ceremonies. Kids Club is free for all children and takes place at 6:30 pm under the turn four grandstands.
Pit gates open Friday at 4 pm with grandstands opening at 5 pm and racing starting at 7:30 pm. Adult general admission is $15, $12 for seniors, $10 for students ages 11-17 and children 10 and under are free! Pit passes are available for $25 for DIRTcar Members and $30 for non members. We look forward to seeing you all there!