Rex King Jr. Scores Modified Victory Friday Night At Lernerville Speedway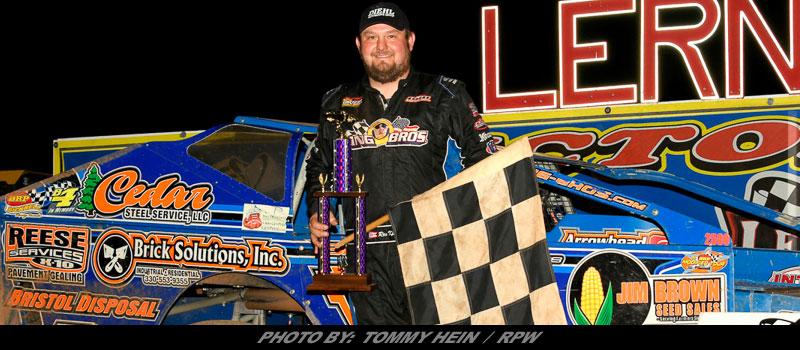 Story By: GARY HEEMAN / LERNERVILLE SPEEDWAY – SARVER, PA – The Fab4 Revved Up with Marburger Farm Dairy returned to The Action Track on Friday night surrounded by a crisp fall-like atmosphere and 33 Homak Penn Ohio Pro Stocks who battled for $3,500 as part of the PSX Championship Series.
Veteran hot shoe Andrew Gordon had a fast hot rod and the skills to win as he found himself standing in Terry Bowser Excavating Victory Lane at the end of the 30-lap main event, finishing ahead of a determined Chase Lambert who drove a nearly flawless race while coming up just one spot short after the checkered flag waved.
In Peoples Natural Gas Sprint Car action, Sye Lynch made it two for two, crossing under the checkers first after losing the lead to AJ Flick and then managing to find his way back around to reclaim the lead in the second half of the 25-lap feature. Alex Ferree saw his five-plus second advantage over the field erased with two laps to go in the Precise Racing Products Late Model main event as the caution flag waved making for a green-white-checkered finish. When action resumed, Ferree manage to finish the job, crossing the line ahead of promising young driver Logan Zarin to collect his second win of the season at Lernerville in the #1 Cochran Automotive machine.
Steve Feder broke out to the early lead in the Diehl Automotive DIRTcar Big Block Modified feature and held onto it while being chased by Brian Swartzlander and Rex King Jr. However, just past the halfway point, King Jr. was able to make his way past Feder and cruised to his fourth win of the 2021 campaign, finishing one spot ahead of points leader Jeremiah Shingledecker who increased his margin over 2020 champion Garrett Krummert to 12 points.
Up next at The Action Track is our annual Back to School Bus/Kids Bike Race event on Saturday, September 11. The entertaining evening also includes a 100-lap Enduro, Demolition Derby, Trailer Race and much more plus, kids may bring their bikes, helmets and speed to the track to compete for trophies, prizes and more.
Peoples Natural Gas DIRTcar 410 Sprint Feature
(42) Sye Lynch
(2) AJ Flick
(11) Carl Bowser
(23J) Jack Sodeman Jr.
(46) Michael Bauer
(08) Dan Kuriger
(11J) David Kalb Jr.
(12) Darin Gallagher
(40) George Hobaugh
(13) Brandon Matus
(33) Brent Matus
(55*) Matt Sherlock
(4K) Bill Kiley
(13B) Steve Bright
(29M) Logan McCandless- Did Not Start
(250) Jared McFarland- Did Not Start
Precise Racing Products DIRTcar Late Models Feature
(1C) Alex Ferree
(1Z) Logan Zarin
(48) Colton Flinner
(29) Ken Schaltenbrand
(10) Gary Lyle
(91) Tommy Beck
(66) Todd Bachman
(9) Levi Yetter
(9K) Clayton Kennedy
(B1) Brandon Wearing
(26) Shawn Schaltenbrand
(11) Joshua Powell
(81) Mike Miller
(77) Tyler Dietz
(41) Tony Burke
(15*) Kelvin Kohan- Did Not Start
Diehl Automotive DIRTcar Northeast Big Block Modified Feature
(165) Rex King Jr.
(37MD) Jeremiah Shingledecker
(45) Steve Feder
(83) Brian Swartzlander
(61) Dave Murdick
(29) Garrett Krummert
(18) Colton Walters
(65) Rex King Sr.
(4J) John Mollick
(32R) Chris Rudolph
(10) Chelsie Kriegisch
(35) Steve Slater
(22) Kevin Long
(56M) Jacob McElravy
(88) Shawn Fleeger
(64) Rodney Beltz- Did Not Start
Penn Ohio Pro Stocks Championship Series Feature (30-Laps; $3,500 to-win)
(25G) Andrew Gordon
(22) Chase Lambert
(114) Daryl Charlier
(C33) Corey McPherson
(55) Chris Schneider
(63) Chris McGuire
(948) Joey Zambotti
(11B) Tim Bish
(45) Todd Weldon
(J19) Jason Fosnaught
(00X) Curt Bish Jr.
(27) Jake Dietz
(10) Nick Kocuba
(81) Mike Miller
(0) Larry Kugel
(25) Brett McDonald
(84S) Josh Seippel
(26) Mike Bordt
(983) Zack Gustafson
(44) Jim Challingsworth
(4) Brett Hutira
(7W) Bobby Whitling
(29) Curtis J. Bish
(13J) Jordan Peters
Ferguson Heating and Air Conditioning Heat 1 for Peoples Natural Gas Sprints
(42) Sye Lynch
(2) AJ Flick
(13) Brandon Matus
(08) Dan Kuriger
(11J) David Kalb Jr.
(55*) Matt Sherlock
(4K) Bill Kiley
(250) Jared McFarland (DNF)
Action Track Podcast Heat 2 for Peoples Natural Gas Sprints
(11) Carl Bowser
(40) George Hobaugh
(46) Michael Bauer
(12) Darin Gallagher
(23J) Jack Sodeman Jr.
(33) Brent Matus
(13B) Steve Bright
(29M) Logan McCandless
#1Cochran Heat 1 for Precise Late Models:
(77) Tyler Dietz
(29) Ken Schaltenbrand
(48) Colton Flinner
(10) Gary Lyle
(11) Joshua Powell
(81) Mike Miller
(41) Tony Burke
(26) Shawn Schaltenbrand
GetPhil.com Heat 2 for Precise Late Models:
(91) Tommy Beck
(1C) Alex Ferree
(1Z) Logan Zarin
(9) Levi Yetter
(66) Todd Bachman
(9K) Clayton Kennedy
(B1) Brandon Wearing
(15*) Kelvin Kohan- Did Not Start
McCutcheon Enterprises Heat 1 for Diehl Modifieds:
(83) Brian Swartzlander
(37MD) Jeremiah Shingledecker
(18) Colton Walters
(45) Steve Feder
(10) Chelsie Kriegisch
(22) Kevin Long
(88) Shawn Fleeger
(64) Rodney Beltz
Thermo Twin Windows Heat 2 for Diehl Modifieds
(61) Dave Murdick
(165) Rex King Jr.
(29) Garrett Krummert
(4J) John Mollick
(32R) Chris Rudolph
(35) Steve Slater
(65) Rex King Sr.
(56M) Jacob McElravy
Thoma Meat Market Heat 1 for Penn Ohio Pro Stocks
(C33) Corey McPherson
(29) Curtis J. Bish
(948) Joey Zambotti
(10) Nick Kocuba
(27) Jake Dietz
(0) Larry Kugel
(26) Mike Bordt
(54E) Tony Iarrapino
(99T) Theo Baumgartner
Hovis Auto & Truck Supply Heat 2 for Penn Ohio Pro Stocks
(63) Chris McGuire
(11B) Tim Bish
(00X) Curt Bish Jr.
(45) Todd Weldon
(84S) Josh Seippel
(983) Zack Gustafson
(67j) Jamie Duncan
(39B) Josh Blum
Dlubak Powder Coating Heat 3 for Penn Ohio Pro Stocks
(25G) Andrew Gordon
(114) Daryl Charlier
(55) Chris Schneider
(25) Brett McDonald
(13J) Jordan Perkins
(81) Mike Miller
(31) Jason Johns
(310) Dale Tuche
Butler County Tourism Heat 4 for Penn Ohio Pro Stocks
(7W) Bobby Whitling
(22) Chase Lambert
(4) Brett Hutira
(J19) Jason Fosnaught
(44) Jim Challingsworth
(12M) Trevor McCann
(7B) Matt Bernard
(48R) Bob Rosman
Tomson Scrap Metal BMain for Penn Ohio Pro Stocks
(0) Larry Kugel
(983) Zack Gustafson
(81) Mike Miller
(26) Mike Bordt
(31) Jason Johns
(67J) Jamie Duncan
(310) Dale Tuche
(7B) Matt Bernard
(54E) Tony Iarrapino
(12M) Trevor McCann
(48R) Bob Rosman
(99T) Theo Baumgartner- Did Not Start
(39B) Josh Blum- Did Not Start
Car Count Total: 81
Peoples Natural Gas Sprints: 16
Precise Late Models: 16
Diehl Automotive Modifieds: 16
Millerstown Pic-A-Part Penn Ohio Pro Stocks: 33