RPW Column By: LAURIE FALLIS / RPW – MALTA, NY – Many times when you mention a race track, the promoter's name usually comes up along with it. They are the ones that gets the acknowledgement and most of the credit.  However, sometimes behind a good man is usually a good women.
We have the privilege of getting up close and personal with these special women that are behind the scenes of the race track. You could say they are the strong force and supporters of some of the most successful promoters of the Northeast.  You could even say they're the backbone.
We'll take a look at their paths to how they became involved in the sport and what what their responsibilities are at the racetrack…and maybe a little bit more.
Part three of this series is with another strong and energetic women in racing, Marcy Mangino.  Mangino is the fiance of Albany-Saratoga Speedway promoter Lyle DeVore and mother to 21-year-old Mia.
The first thing I asked Marcy was how she first became involved in the sport.
"Well, I never started going to the races until I was 33 years of age," Mangino said.  "You could say I was a late bloomer.  My first trip to the track was in 2004 to support my brother, Bill Bokus' #39 race team.  He competed in the Sportsman division at Albany-Saratoga."
Even then, she wasn't exactly hooked on racing…but enjoyed watching her brother…and one other car.
"I would only go to watch my brother's feature in that time of my life," she said.  "Sometimes, though, I would stick around to watch lady Pro Stock driver Lori Cary (now Langevin) in her hot pink car.  I thought it was pretty neat seeing a girl beating the guys. Other then that, I headed out the gate."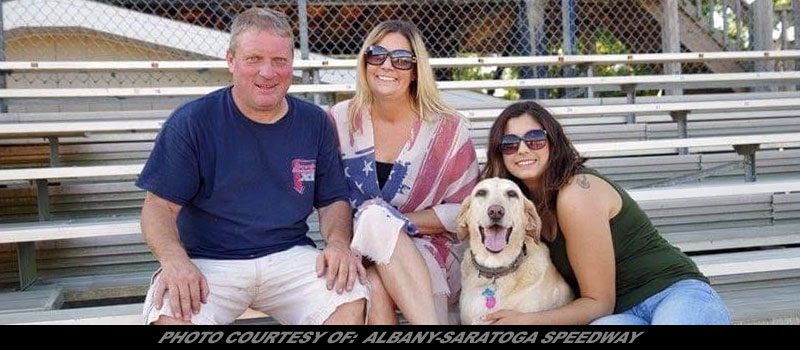 Her fiancé, Lyle, is now the promoter of the speedway in Malta, NY.  How did they originally meet?
"We actually went to high school together at Saratoga Springs," she said.  "We also graduate together in 1989, and yes, we were friends in high school.  My friends and I actually went to a party at Lyle's house one time when his parents were out of town. I believe it was during one of the holiday's that I 'innocently' threw him under the bus about that.  Whoops."
The connection between the two goes further back than just themselves.
"Funny story was that our parents knew each other," she said.  "Our father's graduated together as well and our mother's worked in the same bank together.  They were even pregnant at the same time.  Our birthday's are only 13 days apart.  It's ironic in life how things can circle around."
Their path's would cross some ten years later during a class reunion. The 1989 class was all getting together on Facebook page to reconnect with each other.
"I just happened to have put on the page a comment that I was single and Lyle had noticed it," she said with a laugh.  "Being we knew each other in school, he reached out to me and asked if I wanted to go out to dinner.  He was asking me through Facebook Messenger, and my first thought was why this way?  I told him you can call me and ask, so he did, and I said sure."
Over the years, Marcy went with Lyle to Lebanon Valley where he is the General Manager. However, she also enjoyed staying home with her little girl, Mia, as well, but her role in the sport was about to take a different turn.
Prior to the 2012 season., CJ Richards was considering leasing out Albany-Saratoga Speedway. He reached out to Lebanon Valley owner / promoter Howard Commander to see if he was interested.
DeVore was also part of the decision process.  They were intrigued, but under one stipulation from Lyle was that they put the dirt back on the track.  At the time, the track was asphalt.
The deal was done and Marcy knew she needed to get more involved or she'd never see her boyfriend, so that's what she did.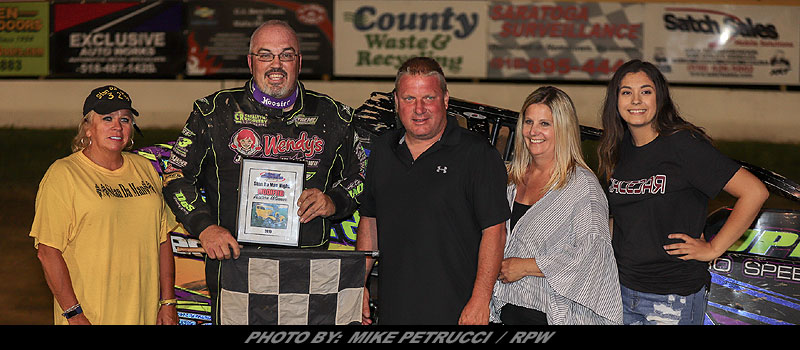 Lyle took over the helm at the "Great Race Place" as its promoter.  Marcy as well as Mia became his biggest supporters and were ready to do whatever it took to make the track a success.
"My first responsibility was answering the track phones," she said.  I also worked the pit window on Friday nights. Quickly each week, my job list grew."
For the 2020 season, when it gets going, what does that list of responsibilities entail?
"I handle the drivers memberships and take care of our sponsors and VIP, among other things," she said.  "I organize all of the special events we have at the track. One day, Lyle even asked me to get in a water truck and help run the track in.  I looked at him like he was nuts."
He was serious.
"I asked if he was kidding," she said.  "He told me no and that he didn't have anybody at the track yet that could do it, so behind the wheel I went.  Let me tell you.  It was an adventure."
There are some great parts to the job that Marcy truly enjoys as well.
"I coordinate the singers for the National Anthem and organize all the great raffles we have," she said.  "I'm also in charge of the track souvenirs and apparel and make lists for front gate passes.  I even organize the year-end banquet.  I'm basically Malta's 'Go-To' person."
Mangino was quick to point out that her daughter is a huge part of the success of Albany-Saratoga.
"Mia is a big part of track," she said.  "She interviews drivers on the flag stand and works with our social media.  "Her and co-announcer Mike Warren do a Facebook Live Show, "Mike and Mia," before and after each event to keep people informed.
How important does Marcy feel it is that women are involved in racing?
"It's very important," she said.  "Woman are super valuable in so many aspects of this sport.  We need them."
With eight years under her belt at Malta, what does Mangino think is the best part of her life in racing?
"I'd have to say the friendships that I've made," she said.  "I love organizing the special event nights we have.  The joy of giving back to the community and fans is great, but I love the people."
What does she feel is the worst?
"The accidents on track," she said.  "I also don't like the negativity on social media.  I wish there was a way we could curtail that."
During this time in the world when the Coronavirus has taken a stranglehold on racing in our area, how has it affected Marcy personally?
"Being under quarantine, we've been doing a lot of extra projects at home," she said.  "I also have a business I do from home called Tre-Skin.  We sell all-natural supplements and an organic facial line of products."
What about the track?
"As far as the track goes, we're ready," she said.  "We've been looking into what precautions and procedures we must take to be able to open when we get the green light.  Lyle has the track surface in great shape and the grounds as well."
One cool thing Albany-Saratoga has done involves high school seniors.
"We feel awful for those the local kids who didn't get to have their graduations," she said.  "  We've put it out there that high school graduates are welcome to parade around the race track."
Does Marcy have say in the decision-making process at the track?
"Actually all three of us do," she said.  "Myself, Lyle and Mia are all a partnership.  We all have ideas and discuss them together.  Either that or Lyle will ask us for our opinions.  We're either all on board with something or it doesn't happen. We're a team."
In closing, Marcy wanted to say that dirt racing has given her the opportunity to give back.
"Because of the connection with our sponsors, racers, crew members, racers wives and girlfriends, and our staff, we've been able to do so much for our fans," she said.  "The way they contribute to the speedway with things like bicycles, bike helmets and even child ID cards.  We're able to honor the special people in life. It takes everyone to be successful, and that makes this so rewarding.  It's just a cool thing."
If only Marcy had realized where her life would be all those years ago watching her brother tour around the 'Great Race Place."
"My life has evolved through many different experiences." she said.  "That's brought me to where I am today in this sport.  I've met a lot of wonderful people, and they're my family."
Speaking of family, is she glad for that class reunion Facebook page?
"Honestly, who knows what my path would have been," she said with a chuckle.  "Where would I be if I didn't have that Facebook page?"