RPW Column By: LAURIE FALLIS / RPW – MILLSBORO, DE – Many times when you mention a race track, the promoter's name usually comes up along with it. They are the ones that gets the acknowledgement and most of the credit.  However, sometimes behind a good man is usually a good women.
We have the privilege of getting up close and personal with these special women that are behind the scenes of the race track. You could say they are the strong force and supporters of some of the most successful promoters of the Northeast.  You could even say they're the backbone.
We'll take a look at their paths to how they became involved in the sport and what what their responsibilities are at the racetrack…and maybe a little bit more.
Part two of this series is with another strong and energetic lady in racing, Heather Deyo.  Deyo is the wife of Fonda Speedway, Georgetown Speedway and Short Track Super Series promoter Brett Deyo.
When I asked Heather what her first encounter was with dirt racing, she amazed me.
"I never went to a dirt track my whole life until I met Brett in 2007," she said with a laugh. "I lived 20 minutes from Grandview Speedway and didn't even know there was a race track."
How did her and Brett meet?
"My sister's best friend set us up on a blind date," she said. "Back then, Brett was living in my hometown. By the end of the night, things went well enough for a second date."
When was her first time at the track?
"For my first track date with Brett, he took me to Hagerstown while he was still working for Area Auto," she said. "It was for their Octoberfest event. The experience was great and I thought this racing stuff wasn't so bad after all. It actually was pretty fun."
Over the next year, traveling along with Brett to different tracks, Heather was introduced to more people.
"Getting to know them, I actually became more comfortable," she said. "I really started to like being at the dirt tracks with him."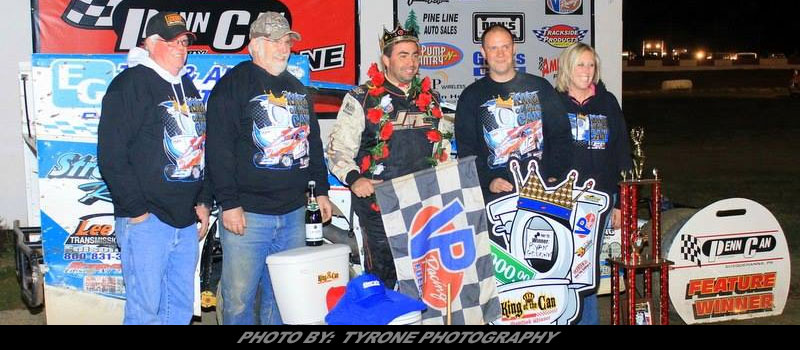 Then it happened…the Supernationals 'Working Man's Race' in 2009.
"That was when I got my feet wet," she said. "With only one other person helping Brett back then, I jumped right in."
Was she nervous?
"Very much so," she stated. "I took care of the driver's registration, draws, victory lane ceremonies, ran down to put line ups on the board and even sold Tee shirts in the pits."
From never even seeing a race a few years before to this point, she was now Brett's rock.
In 2011, the two would marry, bonding their partnership for life. With each year came more races and experiencing different tracks. With Brett's promotional skills, the potential was there for bigger things.
"I was also learning to have things more organized," she said. "We were becoming a real team, producing quality racing for the drivers and fans."
It was in 2013 when the bar was raised,
"Brett came to me and said he wanted to do this for a living," she said.
"At the time, Heather was working for a Banking company. His idea was a bit scary at first, but she knew Brett could do it.
The following year, the Short Track Super Series was born. Although Heather's duties at the track did not change, she knew this was going to be their living. Due to the travel, she ended up quitting her banking job.
After that, though, something, you could say, fell into her lap.
"It was the perfect job for my situation," she said. "I was a sales representative for Bob Hilbert Sportswear."
Soon after that, this husband & wife team felt it was time to expand even more. Following several Series races at the Georgetown Speedway in Delaware, the decision was made to take over the helm as owners of the historic facility in 2016.
The duo wasn't done, but Heather was a little worried on their next big step. This one was a little further from their home base…six hours to be exact. They took over controls of the "Track Of Champions," the Fonda Speedway in upstate New York.
As a side note, the Deyo's lived in a camper for most of the summer at the track. How was that?
"It was hard at times," she said. "However, it was fun. We're lucky enough to have great friends up there that helped us out."
Has Heather's duties changed any?
"My roles at the two speedway's are different then the Series events," she said. "I handle only the grandstand side of the tracks…organizing staff, the 50/50, making sure there's money for the gates and dollar bills for the food booth…staff pay…filling the drivers pay envelopes, taking care of VIP, making sure staff has water and other things of that nature. I also put out any fires that may come along on the grandstand side. You could say I'm the go-to person."
Over the years, what's been the best part for her?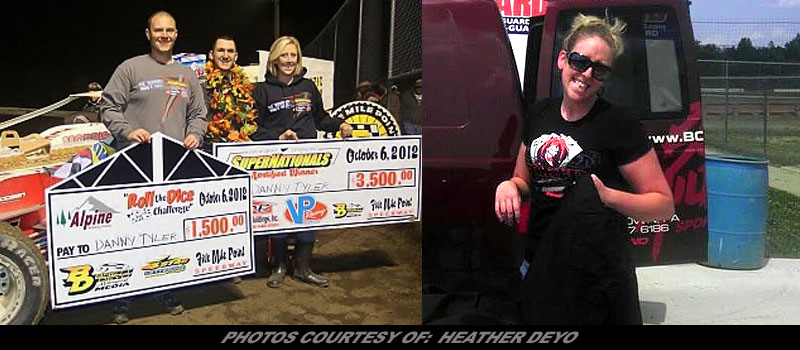 "The best part is taking pride in being organized," she said. "When Brett comes to me and needs answers right away, nothing makes me happier than to be able to give him those answers."
What's the worst part?
"The worst has to be the travel," she said. "Don't get me wrong. I love the places we go, but they are long rides. For example we would have a race in Georgetown on a Friday night and then leave early Saturday morning to make it to Fonda. That's a long weekend."
Although the Deyo's don't have children, they do travel with three of their family cats.
How are they dealing with the current COVID-19 pandemic?
"We're spending a lot of time at Georgetown cleaning the grounds," she said. "We're doing a lot of painting at the facility. We're ready to go when we get the green light. Things are looking better down here than up in New York as far as possibly getting races in."
With that, the Deyo's are set to embark on another 'long distance' trip, just for racing.
"We're excited," she said. "We're both really looking forward to the opportunity of getting a couple races in for our guys at the Tri County Racetrack in North Carolina."
In closing Heather wanted to point out that she has met so many nice people over the years. She never would have dreamed of doing what she is now before meeting Brett.
"It amazes me," she said. I'm shocked by the number of people who actually know who I am in public, it sure is a different experience. I'm so thankful that I was able to realize how exciting this life is and the friendships that I have made through racing. They're as close to me as my own 'blood' family.
In the end, Heather Deyo knows life can change in the blink of an eye, even if you don't really 'see' it.
"I'm so grateful and blessed for that blind date," she said with a smile!