RPW Column By: MIKE TRAVERSE / RPW – ZEPHYRHILLS, FL – Today, May 7th, is the birthday of a true racing legend, the great Emil 'Buzzie' Reutimann.
Buzzie has that way about him that turned people into not only his fans, but turned them into fans of the great sport of dirt track racing. That was certainly the case with myself back in the day.
I had attended my first race at OCFS in 1968, but it was about 1970 that I started gaining a big interest in racing. My older brother, Dean, had been a racing fan for awhile. He often talked about the greats of the sport like Richard Petty, AJ Foyt, David Pearson and so on. But he often talked about someone named Buzzie Reutimann, who I had virtually no knowledge of.
Dean had a subscription to a racing periodical from back then called Cavalcade of Auto Racing. It was a pretty cool thing to read back then. It seemed that every edition had some good content in it about wins that Buzzie had. The more I read and learned about him, the more I was becoming a fan of his. I even thought the place where he was from, Zephyrhills Florida, sounded cool. Then in 1972, the Cavalcade had a special color edition that featured many great photos of northeast dirt modified drivers, taken by renowned racing photographer Bob Perran. The color photo of the red, white and blue 00 coupe with Dover Brake painted on the side was the best looking race car I had ever seen. The decision was made, Buzzie was going to be the driver to root for.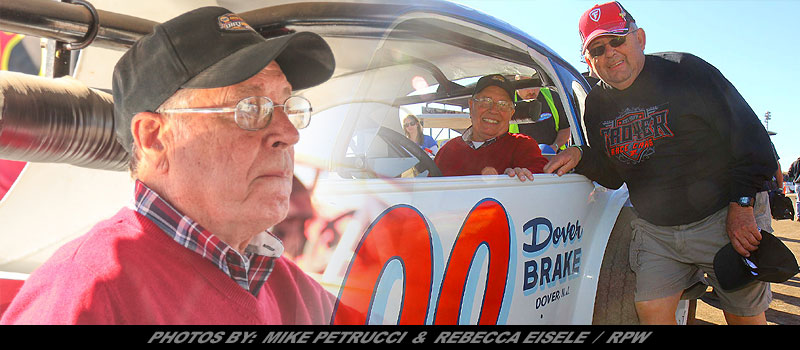 When I first started going to OCFS, the driver roster at the time was legendary, Wayne Reutimann, Gary Balough, Bobby Bottcher, Bob Malzahn, Richie Eurich, Carl Van Horn, Frankie Schneider and the list goes on. But it was Buzzie first and foremost on my favorite list. He would win his share of races through the years, many of them big races that would make his fans so happy. As the years moved forward into 1976 and 1977, the rumors started floating around that Buzzie was not going to be coming north to race for too much longer. After the 1977 season, which wasn't a good racing season for Buzzie, it was thought he might not come back for 1978.
But in the early months of 1978, the news appeared in the Area Auto Racing News that Buzzie would be coming back for another season. It wasn't stated as fact, but many thought that it would be his final season as an OCFS regular.
One day, before the season began, I had a talk with my brothers, Dean and Patrick. We were all huge Buzzie fans. We decided that for 1978, we would attend as many of Buzzie's races as we possibly could. We formed what we called 'Emil's Army'. Except for a couple of Nazareth races, we attended all the OCFS/Nazareth races in 1978.
As the preparations were being made for the 78 season, news surfaced that Buzzie would be behind the wheel of a new Chevette bodied Tobias car. We don't know how many of his fans liked the change from the coupe to the Chevette, but Emil's Army thought it was fabulous.
But the 78 season began poorly for Buzzie. He raced his coupe in the held over Syracuse SDW race from 1977 and was involved in the epic crash that day. That crash was such a scary sight for all of us that were there that day. And then, in the second week of the OCFS season, Buzzie's Chevette flipped on the frontstretch. This was the low point of the season for Emil's Army as we thought that Buzzie might just decide to pack it in right then.
But Buzzie and his crew made the repairs to the Chevette and he continued to race on the circuit. And he began to run very well, moving into championship contention at both Nazareth and OCFS. On June 10th, Buzzie broke a more than 2 year OCFS victory drought by winning that night's feature. I was so happy that as the laps counted down, I joined the crowd standing down by the starter's stand (you could do that in those days) so I would show up in the checkered flag photo that would appear in the next Hard Clay program. And in the next program, there I was. Even looking through the fence that night, you could see the joy on Buzzie's face as he once again pulled into OCFS's Victory Lane.
Buzzie took the OCFS point lead with that win and extended it with another feature win the following week. But as spring made the transition into summer, Billy Osmun started to dominate the Modifieds.
Osmun had taken over the Ferraiuolo 73 after Gary Balough left the area after the second week of the season. After Buzzie's 2 wins. Osmun went on a 5 race winning streak and Buzzie's point lead was quickly vanishing. The race that ended Osmun's streak was one of the most memorable ones that I recall from 1978.
The July 29th features were rained out, and on August 5th, the Modifieds took to the track to lead off the program with a make up feature. It turned out to be the best Buzzie/Billy O duel of the season. Rags Carter took off in the Everett 4Jr and checked out. But the battle for 2nd was fantastic. Buzzie held it, but was under constant pressure from Osmun. For lap after lap, Buzzie was able to maintain 2nd and the crowd was loving this classic race between these veteran racers. As Carter took the white flag, Buzzie and Osmun made contact between turns 3 and 4. Both drivers were able to keep their cars under control, but Brett Hearn got by Buzzie for 2nd, the 00 was 3rd with Malzahn and Billy O rounding out the top 5. The crowd was really buzzing after that feature.
Later that evening, Osmun won the regularly scheduled feature and when he took his 8th win of the season the following Saturday, he took the points lead for the first time. But Buzzie was able to capitalize on Osmun's misfortune the following week to take his 3rd OCFS win of the season. This gave Buzzie a 33 point lead with 2 races left. When Osmun won the following week, it cut Buzzie's lead to 2 points. This set up the point season finale.
As the final night got started, Buzzie gained 2 points on Osmun in the heat races. But 4 points left no margin for error. As the feature unfolded, Chris Berton took the early lead and was able to hold on for his first ever Modified feature win. Osmun's 2nd place finish clinched him the championship by 6 points over Buzzie who finished 4th. Although Buzzie came up short for the championship, it was so good to see him running so well in 1978 and Emil's Army had many great moments that season. Buzzie had 3 wins at both OCFS and Nazareth and we were able to see 5 of the 6.
As 1978 moved into the late season big money races, Emil's Army got themselves for the trip to Super Dirt Week. We were hoping that if Buzzie got a top finish that he might decide to come back for another season. But it wasn't meant to be. While running in the top 3 with a handful laps to go, a wheel came off of the 00 and there went any chance of any good finish.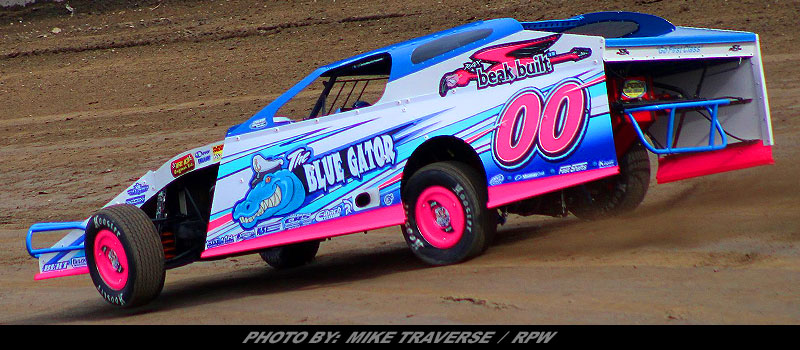 On Sunday, October 22, Emil's Army headed to OCFS for the 1978 Eastern States 200. We were pretty well resigned to the fact that this would be Buzzie's last race as an OCFS regular. Buzzie ran a steady race that day, never in serious contention for the win, but he brought the 00 home in 4th, a good finish to wrap up his tme as a regular at OCFS. It was with some sadness as we left OCFS that day. It was the last hurrah for Emil's Army. But we were grateful for all the enjoyment that we had in 1978.
As the years moved forward, we would see Buzzie make appearances at OCFS and Syracuse, often driving the Vince Valeriano #60. It was 1996 that Buzzie again raced a 00 at OCFS when the 358 SDS race occurred. It was great seeing Buzzie in the 00 turning laps again.
It was pretty awesome to see Buzzie enjoying the success that his son David had in the top three tiers of Nascar from 2005-2010. To have won in all three top series is a pretty cool accomplishment and great to see the joy that they both had.
As the years rolled on, OCFS started their popular Nostalgia Night events. It's always a great night for the drivers, crew members and fans reminisce about the past. As the 2018 Nostalgia Night drew near, OCFS made a big announcement. Buzzie was bringing his Florida UMP Modified up to OCFS to take some hot laps.
It was a fantastic time at that event. The always gracious Buzzie posed for a photo with my sons and I. It was so cool after all these years of being a fan of his for us to get a photo with him. And his hot lap session was a great sight. For a few moments, it was like being back in the 70's, seeing Buzzie screaming around the track in the 00. Later in 2018, the newly relocated Dave's Racing Collectibles store had a sign above it honoring Buzzie. Another fine honor from the management of OCFS.
Buzzie was a big part of the 100 year celebration at OCFS in 2019. When Buzzie finished racing at OCFS, he was 5th on the career wins list. Over the years, Hearn, Eurich and Jeff Heotzler have moved past him and Buzzie now sits 8th on the wins list. But the fans remember the greatness that he brought to OCFS and to the sport. As part of the 100 year celebration, OCFS had a Greatest Of All Time (G.O.A.T.) fan vote in the weeks leading up to the Centennial Race. In the final tally, Buzzie was just edged by Hearn.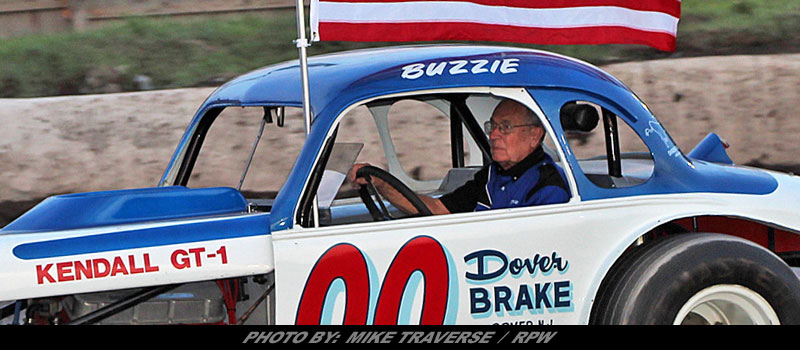 It was just another testament as to how much respect this man has among the northeast dirt modified fan base. I would imagine with the amount of votes that were cast that many people, who had never seen Buzzie race, had voted for him. Many, like my sons, probably had heard about Buzzie from past relatives and fans who had witnessed first hand the classy Floridian. It's not always the amount of wins that determines a driver's true value to the sport and the tracks where they race.
So those of us at Race Pro Weekly along with my sons and your huge legion of fans wish you a very Happy Birthday, Buzzie Reutimann. And I thank you for turning me into a racing fan for life. I have so many great memories from your years at OCFS and Nazareth. But that 1978 season will always stand out as some of my favorite memories. As it said on your car, 'Go First Class'. And you always did sir.