RPW Column: After Just Missing Out Last Season, Mike Arnold's Chasing Fonda's Point Title Again In '20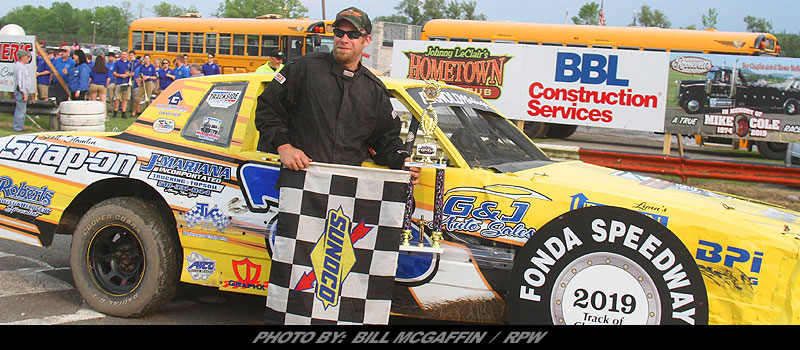 RPW Column By: TOBY LAGRANGE / RPW – SELKIRK, NY – The Street Stock division is and always has been one of my favorites. Growing up at the Fonda Speedway the division was one of my favorites from day number one.
From those early days at the Track of Champions rooting on Todd Hoffman against the likes of Fast Freddie Tauss, Danny Ballard, Lester Dieterle and Conrad Carey to the present-day division, the often overlooked heavy metal division continues to be a favorite.
While my announcing career has taken me away from the banks of the Mighty Mohawk, I still make sure I keep up on what happens each and every week.
A name that I noticed many times during the 2019 season was that of Michael Arnold.
The driver out of Selkirk, New York took to the very tricky half-mile in grand fashion this past season. When the final checkered flag waved from head starter Joey Kriss Arnold had picked up a feature win and earned himself a runner up points finish.
"The Fonda Speedway was a great place in 2019," Arnold said. "It made for some great, tight and fast racing in our division. We finished second in points in 2019 at Fonda and are hoping for a track championship in 2020."
Championships at the Track of Champions are hard to come by and Arnold knows that this lofty goal will not come without a fight.
"We know it will be tough," Arnold said. "The competition is tough but we are ready and up for the challenge."
The 2019 season wasn't at all easy for Arnold and his team as it started off with some mechanical issues before finishing near the front.
"Our 2019 season started off rough," Arnold said. "We were fighting handling issues with our car. My father and uncle as well as everyone else, helped day in and day out to try and get it straightened out."
Arnold then received some unexpected help in the form of a car owner stepping up for the remainder of the season.
"Peter Essex, aka "Farmer" stepped up with his 5XJR car," Arnold said. "He handed us the wheel and said let's go get it! With some work the car was dialed in and handled like a dream. The support from Farmer, my father and my wife was amazing."
For the 2020 season Arnold plans to once again call the Fonda Speedway home.
"Our plans for the 2020 season are to return to the Fonda Speedway," Arnold said. "We will have a brand new Street Stock to run weekly while using our backup car on a part time basis at the Albany-Saratoga Speedway and the Glen Ridge Motorsports Park."
In addition to aiming for the coveted track championship, Arnold has two more goals. Each of which are needed for a championship run.
"Besides a track championship, we are looking to be consistent every week and keep the car in one piece."
Sponsorship help for the 2020 season will come from Robert's Towing & Recovery, Girgenti Companies, LLC, Snap-On Tools (Scott Hamlin), G&I Auto Sales, Lynn's Uptown Tavern, BPI Piping and Cristo Demolition.
In addition to his sponsors, Arnold would also like to offer some special thanks.
"I would like to thank my wife Kelly, my mother Lucy, my dad Charlie, Farmer, Pete LeClair for building our new frame and Joey Wilson from Wilson Fabrication. Also, Tommy and Donna Kreeber from TK Engineering for their support with our motor package. I would also like to thank my children – Jacob, Kylie, Michael, Jr. and Charlie for always being my biggest fans on and off the track."
With a solid team behind him watch for the name Michael Arnold this season. Who knows, a few years from now his name may be brought up with other Fonda Speedway Street Stock legends such as Hoffman, Ballard and Tauss.