Column By: TOBY LAGRANGE / RPW – GLOVERSVILLE, NY – It's a profession for some but a really fun hobby for most…it takes not only talent but the willingness to never stop learning and innovating.
The "it" of course is the fine art of announcing. And trust me it is indeed a fine art. Many have tried, many have thrown in the towel but very few have cemented themselves as one of the best.
So, how does one know when they have made it to the top…when they have officially become one of the best ever to hold a microphone?
Well, they usually don't…at least not until they get that indescribable phone call that tells them they have been selected to enter a Hall of Fame. It takes hard work, natural talent and the ability to adapt to any situation.
I started announcing in 2014 and mid-way through my second season I received some really good advice from three of the announcers you will hear about in a few moments. That advice was simple, if you want to be good and not just someone talking to everyone but someone they will remember, you have to get out in the world and do different things and not just call races at one place.
Of course, if you know me then you know I am a bit on the stubborn side which is clearly a trait that I not only inherited but have passed on to my son. That stubbornness actually worked out in my favor in 2016…rather than take a position that wasn't exactly what I wanted; I chose to decline it. That sent me scrambling for a microphone and audience that would take me. I started to do different things and got better.
The announcers I am about to speak about have done many different things and their unmistaken voices are some of the best you will ever hear.
So how did I come up with my Top 10 announcers of all-time?
Well, it was actually pretty simple. I broke it down to five areas.
First, I thought of those announcers who I enjoy listening to…not only do I enjoy listening to but I specifically listen to in order to learn something. As an announcer your never stop learning and the best textbook is to work with someone who in essence can write their own textbook.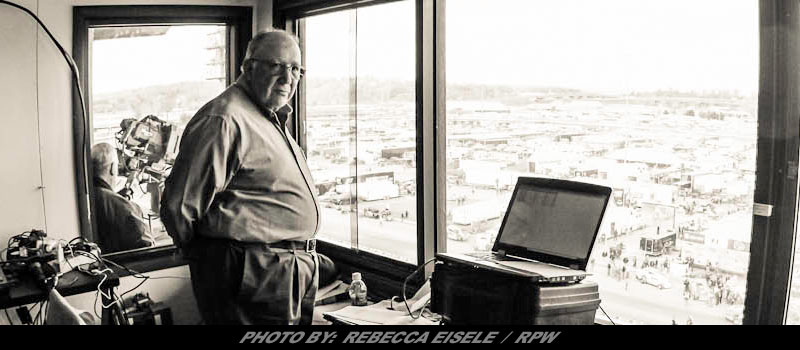 Secondly, to make my top ten list you have to be someone that if I were to mention your name at any campground at any short track race in New York, pretty much anyone would know who I am talking about.
Next, these verbal artists have to be someone that is willing to work with others. Not only as equals but are willing to help a new announcer along. They cannot see it as teaching someone who is going to take their jobs because if you are good enough, you have nothing to worry about. They have to see it as grooming the next generation of artists.
Fourthly, they have to have a voice that you instantly recognize. A recognizable voice doesn't have to be a great sounding voice…just a voice that once you hear it, you know that you will hear not only a great description of the race your about to witness but knowledge to back it up. By knowledge I do not mean the ability to press 50 buttons a second to look up the information on your lap top but true knowledge of our sport.
And finally, to make my top ten you have to be someone that does their homework. When I say does their homework, I mean for every event. I have heard far too many announcers who think finding one tidbit of information six months earlier and using it all season long qualifies as doing your homework – not even close.
With those five criteria under my hat and the names on paper, I was able to come up with my top ten list. My list does not include national announcers, only those that I have heard here in the Northeast.
Here are my top ten announcers of all-time.
10 – John Stanley
One half of the long-time announcing team at the Lebanon Valley Speedway, John Stanley has been a staple on the Capital Region airwaves for many years. From his NASCAR and racing reports on WGNA radio to the high banks of Howard Commanders Valley of Speed where he and his partner Danny Martin have entertained crowds for many years.
9 – Ben Dodge
The veteran announcer from New England's Stafford Motor Speedway entertains the pavement pounder fans with one of the best, clearly spoken voices that I have ever heard. His crisp tone tends to make any event, even the most single file, lack of passing bore fest seem like a four-wide battle to the checkers.
8 – Jack Burgess
The longtime voice of Drivers Independent Race Tracks…aka DIRT Motorsports, the late great Jack Burgess's calls of those early battles throughout Central New York live on in old video collections. His raspy tone sticks in my mind from my childhood…especially his iconic calls from the Moody Mile and Super DIRT Week. What kid growing up in the 1980's and 1990's didn't sit in the now destroyed grandstands in Syracuse repeating his famous line…You Gotta Have A Favorite!
7 – Doug Elkins
If you turn back the clock to the 1990's and asked a then teenage Toby to name an announcer other than Jim King, the first name I would have said would have been Doug Elkins. From the early 1990's at the Fulton Speedway and the Outlaw Circuit to his days with Glenn Donnelly's D.I.R.T Motorsports to the launch of Doug's Dirt Diary and today with Elkins Video Productions, Elkins continues to give back to our sport with his knowledge and dedication.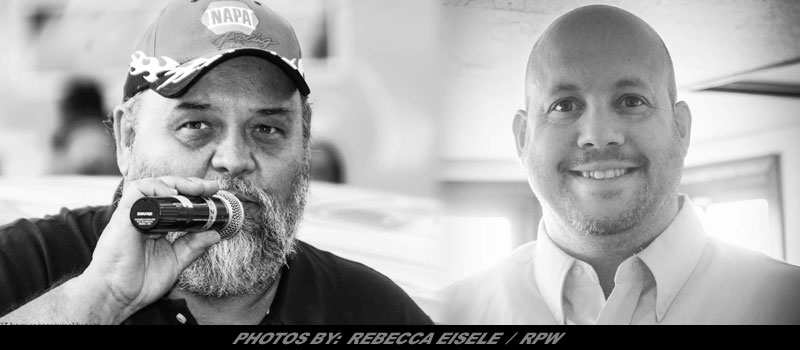 6 – Fred Osmun
If you have never heard the classic race calls of Fred Osmun, then I suggest you find an old video of the Five Mile Point Speedway from the early 1990's. His style is not only entertaining but unique. He is definitely a verbal artist and belongs on everyone's top ten list.
5 – Joe Marrotta
Outside of the late Jack Burgess, if you were to ask me who is the voice of Super DIRT Week the answer would be simple – Joe Marrotta. From the Moody Mile to Weedsport and Oswego and destinations in between, Marrotta's voice has been a staple for decades. His gift of enthusiasm has entertained us all for a long time. Currently Marrotta sits alongside Roy Sova at the Oswego Speedway.
4 – Dan Martin
The voice of the Albany-Saratoga and Lebanon Valley Speedways, Dan Martin certainly has that knack for excitement that an announcer needs. I sat alongside Dan for four seasons (as the PR Person) and got to soak up a lot of that excitement that he brings each week and trust me when I tell you, it was fun. His knowledge of pretty much everyone at the Great Race Place certainly cements his spot inside my top five. In addition to being one of the voices you hear each year at Super DIRT Week, Martin was also a racer himself.
3 – Roy Sova
If you are a fan of the Oswego Speedway or the early years of the Victoria 200, then you have heard the golden tones of Roy Sova. Like Ben Dodge, Sova has one of the best, clearly spoken voices that I have ever heard. Sova is still going strong alongside Joe Marrotta at the Oswego Speedway on Saturday nights and the Steel Palace fans are better off for it.
2 – Shane Andrews
Quite simply known as The Voice, Shane Andrews comes in at number two on my list. I have yet to meet or hear an announcer who can go from entertaining the crowd to an old fashion race call and back to emceeing a kids dance contest on the front stretch as quickly and elegantly as Shane. His resume is too long to list but most notable he is the voice of the Weedsport Speedway and for many of the Super DIRTcar Series events. You can also find him on many of the DIRTcar Television broadcasts. It would not shock me at all if he ends up at number one on my list in another 15-20 years or so.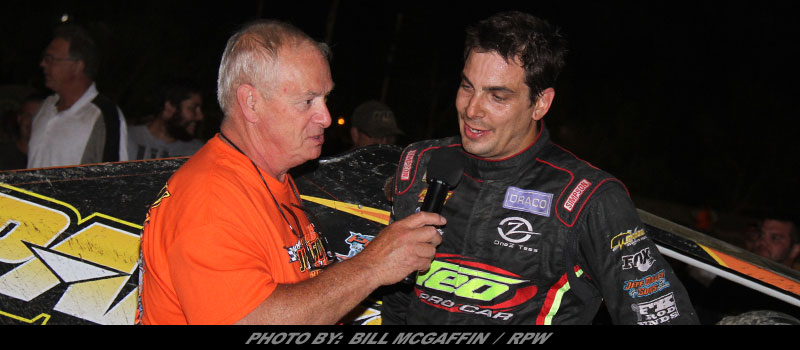 1 – Jim King
His last name pretty much says it all. As a boy growing up at the Fonda Speedway, there was no announcer who I wanted to listen to more than Jim King. From his interaction with the crowds to his golden voice and vast knowledge, the 2015 Fonda Speedway Hall of Fame inductee has entertained crowds all over the country and at the majority of dirt tracks in New. Not only does he have a patented race call and microphone presence, but he is a first-class interviewer and if you show initiative, one of the best teachers an inspiring announcer could ever have.
Beyond these ten announcers there are other good ones…honorable mentions if you will. Mike Mallett, Paul Szmal, Mike Warren, Tim Baltz and Jeff Ahlum to name a few.
I have spent hours listening to all of the announcers in my top ten. Not just listening but learning and appreciating what they have given our sport. I have worked with and alongside four of them but have learned from them all. Here is a huge thank you to each of them for not only giving me and others the ability to learn from them but for what they have given to our sport.