RPW Column By: MIKE TRAVERSE / RPW – CRESCO, PA – When the plain white #78 rolled into OCFS for the 2019 Hard Clay Open, many people had no idea who was in the car. However, Grant Hilfiger made it clear early on that he was going to be the man to beat in the Sportsman division for 2019.
He will be back at OCFS in 2020 to defend his title.
Grant won the first two features of the year and took an early point lead that he never relinquished. He reached Victory Lane 6 times at OCFS and also won races at Hill Speedway and the final Sportsman race of the season at Accord Speedway.
Hilfiger raced at OCFS in 2019 on the advice of Jerry Higbie.
"Yeah, Jerry said to come on up to Orange County," Hilfiger said.  "The money is good and you will do well."
Was he surprised by his 2019 OCFS performance?
"Well, yes and no," he said.  "Jerry felt that we could be a contender and it turned out to be a very enjoyable season. We got off to a great start and with the amazing job that HigFab does maintaining the car, we got on a roll early, had some success and a fun time doing it. We met a lot of great people in 2019 and that is just as enjoyable as the racing."
Grant was always one of the fun drivers to watch in 2019. Even before the track resurfacing, he would take it to the high groove to try to advance.
"If the track was kind of one groove, I'm a firm believer in not just following behind someone," he said.  "I'll take it out to the high groove. If it works, great. If not, we'll regroup and try it again."
Hilfiger also enjoyed the racing on the resurfaced track.
"It was a real test," he said.  "A lot different with the turns being so slippery.  I often felt like it was a game of chess where you had to calculate your moves. We were pleased with how the tire wear was on the new surface."
Although Grant had only a few appearances over the years at OCFS, he has had a lot of racing experience. It started in the pure stock division at Moc-A-Tek in 1998. He picked up his first career win in 1999 at the speedway.
His next transition was into Sportsman cars and was the division Champion at Penn Can Speedway in 2008 and 2009. He also owned cars driven by Billy Van Pelt, mainly at Woodhull Speedway.
Hilfiger also has a few wins in the Modified class.  He's captured three at Penn Can and one at Woodhull. He's even come close to a Short Track Super Series win once at Woodhull.
"I led the first 45 laps, but got passed by Ryan Godown," he said.  "It was a close one."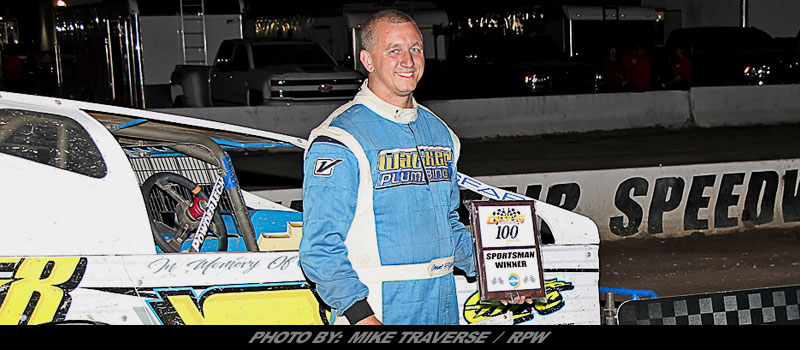 Hilfiger's third win in 2019 was his 50th career win, a milestone he is very proud of.
"It may not sound like a high total, but we don't race a tremendous amount of races," he said. "For that, I'm pretty proud to make that milestone."
It's a busy and short off-season for Hilfiger. He is going to race a slingshot at Allentown in early January.
"I'm driving a slingshot for owner Craig Whitmoyer at Allentown," he said.  "I've never race one of those cars so I'm looking forward to it."
Grant's #78 HigFab Chassis car is being prepared to appear at the Motorsports Show at the Greater Philadelphia Expo Center in Oaks Pa. on January 17-19. It will be in the Orange County Fair Speedway booth.
Then, in February, Grant will be heading to Florida for the inaugural Sunshine Swing Short Track Super Series Crate 602 Sportsman races at All-Tech Raceway.
"We are looking forward to heading to Florida," he said.  "I will have almost all of my crew available to go and we are looking forward to some good times and great racing."
Grant  will be welcoming a new sponsor to the #78. Quinn's Painting, an all purpose house painting and power washing company, joins the team for the 2020 season.
Returning sponsors are Grant Hilfiger Contracting, Walker Plumbing, Sunshine Flooring and HigFab Chassis.
The crew members are Grant's dad, Paul Hilfiger, Butch Rake, Travis Ziegler, Jason Seese, Hal Lostraglio and his daughter Madison.
It was a familiar sight at OCFS in 2019 to see Grant and the proud Madison standing atop the #78 in Victory Lane. It will not be surprising to see more of the same in 2020.