Column By: DYLAN FRIEBEL / RPW – WEST LEBANON, NY – Six Years. That's a long time, a very long time. The last time Matt Pupello won a feature at Lebanon Valley, I was 16…did not have my license and was going into my senior year of high school.
However, that all has changed Saturday Night.
When the night started, there was a sense of urgency in the air from the start. It was promoter Howard Commander's 75th birthday so it was $7,500 to win, not your normal Saturday night payday.
A lot of front runners for the points however struggled in their heats such as Peter Britten and LJ Lombardo, they would have to start deep while 3rd place point man Andy Bachetti would start 7th after a bad week just two weeks ago.
When the green flag flew, it was 42 of Matt Pupello who jumped out to the early race lead and looked to pick up where he left off from his heat race. By halfway, he was in lap traffic but was extending his lead over second place man of Olden Dwyer, however Dwyer would break on lap 19 which brought out the caution and put a hungry Andy Bachetti on the back bumper of Pupello.
"I had no idea who was behind me there on the restart." He said. "I knew Andy had started 7th and would be good tonight, so I figured it might of been him but then I saw someone's crew giving signs like they were behind me so i had no idea."
On the ensuing restart, Pupello would fire and maintain about a 4-8 car length lead to bring home his first win since July 27th, 2013, almost six years, well Five Years and 351 Days later. He also made Lebanon Valley Speedway History with being the first Mike Petrucci built motor to win in the Big Block Division at Lebanon Valley
"It's been six years now." Matt Says. "Countless times i've been in position. I lost one with three to go on a restart a few years ago, I had a flat at the start of the year and then blew my motor a few weeks ago, every chance that goes by makes you wonder how you're going to get back there. I love working with Mike and Kevin and I am glad we can run their motor here and win."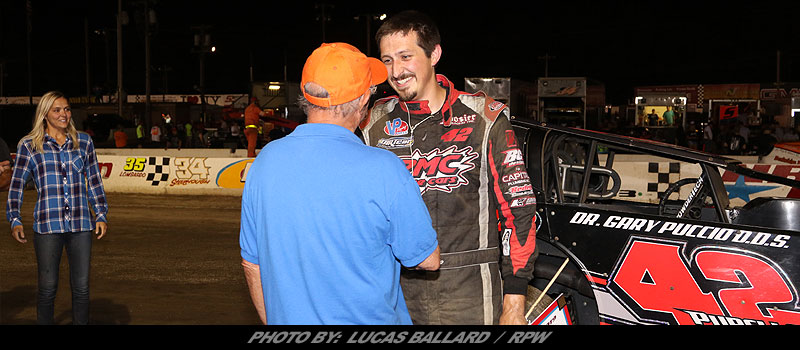 While Pupello was happy with his win, and rightfully so, the chassis he was running was not a typical "Lebanon Valley Car."
"I am so happy to get back to Victory Lane." Matt Said. "I maybe told 50 people today, 'I am going to win.' The Interesting thing is that, this is my Malta (Albany-Saratoga Speedway) car that i had been running before I lost my engine. It's not something I thought would be any good here since it is on coils, I came here to take a lap for handicapping a few weeks ago and when I took a few laps during the feature, I thought I could win from the pole with this car. The next week I came back and broke that motor, put Petrucci's motor back in this car. I wanted to win and put it in whatever car I thought would be better."
To win sometimes you would rather be lucky than good, well Pupello had a little bit of both as an issue almost ended his night in the category of 'another one we could of won.'
"I got lucky tonight." he said. "We went out for hot laps after the heat and the car kept shutting off on me. Well I had a water hose leaking on a distributor wire and we were fortunate enough to notice it when we did and not 30 minutes later when going out for the feature. Between blowing up, getting flats and every other way, it starts to mount of six years and you wonder if you're ever going to have one night put together, so this one feels nice."
All of Matt Pupello's win at the Valley of Speed have come in the month of July with his first being on July 9th, 2011, then July 27th, 2013 and now July 13th, 2019. I Would say July has been good to the 42 car and for one week he's the 'King Of The Track'