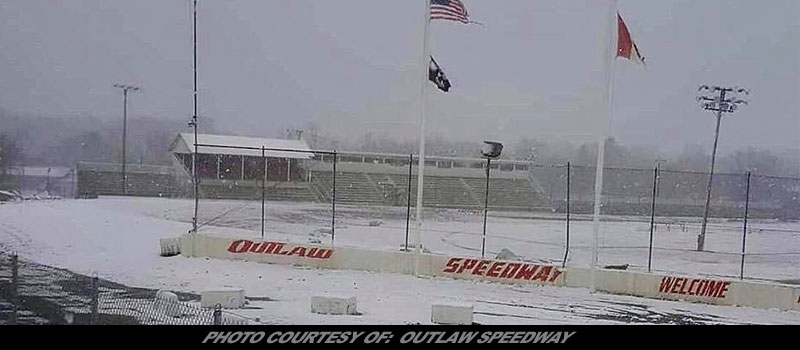 Story By: KENNY SHUPP / OUTLAW SPEEDWAY – DUNDEE, NY – With a weather forecast of nothing short of bitter cold temperatures and possible snow the ownership and management team at the Outlaw Speedway has decided to cancel Day 2 of Dutch Hoag Weekend which was rescheduled to Saturday, November 10, 2018.
The original date of Saturday, October 20 was postponed due to constant rain and sleet to the November 10 date in hopes of getting the show in during the 2018 season, but like she has throughout most of the year, Mother Nature has other ideas thus the cancellation and yet another rescheduling of the Dutch Hoag finale.
Most every race venue up and down the east coast has experienced a multitude of weather related issues throughout 2018 going all the way back to April when it snowed throughout the entire month. The "18" campaign has ended up pretty much the same way it started with nothing but more rain and forecasts showing show, ice and sleet.
"We have given it our best shot, stated Outlaw Speedway track owner, Tyler Siri. The track prep crew put in a Youmans effort to get the October 20 show in the books but it just wasn't meant to be. With a lot of competitors already having plans to race at the Dirt Track at Charlotte Motor Speedway for a couple consecutive weeks we thought we would take a shot at November 10 to wrap up Dutch Hoag Triple 7's Weekend. Anytime you race this late into the year it is a crap shoot. The weather may cooperate like it did last year or it might not. In 2018 we hit a home run with perfect condition. This year is the direct opposite with a forecast of rain and even snow on the Nov. 10 date. With that we have no choice but to call it a season. The facility needs to be winterized including water pipe drainage to all concessions and rest rooms along with all track's watering equipment,"
Dutch Hoag Triple 7's Day 2 will be rescheduled for Saturday, April 13, 2019. The track will host practice on Friday, April 12 for any and all competitors.
"With this date we can get the make-up in before may other venues in the northeast open for 2019. We had over 200 cars checked in for this event in October and with the April make-up it could even top that number," that according to Siri.
All the originally scheduled classes of competition will return in April. All the posted purses, number of laps and any lap money will be rolled over to 2019. Anyone that purchased a pit or general admission ticket for the October 20 show can rest assured that their ticket or wrist band will once again be honored at the make-up next April. Simply secure your purchase in a safe place.
This is not the first time this type of scenario has happened at the Yates County Speedway or several other race venues in the northeast for that matter when weather has gotten in the way of a fall finish and the events were pushed to the spring of the following year.
"No doubt there will be some fans and drivers that are not in favor of this decision, but our backs are against the wall. Time has run out and thus the decision to reschedule to April of 2019. Let's hope that we get more typical spring like conditions and we get this show in the books next April 13."
Information relevant to the 2018 Outlaw Speedway Awards Banquet will be up-coming in the near future and will be posted as they become available on the tracks web site, Facebook account and in track related press releases.
Tyler Siri and all his staff and management would like to thank all their marketing partners, fans, drivers and crew members for all of their continued support throughout the 2018 season. Plans have already been put in motion for an aggressive 2019 schedule of events and will be made public as they are finalized.