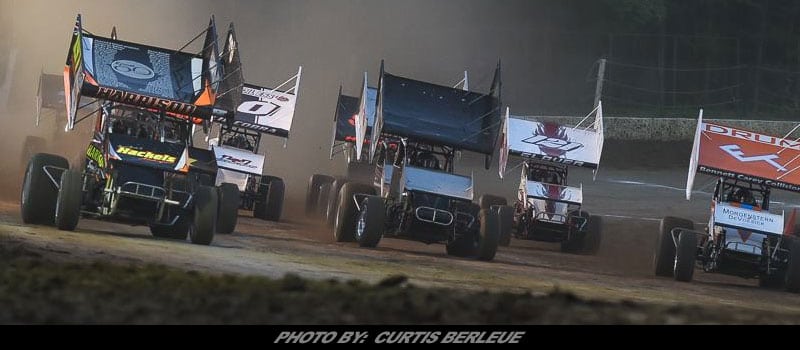 Story By: PAUL HARKENRIDER / PATRIOT SPRINT TOUR – OHSWEKEN, ONT – The largest 360 sprint car race in the north east is next on docket for the Patriot Sprint Tour drivers as they will join close to 70 other teams from all over the country competing for $10,000 (USD).
With a strong influx of race teams converging this weekend in Southern Ontario, it is by far the most difficult race to win all season. One Patriot Sprint Tour driver was able to accomplish that back in 2015 when it was Bryan Howland coming out on top over Steve Poirier and Parker Price-Miller in what was arguably the most the exciting Canadian Sprint Car Nationals finish to date.
Could the 14th annual Canadian Nationals be the next year a PST driver comes out on top?
Here is a preview of the PST teams competing at Ohsweken this weekend:
Chuck Hebing- Ontario, NY
The winningest driver in tour history, Chuck Hebing is on his way to claiming his third career Patriot Sprint Tour Championship. Hebing is having another banner year in the 45 notching wins at Albany Saratoga, Ransomville, Clinton County, Brockville, and most recently at Woodhull. He also has top five finishes at Fulton, BAPS, and Selinsgrove Speedway.
The Cobra is well seasoned veteran during this event and will be making his 13th start at the nationals. The back to back runner up finishes back in 2009 and 2010 are career highs for Hebing. In his 12 starts, he has posted a total of eight top ten finishes.
Jordan Thomas- Harding, PA
The story of the 2017 Canadian Sprint Car Nationals was when Jordan Thomas went wheel to wheel with California's Carson Macedo during the A-Main. Macedo ended up taking home the win, but Thomas was certainly within striking distance of taking the lead at several points of the race. Thomas would settle for a runner up position but is certainly looking to do one better this coming weekend.
This will be Thomas's fifth career attempt at the Canadian Nationals and has been able to qualify for the A Main every year he has attended. In 2016, he was quick time overall of the 65 cars in attendance and he took home a 13th place finish.
Kyle Drum- Wayland, NY
Kyle Drum has continued to be a consistent driver with the Patriots over the last several years posting several podium and top ten finishes.
In three CSCN starts, Drum has qualified for the show twice with a career best, 14th place finish back in 2005.
Scott Goodrich- Middletown, NY
The 2018 contender for the PST Newcomer of the year will be making his first ever Nationals start this weekend making the long tow from Middletown, NY. Goodrich has been getting faster in the second half of the season posting a pair of top ten finishes last month at both Woodhull and Outlaw speedways. Goodrich was also able to qualify for PST Make Up A Main which also takes place this Friday night.
Pete Richardson- Vernon, NY
Pete Richardson is also continuing to improve with 360 program racing full time with the Patriot Sprints in 2018. Richardson currently rides fifth in points overall and will be his second attempt at the Canadian Nationals after failing to qualify in 2017.
Steve Glover-Ontario, NY
Also attempting to qualify for his first ever CSCN in his second start is Steve Glover. Glover is back to racing full time with PST in 2018 and currently rides sixth in points. Glover has had perfect attendance on the tour this season with several solid runs to his name.
Jared Zimbardi- Bradford, PA
The five time and defending series champion has raced a limited schedule with the Patriots in 2018 but has been fast in the starts he has made including an A-Main win at Outlaw Speedway dating back to last month. Zimbardi is one of the few drivers that has attempted to qualify for all CSCN events up to this point.
Zimbardi has four career wins at Ohsweken in PST competition, however, he has yet to win this illustrious event in his storied career. Zimbardi's best finish during the nationals is a tenth-place finish back in 2014.
Joe Trenca- Clay, NY
The Salt City Outlaw has also been on a limited schedule with the Patriots in 2018 but when Joe Trenca is in attendance, he is always a threat to win. Trenca will also representing the Patriot Sprint Tour this weekend making his sixth career start at the CSCN. Trenca has been able to qualify for the event once in five starts where he posted a respectable eight place finish in 2014.
Parker Evans- Owego, NY
Parker Evans has had a few consistent finishes with the Patriots in 2018 and will be looking to do the same this weekend at Ohsweken. This will be Evans third career start at the nationals with a career best 18th place finish back in 2016.
A number of these drivers will be racing both nights on September 14 and 15 on Canadian Sprint Car Nationals weekend. Their will be a makeup feature event from the July 20 PST show that was postponed due to rain in the Friday program. The race will pay $3,333 to win and points will go towards the 2018 PST Canadian Tour. Due to the heats and B Main's being complete in 2018, the lineup has been set, and no other driver can attempt to qualify.
For more information pertaining to this weekend and the rest of the 2018 seasons, please be sure to log onto www.patriotsprinttour.com and to like us on facebook. You can also follow @PatriotSprints on Instagram and twitter.
Canadian Sprint Car Nationals History
Year CSCN Champions
2005-19 Kenny Jacobs
2006- 28fm Steve Poirier
2007- 28fm Steve Poirier
2008- 94j Wayne Johnson
2009- 3g Shane Stewart
2010- 3gx Shane Stewart
2011- 15h Sam Hafertepe Jr.
2012- 28fm Steve Poirier
2013- 3g Shane Stewart
2014- 1z Jessica Zemken Friesen
2015- 51 Bryan Howland
2016- 67x Parker Price Miller
2017- 3g Carson Macedo
NBN A – Main #1 Winner NBN A – Main #2 Winner
2005 Not Raced Not Raced
2006 33k Kyle Patrick 32b Justin Barger
2007 Rained Out Rained Out
2008 87 Jason Barney 2m Dustin Daggett
2009 151kb Brian McDonald 3g Shane Stewart
2010 0 Glenn Styres 2m Dustin Daggett
2011 3g Shane Stewart 2m Dustin Daggett
2012 Rained Out Rained Out
2013 22h Randy Hannagan 51 Bryan Howland
2014 22h Randy Hannagan 17 Jared Horstman
2015 05 Brad Loyet 51 Bryan Howland
2016 47x Dylan Westbrook 17 Jared Horstman
2017 15h Sam Hafertepe Jr. 3g Carson Macedo
Year Fastest Qualifier Time / MPH
2005 19 Kenny Jacobs 13.377 Sec / 100.919 MPH
2006 25m Ken Mackey 13.717 Sec / 98.418 MPH
2007 51 Bryan Howland 13.614 Sec / 99.163 MPH
2008 45 Chuck Hebing 13.613 Sec / 99.039 MPH
2009 0 Glenn Styres 14.288 Sec / 94.484 MPH
2010 14 Jessica Zemken Friesen 13.995 Sec / 96.463 MPH
2011 15h Sam Hafertepe Jr. 13.682 Sec / 98.670 MPH
2012 80 Chris Steele 13.308 Sec / 101.443 MPH
2013 22h Randy Hannagan 13.754 Sec / 98.153 MPH
2014 45 Chuck Hebing 14.158 Sec / 95.352 MPH
2015 97 Parker Price Miller 14.136 Sec / 95.501 MPH
2016 79 Jordan Thomas 14.851 Sec / 90.903 MPH
2017 15h Sam Hafertepe Jr. 13.714 Sec / 98.440 MPH
Year Ohsweken Shootout Sponsor
2005 38m Nick Mulheim Village Pizza
2006 85 Dustin Daggett Village Pizza
2007 42w Rick Wilson Village Pizza
2008 28fm Steve Poirier Village Pizza
2009 28fm Steve Poirier Village Pizza
2010 14 Jessica Zemken Friesen Village Pizza
2011 7x Jamie Collard Ohsweken Speedway
2012 45 Chuck Hebing Ohsweken Speedway
2013 14h Jim Huppunen TJSlideways.com
2014 33k Kyle Patrick Dave McLeod Memorial
2015 10b Mitch Brown Dave McLeod Memorial
2016 28fm Steve Poirier Dave McLeod Memorial
2017 79 Jordan Thomas Dave McLeod Memorial
Dave MacLeod Memorial Mr. Sprint Car Challenge
Year Winner
2007 37s JR Stewart
2008 28fm Steve Poirier
2009 28fm Steve Poirier
2010 14 Jessica Zemken Friesen
2011 77x Wayne Johnson
2012 22h Randy Hannagan
2013 8b Alain Bergeron
Kevin Ward Jr. Young Stars Challenge
Year Winner
2014 10 Mitch Brown
2015 17h Max Stambaugh
2016 123 Yan Bilodeau
2017 67x Parker Price Miller
Corr/Pak Merchandising "Bill Peer Memorial"
Best Appearing Car
Year Driver
2005 Not Awarded
2006 Not Awarded
2007 51 Bryan Howland
2008 87 Jason Barney
2009 6s JR Stewart
2010 10 Mitch Brown
2011 55v Patrick Vigneault
2012 2 Kyle Sauder
2013 21 Don Adamczyk
2014 10c Jeff Cook
2015 79 Jordan Thomas
2016 22 Shawn Sliter
2017 16 Ryan Ruhl