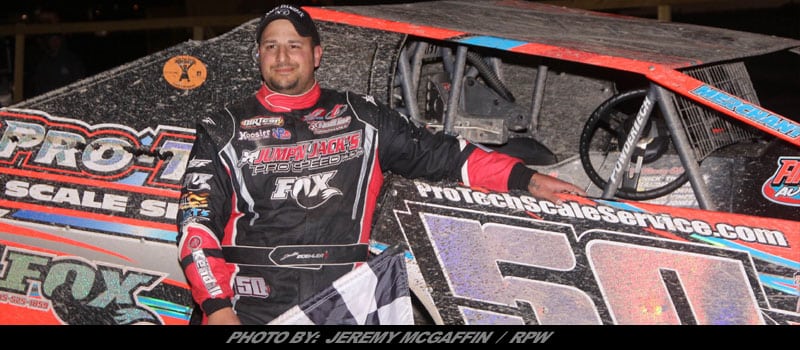 Column By: RON SZCZERBA / RPW – AMSTERDAM, NY – When the "Track of Champions" Fonda Speedway opened the gates for the 2018 racing season last weekend, there was one element missing from the annual "Ice Jam" event, last year's winner Justin Boehler.
A back injury that recently became much worse forced him to retire from the sport he loved rather than try to race and cause him to suffer further as he got older.
"At age 31 racing has been such a big part of my life; it's been my obsession for years. To retire was not an easy decision because it's not about us winning or losing it's about the fans and family that follow you. I was okay with the announcement about my retirement until the Facebook post, and then it really hit me hard. There is no good way to explain how racing feels to somebody. Being full throttle around the outside of another driver with your head plastered against the head rest of the seat is such an adrenaline rush and that is something that I won't be able to do anymore."
Those were the real life words of Justin Boehler who recently was forced to retire from racing due to back issues. Although it has not been decided where the back issues came from or started, he has some ideas that it may not have been just from racing.
"We really aren't sure where the back issues came from," he said. "It could be from birth defects, racing, working with heavy weights at our family business Pro Tech Scales, or high school and college sports which included wrestling, baseball, and football. I actually have an extra vertebrae in my back that never formed from birth and there have been some hard hits that I've taken in racing that all could have been a part of it as well."
When Boehler went to the doctor in early April, they put him on a strict diet plan wanting him to lose one and a half to two pounds a day, 40-50 pounds total in just 45 days!
"I'm actually down to one time a week going to the doctor now from three times a week prior to this," Boehler said. "They are trying to reduce my body mass that I have from high school and college and they want me to eat small meals in order to do it so it should be interesting. I once lost twelve pounds in a day when I was wrestling to get to a certain weight class so it's not like it's something I've never done I guess."
Boehler has been having back problems for the last seven months but four days before the Facebook post hit the Boehler Racing Facebook page back in March was when the decision was made for him to retire from the sport he loves.
"It was either take a chance and possibly not be able to function when I'm older or not race and get it straightened out," he said. "It was a family thing. We all sat down together and talked about it. Nobody wanted to quit but it was the smarter decision. Right now, they are trying to relocate my spine, get it back in line, and strengthen it up without doing surgery. But any lateral movement which could happen if I were to race would screw me up badly and made the decision to retire from racing a little bit easier."
Justin originally wanted to be a state trooper but his plans changed as he progressed through college. He worked with his father at their family business Pro Tech Scale and learned most of what he needed to know about the business by working with his father through the years.
"Scale manufacturers have classes occasionally on how to indicate and calibrate the scales but I learned most of that by just working with my dad," he said. "When you are working on different scales at different businesses it requires you to lift heavy weights on to the scales in order to calibrate them and that may be where part of my back problems came from. Once I was done with college I started working full time at Pro Tech Scales."
Justin raced Go-Kart's, first at Caroga Creek and then at Dodge City and helped in the pits with his father's race car scraping mud off the car or doing whatever he could in the pit area.
"I was around racing growing up when my dad raced but in my freshman year of high school I sold all of my Go-Kart stuff," he said "Back then I was too busy to concentrate on racing while doing three sports in high school including wrestling, baseball, and football."
Once he was done with college and established at his family business Pro Tech, the itch to race came back but this time in a stock car.
"A friend of my dad's Al Williams was getting out of racing and had a car for sale," Boehler said. "We worked it out that we bought the car and that my father and I would both race it."
The first thing that Craig made Justin do after they got the race car was to take it apart down to a bare chassis and put it all back together.
"I learned a lot doing that," Justin said.
Justin's first race was in 2008 at Glen Ridge in the limited/rookie sportsman division and he went out not knowing what to expect.
"I asked my father what to expect when I went out there and he said to go out there and try to go full throttle for as long as I could and in four laps I hit the wall," he said. "So I went back in to the pit area and my father said okay now I know that you can go full throttle and do it."
In the last race of the 2008 season at Albany Saratoga Justin gave it a try but ended up hitting the wall just about every lap.
"I was black flagged by Bruce Richards," he said. "The inner bearing was seized up on the right front and it ended up steering the car towards the wall."
In 2009, Justin raced a 2004 Teo car in the rookie sportsman division at Glen Ridge and went from last to second with the carburetor on backwards one night.
"I came into the pits and said that I would like to move up to the regular sportsman," he said. "So we did that and after starting last in every race it was a great learning experience with a few top fives."
Boehler finished out the 2009 season in a brand new race ready 2009 Bicknell car that he time trialed third fastest with at Super DIRT Week in Syracuse.
In 2010, Justin set a new track record for sportsman cars at Glen Ridge, a record that lasted eight years, won two races, and finished third in points winning Rookie of the Year honors in the process.
"2010 was a breakout year for me in a career full of ups and downs," he said.
In 2011, Boehler experienced something new after a Bicknell coil car was purchased. "I was leading seven feature events at Glen Ridge with that car but got beat in the last two laps in six of those races after I slipped up while leading," he said. "I finished top five in points with no feature wins but the car was really fast."
He also took the old 2008 Bicknell to Fonda in 2011 just to have some fun.
2012 saw another transition for Boehler when he raced modifieds at Glen Ridge and sportsman at Fonda. During the season, he sold the sportsman car and went modified racing full time.
"We put a small block motor in the car that had just over 500 horsepower just to see if we could be competitive with it before spending a lot of money on a motor," Justin said. "But I ended up flipping the car seven times down the backstretch at Fonda, destroying the car, and ending up with me having a concussion."
During the off-season, a new Troyer car was purchased along with a new JPM small block motor to run during the 2013-racing season. The Boehler team thought they had the right package and had high hopes for the season but they could never get the Troyer car to work right.
"We kept working on the car trying to make it better but I think our best finish with that car was 19th," Boehler said. "Halfway through the 2013 season we sold the Troyer car and after some advice from RJ (Ronnie Johnson) we bought a TEO car. My father built that car in a week and we led the first 25 laps of a race at Fonda before overheating issues forced me to let off, eventually finishing in the 10th spot."
Boehler was involved in another bad accident in 2014 but this time it was at Albany Saratoga when his spring bar broke and he ended up in the wall. He was then hit by another car, which broke the seat bracket and moved the seat four inches!
"After that wreck I went to the chiropractor to try to get relief from my neck and back pain," he said. "That wreck may be where some of my back issues came from."
2015 was a promising season for the Boehler Racing Team after purchasing an 18-degree big block from Jake Spraker.
"The car was really fast and we almost pulled off a couple of wins but it seemed like the first win at Fonda just kept eluding me," Boehler said. "Three quarters of the way through the season we blew that motor and it wasn't savable so we put another motor in the car just to finish out the season."
After a top of the line Mike's headed big block was purchased in 2016 with a 12th place finish in the final points for the season, 2017 saw a new Teo car being built for Boehler by RJ (Ronnie Johnson) and his crew. It was that car that took Boehler to victory lane for the first time at Fonda in the opening event of the season.
"Every nut and bolt on that car was new," Boehler said. "We won the opening race of the season and we were running second in the second race of the season when the car developed a problem. It was like that for three weeks before we discovered a bind in the car. The car was a top five car all year and we finished every lap of every feature the entire season ending up with eight top five and 12 top 10 finishes and a seventh place finish in the final p[points."
Boehler was awarded the Most Improved Driver at Fonda in the modified division for 2017 at the annual awards banquet held in late March of 2018.
In 2017, Boehler had the right equipment and the right maintenance program and he had everything ready to go for the 2018 season before having to announce his retirement from racing due to his back issues.
"We were really looking forward to the 2018 season and now it's hard and sad to go to the race shop to see what we have which now will all be sold."
BOEHLER RACING'S SPECIAL FRIENDSHIP WITH "RJ" RONNIE JONSON
A special friendship, one that Boehler describes as "a bond that can only be created with certain people", started in 2012 between the Johnson and Boehler families.
"I went to Jumpin' Jack's Speed Shop to pick up a part and was talking to Jack and Ronnie about racing," Justin said. "RJ asked me what I did for a living and I told him that I work with my father at the family business Pro Tech Scales. At the time, Ronnie was having a problem with a brand new set of scales that he bought for setting up the racecar. I told him let me take them back to the shop with me and take a look at them. I did that, fixed them, and brought them back to Ronnie. He told me that if I needed anything to just come to the trailer and ask him."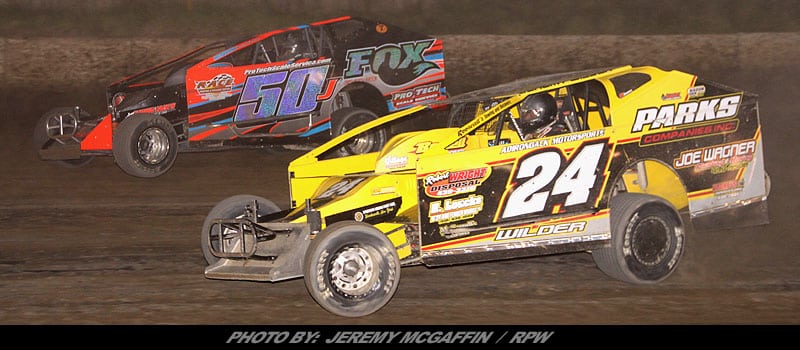 Boehler did just that and RJ even helped him with the setup on his Bicknell car. "But then he told me that I needed to buy a Teo because that is what he knew best", Justin said. "My father and my family became good friends with Ronnie and his family from that point on."
Ronnie once talked to Justin saying, "you are a very good racer, you just need to make that jump, and we can get you there. Let's build a car together all new and ready to race."
The car was built with the help of RJ and his crew and Ronnie was quick to give Justin tips in order to make him better and get him to that next level.
"Nobody expected me to come out and be that fast," Boehler said regarding last year's opening day race at Fonda. "The car was tight the first half of the race and Ronnie told me that you can use the brakes to help with the car if I needed to. Lap 30 the car was still tight and hard to drive but all of a sudden it became faster without having to use the brakes and I was just focusing on being fast"
"When I got up to second Stewart (Friesen) was leading but was coming back to me as I was 3/10 to a ½ second faster then he was. With five laps left, I was trying to size him up and then he blew a tire and handed me the lead with the caution coming out. On the restart I just focused on getting a good restart and act like it was just warm-ups."
Boehler got the restart he needed and held off 2017 Track Champion Tim Fuller for his first career win at Fonda in the opening event of the 2017 season, the Annual Ice Jam.
At the Fonda Speedway awards banquet, the Boehler and Johnson families sat together with Boehler accepting the Most Improved Driver Award in the modified division for the 2017 season from promoter Pete Demitraszek. At the completion of the banquet there were pictures taken with the Johnson and Boehler families standing together for one of them. After the announcement just before the banquet was held that Justin was to retire from the sport, the emotions showed in the photo as everyone was wiping tears from their eyes as the special friends shared a special moment together.
A NOTE ON BEHALF OF THE BOEHLER RACING TEAM
"It is as if we are in mourning. Racing has been such an integral part of our lives for over 20 years. Justin's success last year was a dream come true, winning the ice jam event, finishing seventh in modified points, and winning the most improved modified driver of the year," she said.
"We would like to thank our chief crewmember Chris Reome; he is like family to us. He was always there when we needed him. Thank you so much Chris. Dave Grace, our tire guy, thanks for all your help. Merchants, who we have known since Justin was in High School, and Kenny Jones, our consultant."
"To all of our sponsors, Chris Farrell-Kendall Racing/Farrell Oil-who sponsored both Craig and Justin throughout their careers, Fox Shocks, Teo Pro Car, Swagger Factory-Mike Jackson, Jumpin' Jacks Pro Speed, and Race Printing and Package Center who are the best Justin Boehler fans."
"Ronnie Johnson who not only helped us with putting our car together but who has become a very close and dear friend. Thank you!"
"Also thank you to RJ's Crew, Pro-Tech Scale Service, and a special thanks to Fonda Speedway the "Track of Champions" for all the great memories and also to all of our loyal fans over the years".
A FINAL WORD FROM JUSTIN
"I never thought as a fan that I would have the opportunity to race. I did, I was fortunate. I always tried to pay attention to the fans, that was important to me and some racers forget about that. I always loved to go fishing, I tried to do it every Sunday when I could. But their weren't too many times that I could do that because nearly every waking moment was spent on the race car."
"I will still be around at the track, watching and helping RJ and Mikey Jackson whenever I can."