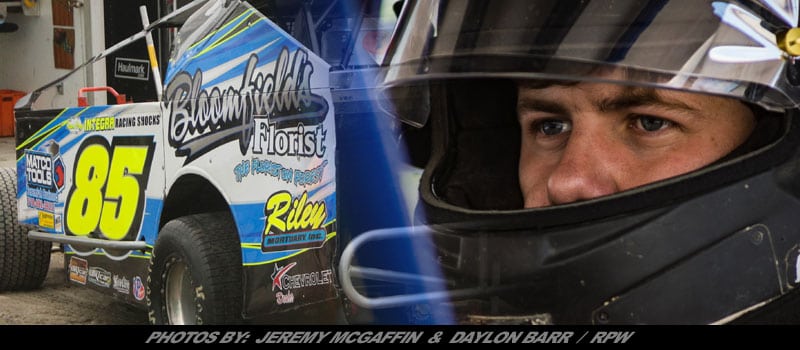 Column By: RON SZCZERBA / RPW – AMSTERDAM, NY – When the 2018 racing season begins at the "Track of Champions" Fonda Speedway on Saturday, April 21 the Nelson Motorsports Racing Team owned by Bill & Erik Nelson will have a fresh start from top to bottom.
It all starts with a brand new 2018 Bicknell car, which will be powered by a brand new John Grant big block. The driver is brand new to the team as well. His name is Demetrios Drellos.
"At the end of the 2017 racing season Erik decided that he didn't want to race," Bill Nelson said recently. "So we put a post out on Facebook that we were looking for a driver. Demetrios called and was interested so we decided to pursue it further. After sitting down to dinner with the Drellos family and discussing it, it seemed like a good fit."
The friendship between the Nelson and Drellos families started in the pit area at Fonda at the end of July last year.
"They were pitted next to us and we broke an oil line on the car and it started an oil fire," Nelson said. "The Drellos crew came over and helped us get the car back together that night and we became friends."
Drellos had a breakout year in 2017 with a win at both the Albany Saratoga and Lebanon Valley Speedways. His family has a three car racing team (#111) and they wanted to run three nights a week this season but didn't have the right help in order to maintain a three night a week racing schedule. Now with Drellos racing for the Nelson's on Saturday evening at Fonda they can concentrate on racing two nights a week at Albany Saratoga and Utica Rome with their own car.
"We had some other interest as far as drivers were concerned for our car but as I said earlier Demetrios seemed like a good fit for us," Nelson said. "He started racing Go-Karts at age five and then slingshots before going to an open wheel stock car two or three years ago. Last fall down in Charlotte during the World Finals he was third fastest of all of the cars there and with his success last year in this area we felt like he was the right driver for us."
A LITTLE HISTORY OF THE NELSON CAR #85
Bill Nelson drag raced at both Fonda and Glens Falls back in the day with his first actual stock car race-taking place at Lebanon Valley back in 1967. From there he moved to the late model division at Fonda in 1968 and that was how he got the car #85.
"Back then NASCAR mandated your car number and that is what they assigned to me with a NY at the end of it making it car #85NY," Nelson said. "The NY for me was used as a state distinction to differentiate the different states that the drivers lived in. For instance if I lived in Vermont they would have assigned me the #85VT."
Erik got his racing career started back in the late 80's in the street stock division, moving up to the pro stocks in 1990. After a couple years Erik moved into the open sportsman division where he has one feature win at Fonda (7/30/2005) before moving up to the modifieds where he has run off and on ever since.
When Erik was involved in a bad wreck at Glen Ridge the car was available for Bobby Varin to drive whenever he needed a ride, which led to Varin running full time for the Nelson's for three years winning two track championships for the team in the process in 2013 and 2014.
"Willy Decker ran for us after that for two seasons but they were full of motor issues which made them only partial seasons," Bill said. "Then we were at Fonda one night and had an offer from someone to buy our old dually truck right then and there. We sold it and bought a different one from Ray Halgas which was an out of state truck that we had issues with getting registered and titled so we were down for about seven weeks without a truck to tow with."
Back in early November of 2017, the Nelson's ordered a 2018 Bicknell car after considering both a Hig Fab and a DKM chassis as well. But in the end, it was customer service that brought the Nelson's back to Bicknell.
"Back in 2011 we bought a brand new Bicknell car that we couldn't get to work for the first three months of the season," Nelson said. "They offered us the option of bringing that car back which we did and they replaced it with another brand new car in the process. Their customer service at Bicknell is fantastic and that was the main reason for going back to them for another car."
While the Nelson team was waiting on the new car everything else was gone through so that the car and all of the parts that go on it were maintained and up to date for the 2018-racing season.
"The last few weekends Demetrios and his family have come to the shop to help us and for him to get fitted in the car," Nelson said.
According to the book FONDA!, the Drellos name came into play at Fonda back in 1959 when Chris Drellos (Demetrios' grandfather) bought out a race team that was formed originally by Kenneth Hanson and Henry Caputo. Drivers in the Drellos three car team #11, #111, & #111A through the years included Jeep Herbert, Buck Holiday, Paul Marshall, Kenny Shoemaker, and Pete Corey. During the off-season of 1963-1964 Drellos sold out ending his ownership of the three-car team.
"Back in the day when I used to run against the Drellos owned cars things were homebuilt or from a junkyard," Nelson said. "Today you need a loan to buy anything. Back then, when you saw the Drellos owned #11, #111, & #111A come through the gate we knew that we were all in for a possible rough night because of all the talent they had as drivers back then. But now 45 years later we are teamed up with the Drellos family including Demetrios, his father George, and his grandfather Chris."
Sometimes it's funny how things end up working out!
Sponsorship on the Nelson #85 for 2018 includes Bloomfields Florist, Pat Riley/Riley Mortuary, Vicki's Tax Services, Elmo's Speed Shop, Nick Stone/Stone Motorsports, John Grant Racing Engines, Custom by Bob Signs, and the Drellos Family.