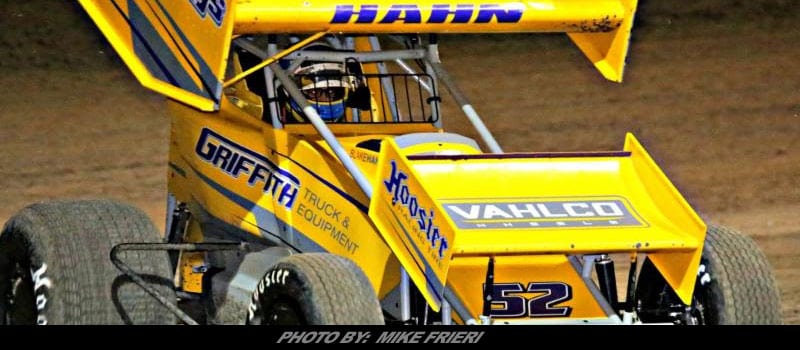 Story By: BRYAN HULBERT / BLAKE HAHN RACING – MESQUITE, TX – Starting off his 2018 season with the Lucas Oil American Sprint Car Series presented by Sawblade.com with an eighth-place finish at the Devil's Bowl Spring Nationals, Blake Hahn has a slew of notes to build on.
"It wasn't a bad weekend overall, we just got too conservative on our setup in the A-Feature," commented Hahn.
Running fourth to first in the night's fourth Heat Race, the move put Blake as the High Point Driver of the Night, giving him first shot in the Top 8 redraw for the A-Feature lineup where he drew the fourth starting spot.
"We had a great starting spot, but we were way to free in the corners. I could feel the rubber in the last few laps, but even then, we still had the car so free I didn't have any forward drive. I was having to drive as hard as I could just to keep up enough momentum to maintain my position."
While saying the weekend was okay overall, Hahn was disappointed that the weather didn't allow the team to race on Saturday.
"I was geared up and ready. We were ready to redeem ourselves but we can't control the weather, so we'll just have to do better during our Speedweek visit."
Watching the calendar and the clock, the team's next outing is scheduled to be the Air Capital Shootout at 81-Speedway with NCRA on March 30 and 31, followed by Texas Motor Speedway with the Lucas Oil American Sprint Car Series presented by Sawblade.com on April 6 and 7 during NASCAR weekend.
The 2018 season is Blake Hahn's 16th year of racing. Starting in Jr. Sprints at the Tulsa Shootout, Hahn has progressed through the ranks with over 90 victories across Micros, Midgets, and Sprint Cars.