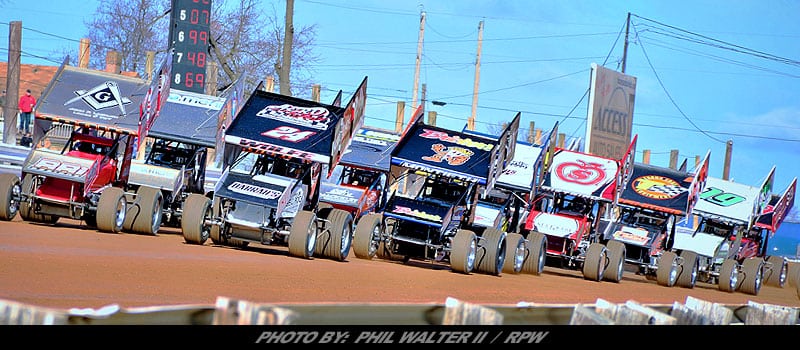 Column By: PAUL GOWER / RPW – LINCOLN, PA – The second 'official' weekend of Central PA Sprint Car racing is set to kickoff this Saturday afternoon at Lincoln Speedway. Then, just 24 hours later, fans and teams will head to Williams Grove Speedway for their 2018 season opener, which this year has reverted back to the fan favorite traditional Sunday afternoon program.
Several fans and drivers were anticipating the possibility of doing a Saturday double (two races on one day). Port Royal Speedway was slated for their season kickoff Saturday evening, but unfortunately, mid-week winter weather has forced the postponement of their season opener until next weekend at the Juniata County oval.
Chad Trout notched a well-deserved victory last week in Lincoln's Icebreaker 30. He will be looking to double up his popular victory this weekend at the Pigeon Hills, PA oval.
Last week's eighth place finsher, Alan Krimes, and and 11th place's Brian Montieth, return to the track seeking better results this time around. Krimes, in his family-owned #87, picked up the hard charger award last week and the slick track specialist is always one to keep an eye on when competing on a day-time surface.
The Edge, Brian Montieth, who always makes passing cars and visiting victory lane a priority, will also be in the hunt to be standing in Lincoln's victory lane at the conclusion of Saturday afternoon's main event.
Kyle Moody and Brandon Rahmer finished second and third in the Icebreaker and it would surprise noone if their momentum carries into week two. Both young guns have shown flashes of speed and brilliance several times over the past few seasons.
Ohio invader, Cole Duncan, has become an early season fixture at Lincoln the past few years and will be looking to snatch a victory against the Lincoln regulars on Saturday.
Now, on to Williams Grove. The opening day program at the Mechanicsburg, PA track has produced a venerable who's who list of of Sprint car racing over the years. From Hinnershitz to Abel, Horn to Tobias, Tilley to Opperman, Williamson to Paxton, Kahne to Kauffman and Rahmer to Hodnett, all the big names are there. The question is, though, which driver will forever add his name to the list in 2018?
Defending champion Freddie Rahmer opened the Grove season in 2017 with a solid sixth place finish and carried his momentum throughout the entire season enroute to notching his first track championship.
Last year's opening day winner, Greg Hodnett, will be a force all year long in his Heffner-owned #27. The team's well-publicized switch back to Maxim chassis could very well be the key to the their dominating the Central PA scene in 2018. Already with a few races under their belt competing in Florida, Hodnett and team will be looking for a strong start at the Mechanicsburg oval.
Always a threat whenever pulling into the pit area, Lucas Wolfe in the potent Michael Barshinger #24 would love to add his name among opening day victors. One of the best qualifiers and most consistent drivers anywhere, Wolfe and the team really seemed to gel shortly before the midway point of 2017 and have shown no signs of slowing down.
Piloting the Mooses LZ 3z, Brock zearfoss, who admittedly is itching to get to racing this season, is expected to be fast immediately out of the gate in 2018. Zearfoss symbolically "turned the corner" last summer, scoring a popular victory against the World of Outlaws at the Grove. The confidence instilled by that win propelled Zearfoss to a strong and impressive second half of the season.
Danny Dietrich picked up opening day checkers at the Grove in 2012 and 2015 and will be seeking a third lid-lifter win on Sunday. "DD" is always fast in Gary Kauffman's #48 machine, and at times appears to literally 'will' his car to the front of the field, regardless of which venue he's competing at.
Add into the mix, "AO" Aaron Ott in his new Aaron Long #58 ride, "G-Mac" Gerard McIntyre in his new seat, the multiple-win Mark Coldren #07, and arguably one of the most impressive rookies ever in Central PA, young Anthony Macri, and its literally anyone's guess who will be standing on the frontstretch talking to Bruce Ellis at the conclusion of Sunday afternoon.
Grab your friends and family, head out to the track and enjoy the races!!