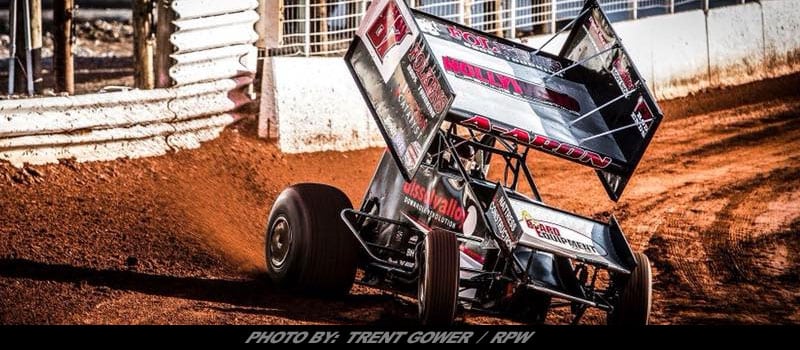 Column By: PAUL GOWER / YORK HAVEN, PA – Despite cold temperatures this past weekend, the first full three-day weekend of Central PA 410 Sprint car racing is in the books. Many thanks go out to all the promoters, track crews, race teams and fans for braving the less than ideal weather conditions.
Starting Friday night at Williams Grove Speedway, Cory Haas picked up his first victory of the year and his first since 2015 at the speedway. It also marked his first victory since teaming up with car owner John Trone last year.
Haas was challenged by Brian Montieth in the waning laps. Brian Montieth had a nice weekend with two runner up finishes out of three events entered.
Mechainical problems plagued 'The Edge' and resulted in a DNF Sunday at BAPS Motor Speedway.
Rick Lafferty had a well earned 3rd place finish at the Grove. Adrian Shaffer made his season debut in the Stewart Smith-owned #27.
Saturday evening saw both Port Royal and Lincoln Speedways complete their shows in efficient fashion. The 'Buckeye Bullet,' Dave Blaney, made a last-minute decision "to try some things out" and it worked in his favor as he parked the Pete Grove #70 in victory lane.
Lucas Wolfe was second and actually pulled a slider for the lead on the final lap. Lucas had an all top 10 weekend with a fourth at Williams Grove Friday and a ninth at BAPS Speedway Sunday.
Greg Hodnett was his usual consistent self, finishing third at both Port Royal and BAPS Speedway to go along with a fifth at Williams Grove.
Lincoln Speedway saw a first time winner in Tyler Esh.  Esh led all 25 laps, but had his hands full for the last three laps with Brian Montieth. Freddie Rahmer rounded out the top 3 finishers.
The weekend wrapped up Sunday evening at BAPS Motor Speedway where Danny Dietrich passed Lance Dewease for the win. Dietrich also scored a pair of seventh place finishes at Williams Grove and Port Royal.
Both Aaron Reutzel and Parker Price-Miller traveled east to prepare for this coming weekend's All Star competition. PPM picked up a sixth on Friday and fourth on Sunday after starting at the rear due to being late in staging for the main event.
Reutzel entertained fans with his rim-riding style all weekend. He was the early leader during the feature Sunday before getting caught up in an incident in the first turn.
Scott Gobrecht and Kolton Gouse have done an outstanding job with BAPS Motor Speedway's improvements. The new clay surface and slight reconfiguration of the turns made for great racing all evening.
Brock Zearfoss debuted a new J&J chassis this weekend. Brock had brake issues, among other minor issues, with it, but showed speed.
Landon Myers continues to improve. Myers had two solid top 10 finishes.
Brett Michalski, who moved up to 410s from the URC division this season, had two nice runs. He captured a heat win Sunday night and sixth place feature finish.  He also had a 13th at Lincoln.
Look for Ryan Smith to make his Central PA debut this weekend competing all 3 nights.
This coming weekend, the All Star Circuit of Champions comes to to Central PA, scheduled to compete at Williams Grove, Port Royal and Bedford Speedways. The All Stars are bringing with them a roster of 20 drivers to battle the PA Posse. This is arguably the strongest contingent of All Stars since the late 90's or early 2000's. It should be great weekend of racing with better weather in the forecast.