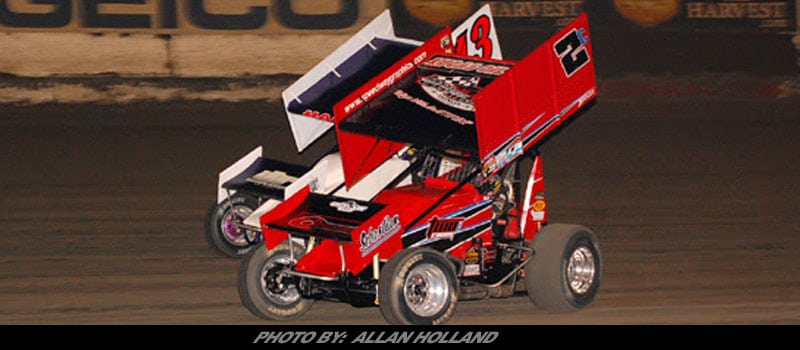 Story By: BRYAN HULBERT / TWOC RACING – TAMPA, FL – Three top 10 finishes, with one landing in the top 5, Wayne Johnson's weekend at the King of the 360's and Ronald Laney Memorial at East Bay Raceway Park can be marked a success as the team moved forward each night they hit the track.
Capping off the weekend with a fifth-place finish, Wayne's weekend started with a 10th place run on Thursday before improving by one position the following night.
"We unloaded on Wednesday for practice and felt good, and actually felt like we got better throughout the run, but Thursday we just weren't good at all and had to go to work on it," said Johnson.
Gridding Saturday's 40 lap affair ninth after two nights of accumulated event points, Wayne muscled the Outlaw Wings/Oil Medics No. 2c from ninth to fifth with the help of late-race restart that allowed Johnson pick off two positions in a shot.
"By Saturday, we had the car rolling pretty well, and was actually one of the fastest cars out there. On that restart, lapped cars were thick in the lineup so I just had to just throw a dive-bomb of a slide job. It worked out but they were everywhere. I feel like I could have picked up a few more spots, but with the traffic and the track being hard to pass on, it just let the leaders get away. Once I got clear, I was able to run down fourth at the end from over a half straightaway, so we had things going in the right direction."
With East Bay Raceway Park in the rearview mirror, the TwoC Racing camp is headed to Southern Raceway in Milton, Fla. to take on USCS on Friday, February 23 and Saturday, February 24. Plans are to also take on USCS at Hattiesburg Speedway (Hattiesburg, Miss.) on Friday, March 2 and Magnolia Motor Speedway (Columbus, Miss.) on Saturday, March 3.