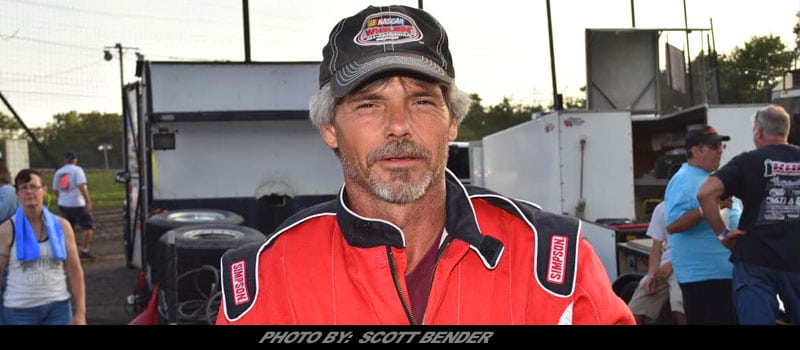 Column By: RANDY KANE / RPW – SALFORD, PA – Ron Kline will celebrate his 30th consecutive season behind the wheel in 2018.
"I've been involved in racing since 1989," mentioned the self-employed plumber from Salford, PA. "I've won all the big Late Model races at Grandview Speedway twice. I've won a Late Model track championship. I've done it all and I have 40 career Late Model feature victories. I've raced with the 358 Modified division in the 1990's, but I never really had real good equipment in those years. The only real difference is you sit in the middle in a 358 Modified.
"Driving a Late Model, you drive it on the left side and you can actually see down the whole left side far enough to where you feel like you can reach out and almost touch the guard rails or the infield marker tires. For 2018, I looked around for a Late Model ride and talked with others about a possible 358 Modified ride, but nothing really developed from it. Eventually, I just found a good deal and went out and bought my own 358 Modified car. We went back and forth a few times and, in the end, I picked up a 2012 TEO Fabrications car that Dylan Swinehart raced a few times at Grandview as a 358 Modified from Ray Swinehart. It is good equipment.
"The car wasn't abused. I also bought an engine that's only a couple of races old for it. It is certainly something that I can start out with. I'll put my number three on it. There aren't very many number three cars at the track. I've driven a 358 Modified before and I've now got a car that should work. Ray bought it from a New Egypt Speedway racer and he was going to part it out and sell everything off. I bought it complete and I can get it to go, I'm certain. It's just a matter of finding shocks and springs that'll work. It is the same track I've been racing on now for the last 30-years, but it's a different combination. It's a different animal when you sit in it. I think we'll be fine," explained Kline.
Kline knows running a 358 Modified is more expensive, for starters. He has one car and one motor to start off the campaign, but he has raced for years as an owner and driver at the Bechtelsville based high-banked third-mile dirt raceway. Sponsorships help a limited dollar team go far and Kline's had success also in that department this winter, as well.
"I've had sponsorship offers come out of the wood work for my new deal," revealed the 49-year-old veteran. "It's a Bouc Racing engine out of New Jersey and I picked up Kershaw Construction as a team sponsor. I can go out and go racing on my own. The more help I can find the better off I will be. I've always enjoyed the Late Model division and I still love racing them, but these tracks are just beating the Late Model division into the ground. It is too darn expensive anymore. Not one track has a high car count. In the 358 Modified, as long as I can qualify, bring the car back home in one piece and keep making money, it'll support itself. These cars can eat you out of house and home, though.
"I am a self-employed plumber and doing that in this frozen, very cold winter weather, it's tougher than running with a 358 Modified car. It is long days, long hours, working in water on these frozen days, fixing busted pipes and water main breaks and all that. That's tough. Believe me. I'm sure I can get the chassis hooked up, get the engine running strong and be competitive every Saturday night. You sit in it in the middle and it takes a few races to find yourself adjusted to getting in the corners low running against the guard rails and the infield marker tires, but it's not something I don't feel confident about doing successfully. I think we'll be fine," offered Kline.