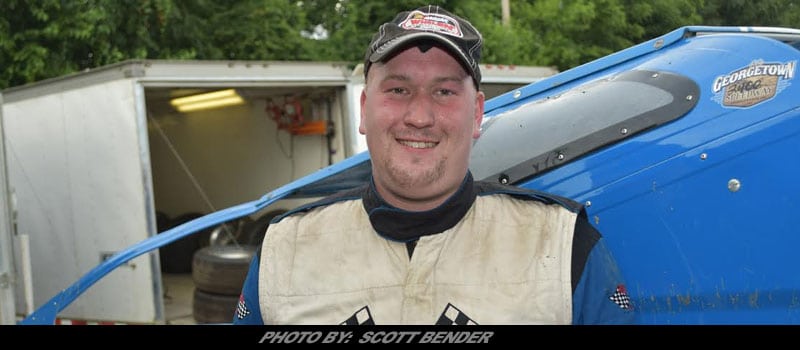 Column By: RANDY KANE / RPW – GILBERTSVILLE, PA – Commonly, changes are made for the better.  Sometimes, changes work out and make things better. Other times, they don't.
For Blaine Bracelin Jr., simply put, the second-generation driver and race team owner has decided to give something a little different a shot in 2018 and, basically, see how it all works out.
"In 2016 we gave Grandview Speedway a try with the 358 Modified car and we had a pretty decent effort, so, we went back again in 2017 with hopes we'd have a stronger year," explained the 24-year-old racer. "In 2017, our luck just seemed to run out. Opening Night, I started seventh in the feature and going through the first turn on the first lap I got collected in a big pile up in Turn 2. A couple of weeks later, we ran a feature that was going non-stop until someone stuffed me hard into the front straightaway wall and the only yellow in that race that night was for me in the wall late in the race. That pretty much summed up my season right there. If something bad was going to happen it always seemed to happen to me."
For the final six weeks or so in 2017, Bracelin Jr. decided he had had enough and he hauled his Wynne Construction TEO Fabrications built No. 79 358 Modified ride to New Egypt Speedway, N.J. instead to try things out and see if a change of scenery might change his luck.
"I was having trouble finishing races at Grandview," commented the Gilbertsville based veteran. "I got tired of being wrecked on the first lap of heats and features. I just felt I needed a change of scenery, plus we were struggling from a lot of rain outs and we couldn't get a good set up. I decided to try New Egypt every Saturday night and take things one week at a time, basically.
"I'd never seen New Egypt before, but we got a little better as we went along. My first week I wanted to go the 358 Modified cars had a night off. The next Saturday it rained and, finally, the third attempt we got some laps in. Running at New Egypt we had to race with sail panels on the car, which we didn't use at Grandview. We raced a handful of events and had fun for a change. I figured, let's try it for a full season in 2018 and see how everything shakes out.
"I've still got my 2012 TEO built car that's been switched over to a gas engine. I purchased a 2018 TEO car that's using an alcohol engine and we'll start the season running that car. It is a normal, basic, Saturday night TEO Fabrications built chassis. Our engines are now built by Nick Gatto from Reading and we'll try both cars there and see how things go," revealed Bracelin Jr.
In addition, Bracelin Jr. plans to try the full Friday night schedule at Georgetown Speedway in Delaware, but it's not a weekly deal, running his second car.
Bracelin Jr. followed his father into local racing, running a Quarter Midget for a few years before jumping into a 358 Modified car. At 16 he raced Quarter Midgets and weekly at Big Diamond in Forestville, Schuylkill County. Trying to go to college and race weekly didn't work out and school was his priority before he finally had a full-time job and made the decision to start his career running weekly close to home at Grandview in 2016.
"Grandview moves along faster through the night and you have to be ready to go racing when you unload. Running at New Egypt, it's more laid back and it is a nice deal running there as a weekly regular," submitted Bracelin Jr. "All my race team sponsors are onboard with me switching my home track and I'd like to travel and make some specials during the year, here-and-there, too, but we'll play it by ear and just see how things are going during the season. If I get rained out at New Egypt, maybe I could still head over to Grandview? Who knows? We'll give it a try and see how everything shakes out. You never know."