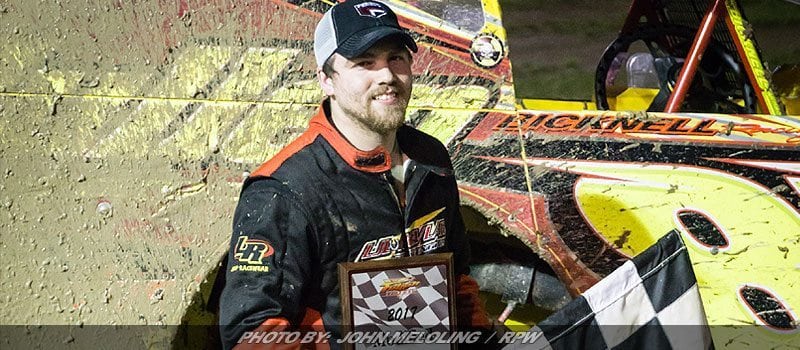 Information By: DAVE MEDLER / FULTON SPEEDWAY – FULTON, NY – Tim Sears Jr. outraced Larry Wight, Billy Whittaker and a host of other Modified stars to take the main event victory on the Fulton Speedway high banks Saturday night.  Full results are posted with a story to follow.
(Tracey Road Equipment Modifieds 35 Laps) – TIM SEARS JR., Larry Wight, Billy Whittaker, Jimmy Phelps, Justin Haers, Matt Hulsizer, Pat Ward, Tom Sears Jr., Chad Phelps, Andrew Ferguson, Jim Witko Jr., Ryan Arbuthnot, Max McLaughlin, Mike Bowman, Chris Hile, Adam Roberts, Ryan Jordan, Rob Bellinger, Jeremy Smith, Kody Graham, Eldon Payne Jr., Mike Maresca, Katelyn Hile, Beth Bellinger, Tim Kerr, Andy Noto, Joe August Jr., DNS – Tim Mayne
(SUNY Canton Sportsman # 1 25 Laps) – RON DAVIS III, Glenn Forward, Chris Mackey, Jeremy Dygert, Billy Clark Jr., Corey Barker, Andrew Buff, Tyler Trump, Will Shields, Nick Guererri, Chris Cunningham, Mike Stanton, Scott Duell, Kevin Poitras, JJ Courcy, Nate Higgins, Brett Draper, Ryan Hatherill, Amy Holland, Dorian Wahdon, Bill Megnin
(SUNY Canton Sportsman # 2 25 Laps) –  DAVE MARCUCCILLI, Todd Root, Alan Fink, Jeremy Pitcher, Nick Krause, Kevin Ridley, Tony Finch II, Kevin Root, Jessica Power, Mike Button, Wade Chrisman, Mike Phelps, Dylan Zacharias, Jason Amidon, Patrick LaPage, Willy Decker Jr., Aron Backus, Torrey Stoughtenger, Darren Smith, Tyler Thompson
(Billy Whittaker Cars & Trux Late Models 20 Laps) – JASON PARKHURST, Kevan Cook, Bret Belden, Dale Caswell, Sean Beardsley, Chad Homan, Brandon Carvey, Tony Finch II, William Eisle, Max Hill, Matt Parkhurst, DNS – AJ Kingsley.
(E&V Energy Novice Sportsman #1 15 Laps) – REMINGTON HAMM, Tom Juno, Colby Herzon, Kyle Perry, Ben Karlsen, Tyler Rogers, John Strickler, Jacob Davis, Dan Dupra, DNS – Wesley Hayes, Billy Sauve
(E&V Energy Novice Sportsman #2 15 Laps) –  AJ MILLER, Greg Henry, Steve Marshall, Kearra Backus, Casey Cunningham, Jimmy Moyer, Tom Mackey, Dwight Nichols, Jordan Kelly, DNS- Matthew Becker.
(JB Logging & Firewood 4-Cylinders 15 Laps) – CHRIS BONOFFSKI, Ray Bechler, Quinn Wallis, Joe Buske Jr., Cody Thomas, Gary Sharlow, Skip DeGroff, Dillion Curcie, Even Wright, Jamie Radley, DNS – Colby Herzog.