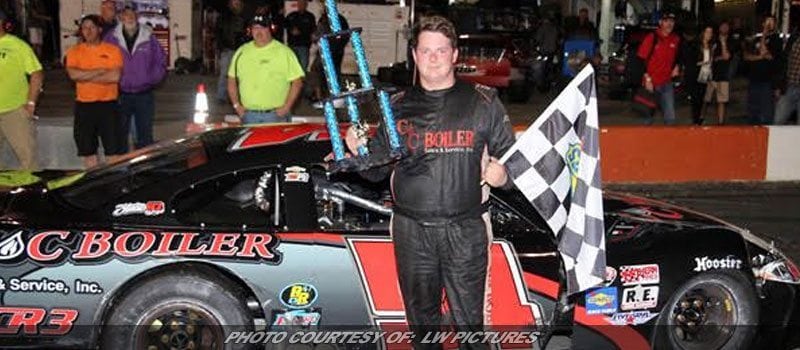 Column By: BEN LOOKABILL / RPW – ROUGEMONT, NC – On a warm, sunny day, twenty-one Super Late Models rolled in to Orange County Speedway for the 10th Annual Orange Blossom Special.
They put on a show that the fans will never forget. First up on the card was 35 Laps for The Eastern Midgets.  Jake Trainor and Kyle Resco would lead the field to Green.
Resco took the lead off turn two, but Chris Lamb charged to the point. However, Lamb brought out the caution on lap seven for front end issues. He did rejoin the field after the pit stop.
On the restart, Jessica Bean took over the lead followed by Resco and George Kurtz. Bean would lead the final 28 laps to take the win over with Kurtz, Resco, Nick McFarland and Nolan Allison round up the top five.
The PASS Super Late Models lined up next for 150 green flag laps. Matt Craig was on the pole with Tanner Thorson second.
After the top 10 redrew, Kodie Connor and Jeff Batten started on the front row and brought the field to green. Batten took the lead off turn two, but on lap four, Derek Griffith went to the front just ahead of Connor.
Griffith started lapping the field by lap 38, but there was a group of challengers closing in on him.
Preston Peltier made way to second and started to run down the leader. After a restart on lap 69, Peltier applied pressure, but Griffith held him off.
On lap 110, Peltier pinched Griffith behind a lapped car and took over the top spot.
Ryan Moore hit the wall hard in turn four and brings out the caution late in the going, and on the restart, Peltier continued up front but this time, Matt Craig was on his trail.  In the closing stages, Craig moved inside of Peltier for the lead.  The two made contact in turn three, but Craig pulled away with the lead.
Ben Rowe charged from third spot to the rear of Craig, but could not pull off the pass for the win.
Craig took the win over Rowe with Peltier holding on for third. Conner and Tate Fogelman round out the top five.
It was Craig's second win of the year and guarantees him a starting spot in the 44th Annual Oxford 250 at Oxford Plains Speedway in Maine.
Pit Notes: During pre-race activities, the PASS drivers collected money for Ollie Spain, whose wife Teresa was recently diagnosed with Cancer.  Matt Craig also donated his race winnings to the Spain family.
Stay up to date with the Pro Allstars on the web at www.proallstarsseries.com or on Facebook at www.facebook.com/ProAllStarsSeries.  The Eastern Midgets Association is on Facebook as well at www.facebook.com/EasternMidgets.
Race Results 10th Annual Orange Blossom Special Pos # Driver 1 54 Matt Craig 2 4 Ben Rowe 3 33 Preston Peltier 4 45 Kodie Connor 5 8 Tate Fogleman 6 74 Dalton Armstrong 7 55 Tanner Thorson 8 97 Joey Pole 9 49 Jeff Batten 10 29 Spencer Davis 11 2 Trevor Noles 12 7 Dave Farrington 13 12 Derek Griffith 14 51 Eddie Fatscher 15 99 Sarah Cornett-Ching 16 18 Bradley McCaskill 17 24j JP Josiasse 18 28 Terry Horak 19 74x Ryan Moore 20 15 Roy Hayes 21 7c Tyler Church
Eastern Midgets 35 Laps 1st – Jessica Bean 2nd – George Kurtz 3rd – Kyle Resco 4th – Nick McFarland 5th – Nolan Allison 6th – Sam Hatfield 7th – Jagger Parker 8th – Jake Trainor 9th – Connor James Yonchuk 10th – Jake Garcia 11th – Jake Smith 12th – Ben McFarland 13th – Chris Lamb 14th – Eric Lewis