Driver Profile: Scott Morris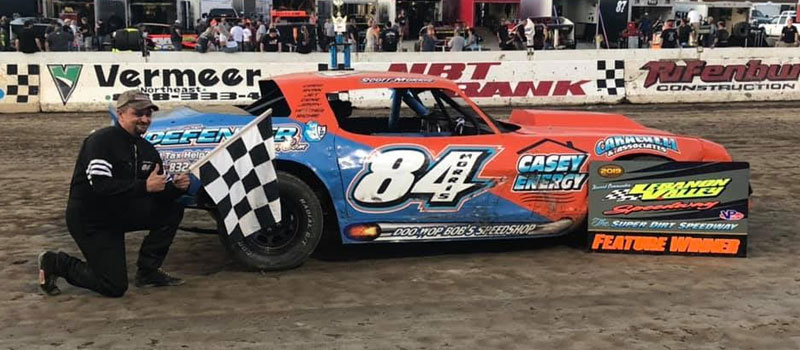 Nickname:
:Redding Rocket"
Occupation:
Public School Teacher
Tell Us A Little Bit About The Driver:
Scott is a Connecticut based driver who competes at New York area dirt tracks and calls Lebanon Valley Speedway home. He runs a 1979 Orange and Blue #84 Camaro that he built himself with the help from his crew. It's a home built car that has a complete steel original body. Scott has seen the highs and lows of racing. After flipping the car one week he was able to fix it and bring it back and win the next race! Last season after leaving Victory Lane he was back in the pits and was sent to the hospital after being hit by flying debris from a wreck. He was eager to get back to the track. Determination and dedication pays off and Scott has many feature wins! Scott also competes in the Eve of Destruction and the Columbia County Demo Derby for more fun! Be sure to check out the team Facebook page and YouTube channel for more info!
Team Name:
Scott Morris Racing
Division:
Pure Stock / Street Stock
Chassis:
Built by Scott Morris
Engine Builder:
Doo Wop Bob's Speedshop / KB Performance Center Inc.
Sponsors:
Tax Defender Pro .com
Casey Energy
Doo Wop Bob's Speedshop
Caraluzzi and Associates
Miller Tees and Embroidery
KB Performance Center Inc
Mike's 4wd Performance and Repair
Crew / Team Members
Ryan
Jet
Heather
Frank
Richie
Chris
Dan
Gene
Jimmy
Career Number Of Wins:
15
Tracks Won At:
Lebanon Valley Speedway
Home Track:
Lebanon Valley Speedway
Tracks Competed At:
Lebanon Valley Speedway
One Thing Fans May Find Interesting About The Driver:
I am a Wood shop teacher and a Scoutmaster for Boy Scout Troop 15