Win #3 Of '21 For Chris Hile At Brewerton Speedway; Jimmy Phelps Is Your Modified Champion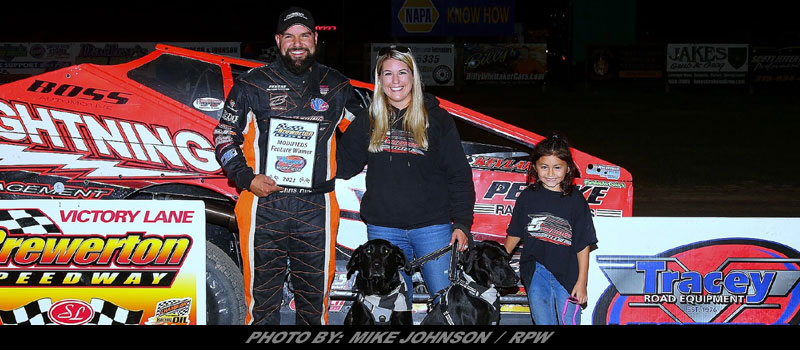 Information By: DAVE MEDLER / BREWERTON SPEEDWAY – BREWERTON, NY – For the third time this season, Chris Hile visited victory lane at Brewerton Speedway, taking the 35-lap DIRTcar Modified feature.
Pat Ward beat Gypsum Racing teammate Larry Wight for second with your 2021 Modified Champion Jimmy Phelps finishing fourth. Billy Decker rounded out the top five.
(Tracey Road Equipment DIRTcar Big Block Modifieds 35 Laps) – CHRIS HILE, Pat Ward, Larry Wight, Jimmy Phelps, Billy Decker, Tyler Trump, Tom Sears Jr., Gil Tegg, Jim Witko, Joe August, Kevin Root, Chad Phelps, Nick Krause, Jeff Taylor, Andrew Ferguson, Tim Sears Jr., Ron Davis III, Marcus Dinkins, Tim Murphy.
(DIRTcar 358 Modified Bonus – $300. $200. $100) – Gil Tegg, Nick Krause, Andrew Ferguson.
(2021 Modified Track Champion) – Jimmy Phelps
(DOT Foods DIRTcar Sportsman 25 Laps) – ZACH SOBOTKA, Max Hill, JJ Courcy. Chris Mackey, Robert Gage, Mike Button, Earl Rudy, Jeff Prentice, Richard Murtaugh, Amy Holland, Quinn Wallis, Tyler Murray, Matt Caprara, Tony Finch II, Jacob Dupra, Brandon Carvey, Matt Kitts, Torrey Stoughtenger, Bailey Groves, Dan Keyes, Mike Root, Jason Breezee, Jake Petit, Dale Caswell, Riley Rogala, Alan Fink, Buddy Leathley, Joey Buonagurio.
(NAPA Auto Parts Chase Elliott Award) – Richard Murtaugh
(BNEL Excavating Bonus) – Quinn Wallis
(Mike Payne & MP Delivery $100 7th Place Bonus) – Earl Rudy
(2021 Sportsman Track Champion) – Zach Sobotka
(AmeriCU Credit Union Mod Lites 20 Laps) – KYLE DEMO, Justin Williams, Clayton Brewer, Doug Williams, Mike Mullen, Tom Mackey, Joe Garafolo, Brad Harris, Hunter Lawton, Tucker Halliday, Roger Olschewske, Joel Moller, Kelly Skinner, Sam Usborne.
(2021 Mod Lite Track Champion) – Justin Williams