Ben Watkins Scores First Career World Of Outlaws Late Model Series Win Friday At Lavonia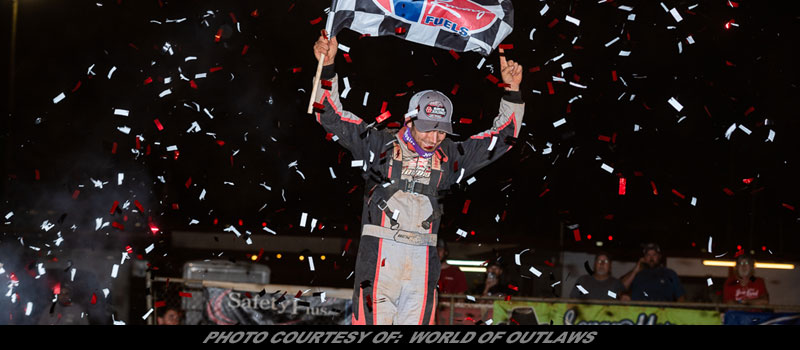 Story By: MIKE WARREN / WORLD OF OUTLAWS – LAVONIA, GA – In 2019, Ben Watkins blew a tire while leading a World of Outlaws Feature at Lancaster Speedway. It's the heartbreak he thought he'd never fix.
Watkins finally got his redemption Friday night at Lavonia Speedway, leading all 40 laps to win the Charlie Mize Memorial. He's the fifth driver to win his first career World of Outlaws Feature in 2021.
Watkins started on the outside pole next to Rookie of the Year contender Tyler Bruening, searching for his first World of Outlaws win. When the green flag dropped, the two thundered into Turns 1 and 2 side by side before Watkins carried his momentum around the 16 car, rocketing to the top spot down the back straightaway.
That wasn't the last time Watkins saw Bruening, as the Decorah, IA driver peeked underneath him, pulling even with him in lap traffic on Lap 19. A caution on Lap 24 gave Watkins some breathing room, allowing him to take the race one lap at a time.
"When we caught lap traffic, they were two wide, and they were racing," Watkins said. "With the dirty track, it kind of upset my car a little bit, and it was hard to maneuver through them. The way the cautions played out, I was not upset."
Three cautions plagued the second half of the 40 lap Feature, but they couldn't have come at a better time for Watkins. He knew he had just enough laps to avoid dealing with traffic and another potential battle with Bruening.
"We had that restart with 11 [laps] to go, I believe it was, and I was hoping that was just enough time we wouldn't catch lap traffic too bad," Watkins said. "Right at the end, we caught them and had just enough of a lead to kind of settle in there, and it played out perfectly for us."
Bruening, the top Rookie of the race, finished second, his best finish of the season. The Decorah, IA driver, knew he had his work cut out for him on the initial start since he was on the bottom.
"It was just a little slimy on the bottom, and you really just wanted to be on that outside groove," Bruening said. "We put a whole night together, just one spot short in the end. We were really good all night long, and I'm really proud of the effort to come back from [Thursday]."
Three-time and defending champion Brandon Sheppard crossed the line third, his 22nd podium finish of 2021. The New Berlin, IL driver, thought he might have had a chance if Watkins spent more time battling traffic.
"I felt like we had a strong car, and once we got strung out there, it was hard to pass," Sheppard said. "I was hoping for more time in lap traffic than what we had, just to be able to dice things up a little bit, but all in all, we're happy with a top three."
One night after winning $40,000 Cherokee Speedway, Brandon Overton finished fourth, and Zack Mitchell rounded out the top five.
Ben Watkins earned his redemption Friday at Lavonia Speedway. It's an opportunity he thought may never happen again and one he'll cherish for the rest of his career.
"I didn't really think I'd ever get another chance at it; these opportunities come few and far between," Watkins said.
UP NEXT: The Most Powerful Late Models on the Planet travel to Tennessee for the fourth time in 2021 for a stop at Volunteer Speedway in Bulls Gap, TN.
Morton Buildings Feature (40 Laps)-1. 16W-Ben Watkins [2][$10,000]; 2. 16-Tyler Bruening [1][$6,000]; 3. 1-Brandon Sheppard [4][$3,500]; 4. 76-Brandon Overton [6][$2,800]; 5. 57-Zack Mitchell [5][$2,500]; 6. 18D-Daulton Wilson [7][$2,300]; 7. 79-Ross Bailes [15][$2,200]; 8. 7-Ricky Weiss [10][$2,100]; 9. 28-Dennis Erb [14][$2,050]; 10. 44-Chris Madden [13][$2,000]; 11. 42-Cla Knight [3][$1,600]; 12. 88-Trent Ivey [17][$1,400]; 13. 19R-Ryan Gustin [16][$1,200]; 14. 4-Ryan Wilson [23][$1,100]; 15. F1-Payton Freeman [8][$1,050]; 16. 1C-Kenny Collins [9][$1,000]; 17. 99B-Boom Briggs [20][$1,000]; 18. 1D-Brent Dixon [18][$1,000]; 19. B1-Brent Larson [11][$1,000]; 20. 22S-Nick Schlager [21][$1,000]; 21. 24D-Michael Brown [12][$1,000]; 22. 21-Will Harris [22][$1,000]; 23. 18E-Ethan Wilson [19][$1,000]; 24. 87-Walker Arthur [24][$1,000] Hard Charger: 4-Ryan Wilson[+9]
Qualifying -1. 57-Zack Mitchell, 15.378; 2. 1-Brandon Sheppard, 15.527; 3. 16W-Ben Watkins, 15.535; 4. 16-Tyler Bruening, 15.566; 5. 76-Brandon Overton, 15.679; 6. 42-Cla Knight, 15.751; 7. 7-Ricky Weiss, 15.761; 8. B1-Brent Larson, 15.767; 9. 1C-Kenny Collins, 15.769; 10. 18D-Daulton Wilson, 15.779; 11. F1-Payton Freeman, 15.804; 12. 24D-Michael Brown, 15.812; 13. 18E-Ethan Wilson, 15.825; 14. 88-Trent Ivey, 15.841; 15. 1D-Brent Dixon, 15.917; 16. 44-Chris Madden, 15.946; 17. 28-Dennis Erb, 15.97; 18. 79-Ross Bailes, 15.99; 19. 19R-Ryan Gustin, 15.999; 20. 99B-Boom Briggs, 16.031; 21. 87-Walker Arthur, 16.051; 22. 21-Will Harris, 16.119; 23. 4-Ryan Wilson, 16.201; 24. 22S-Nick Schlager, 16.248; 25. 22-Chris Ferguson, NT; DNS. O5-Corey Roulette, NT