RPW Column: Justin Haers' Championship Brings Lots Of Joy To Land Of Legends Community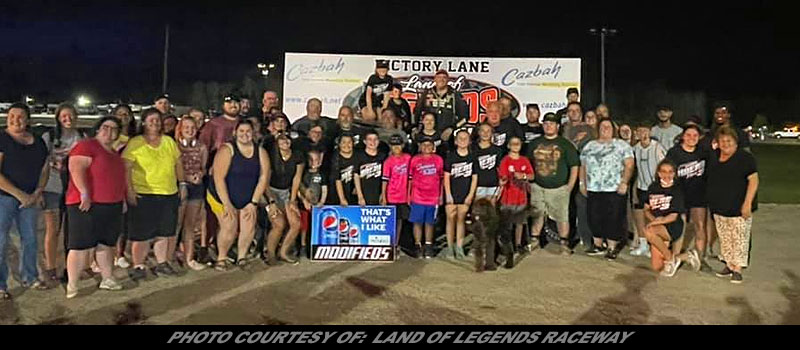 Column By: MARTY CZEKALA / RPW – CANANDAIGUA, NY – Whether you're a race fan, a driver, or a crew member at Land of Legends Raceway, you know who Justin Haers is.
The Phelps, NY native has been coming to Land of Legends since a kid in the mid-80s, winning his lone Sportsman championship in 2001. 2007 was when he scored his first Modified win. 14 years and 17 track wins later, Haers finally scored his first Modified championship at Land of Legends last Saturday night.
"My family's been involved in racing forever. The mid-80s, I've come here every Saturday night," Haers said.
His celebration included approximately 40-50 of his crew members and family, possibly the most people in victory lane in Canandaigua. The festival was different than usual. Usually, winners will go straight to victory lane once they clear the scales. Still, Haers wanted to enjoy it a little more with the fans by driving his Bicknell up to the wall to salute the fans both ways, followed by a roof dance with his children. Once he got back to his trailer, fans came by flocked to congratulate him and take photos after our 1-on-1 conversation.
"It's unbelievable. The tweets I've gotten. The support I've gotten, even from Canada and the racing family in general. I try to treat everybody really fair and be a genuine person because that's how I want to be treated. I've got a lot of friends in the racing industry. It's awesome," Haers told RPW.
Many of his fellow drivers came by to victory or the trailer to congratulate him on this moment after four brutal years of winless action, including losing his father Gerald in 2019.
"He had a very successful season. Anytime you put that many finishes together and win a championship anywhere, you're doing good, especially down here. He had a good year," Tim Fuller said, the winner of the Modified race Saturday night. Ironically, Fuller was one of the few drivers to congratulate Haers when he returned to victory lane back in June.
"I'm happy for Justin. The whole family, they're good people. We're separated by a wall, but we're neighbors. If it can't be me, Justin's definitely on the list," Peter Britten said, fellow Modified championship contender. The two are parked next to each other in the pits.
"I told him 'go out there and run your race' and whatever happens, happens. He did a good job; his car's good this year. I had no doubt that he was going to win that thing," Kevin Root explained in their conversation. "Me and Justin go way back since we were seven years old. We've always hung out together. We just talk about setups and stuff we're doing trying to get better,"
Even Sportsman driver Matt Guererri congratulated him, even while told it was time to stage for the Sportsman feature.
"They've been working hard. He's been struggling for a little while. Obviously, the family had a tough loss losing his dad, and he's a staple of that family. Seeing him get a championship like that means a lot to them guys," Guererri said. "He's been racing with my Uncle Paul before I was born."
One reaction fans wondered is what would Justin's father Gerald be thinking if he were here today?
"He'd be smiling ear to ear. It's a pretty special night. I still have his hat that he used to wear to the races. Right before the feature, I tucked it in my suit and said, 'you're riding with me in this one here, buddy.' He was my biggest supporter,"