Paul McMahan & CJB Motorsports Add More Top-10's During All Star Competition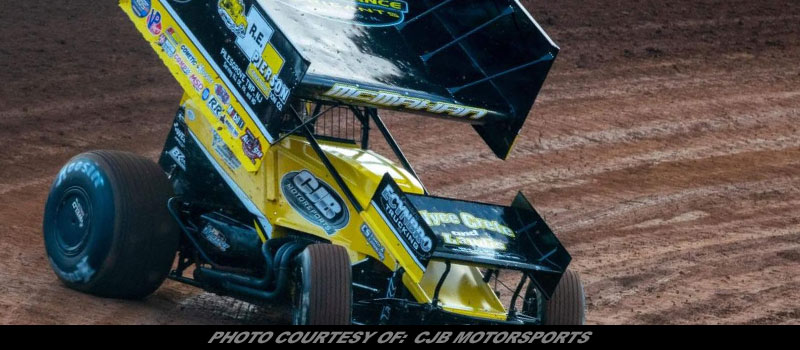 Story By: NATALIE JACKSON / CJB MOTORSPORTS – CARLISLE, PA – CJB Motorsports continued to barnstorm the mid west and added three more top-10's to their tally.
Driver Paul McMahan was in action at I-70 Speedway near Lake Odessa, Mo. on Tuesday, July 27th. McMahan timed in 12th, finished 2nd in his heat race and gaining seven spots to finish 9th in the feature.
On Thursday, July 29th, McMahan and the team was in action in Sedalia, Mo. at the Missouri State Fair Speedway. Car #5 timed in 12th, finished 2nd in the heat race and 6th in the feature.
On Friday, July 30th, a stop at 34 Raceway near West Burlington, Iowa was on tap for CJB. McMahan timed in 18th, finished 5th in his heat race and 9th in the feature.
Knoxville (Iowa) Raceway rounded out the weekend on Saturday, July 31st. McMahan timed in 4th, finished 2nd in his heat race, won the dash and finished 11th in the feature.
The RE Pierson Constructions, Nyce, Crete and Landis Block and Concrete, Ecynbro Trucking, C&S Lawn and Landscape, Marchant Cattle Co. and High Performance Lubricants #5 teams will now gear up for the granddaddy of them all, the 60th NOS Energy Drink Knoxville Nationals presented by Casey's General Stores. Buddy Kofoid will compete at the annual Capitani Classic on Sunday, August 8th. Kofoid will then return to the track for his qualifying night on Wednesday, August 11th with McMahan qualifying the following night.