Last Lap Pass Nets Anthony Perrego Albany-Saratoga Win Friday; Solidifies Point Lead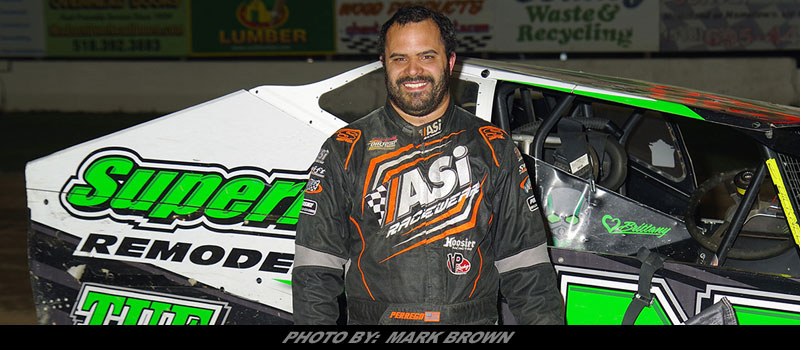 Story By: TOM BOGGIE / ALBANY-SARATOGA SPEEDWAY – MALTA, NY – Anthony Perrego only led one lap of Friday night's 35-lap feature, but that's all he needed to become the 14th different modified winner at Albany-Saratoga Speedway this season.
By chalking up his first win of the season, Perrego also solidified his point lead over Marc Johnson, who finished fourth, and defending champion Mike Mahaney, who crossed the finish line seventh. The championship will be decided on Friday, Sept. 3.
While Perrego enjoyed the thrill of victory, Neil Stratton was saddled with the agony of defeat. Stratton started on the pole and got the lead when Jack Speshock went over the bank in the second turn on a restart on lap eight.
Stratton ran a flawless race from there, and appeared on his way to his first career win, but after taking the white flag from starter Rich Peterson, Stratton slipped over the bank in turn two, at almost the same spot Speshock bobbled, allowing Perrego to get the lead and Matt DeLorenzo to grab the No. 2 position.
"I felt turn two going away," said a dejected Stratton, whose father, Hector, was the modified champion at Albany-Saratoga in 1993. "It was just going wider and wider, and when it gets like that, all it takes is an inch."
If it's any consolation, Stratton's third-place finish was his best run of the season. Johnson came from his 18th starting position to finish fourth, and Peter Britten was fifth.
Perrego started ninth in the field, primarily because a flat tire with four laps to go the previous week relegated him to a 17th place finish, his worst finishing position of the year. He was just one of many drivers who were searching for the fastest way around the slippery surface, which rubbered up during the night.
Stratton, Jessey Mueller and Speshock kept the fans entertained with some intense racing early, switching lanes back and forth, but Perrego and DeLorenzo quickly got involved.
After Ken Tremont Jr. brought out a caution on lap 14, Perrego dropped back to the bottom and took the No. 2 spot away from Mueller, who is known for his rim-riding, following the restart, and DeLorenzo then dropped down to the inside and began putting some heat on Perrego.
Perrego then went back to the top and nearly gave up the second spot to DeLorenzo, but as soon as DeLorenzo put the nose of his car past Perrego, another yellow came out, this time for Keith Flach, and Perrego held onto the No. 2 spot.
DeLorenzo used the subsequent restart to finally take second away from Perrego, but the next time around, Matt Depew brought out the sixth caution of the race and when he was forced to restart on the outside of the front row, DeLorenzo was no match for Perrego when the green came back out.
While Perrego and DeLorenzo hunted for the quickest way around the race track, Stratton began to pull away, and Perrego had his hands full trying to hold off DeLorenzo.
But then Stratton made his only mistake of the night, and Perrego got the win.
"I thought we were good on the bottom early, but then I saw that Stratton was going good on the outside, so I moved up," said Perrego. "But I was just maintaining, and he was firing good on the restarts, so I kept looking for somewhere else where I could make a move."
When asked if he spent the closing laps trying to get the win or hold off DeLorenzo, Perrego said, ""I was going for the win. I could hear Matty and knew he was getting a good run. I really wasn't sure what happened to Stratton, but I'm glad we got the win."
Scott Duell picked up his third win of the season in the 25-lap sportsman feature, holding off Tim Hartman Jr., who has already clinched the division championship.
Duell, who started seventh, went right to the top, where he loves to camp out, and only needed seven laps to get the lead from polesitter Jeff Washburn. Hartman Jr., who started 15th, was running in the top five when two late restarts allowed him to work his way into the runner-up spot, but Duell wasn't going to be denied.
Following Duell and Hartman Jr. across the finish line were Washburn, Robert Bublak and Andrew Buff.
Jason Meltz survived a late charge from 2021 track champion Chad Jeseo to record his first win of the year in the 25-lap pro stock feature, which paid $1,000 to win through sponsorship from Eastwood Detailing.
Meltz took the lead away from Jay Casey on lap 15 and beat Jeseo to the finish line by a car length. Luke Horning came away third.
Mike Baker won the Service Tire Truck Centers Dash for Cash, blocking Jeseo coming out of the fourth turn on the final lap to snag the $200 bonus.
Dylan Madsen took another step toward the Haun Welding limited sportsman championship by recording his third win of the season in the 20-lap feature. Friday night was the first time Madsen had been in victory lane since May 7.
Madsen, who started 13th, got locked into a battle with Chris Crane Jr. in the early stages of the caution-plagued feature, with Madsen moving out front for good on the sixth lap.
But he still had to contend with Chris Jakubiak, who leads the division with four wins. Jakubiak took over the No. 2 spot on the 12th lap and late cautions gave him two more shots at Madsen, but Madsen was up to the challenge, with Jakubiak settling for second. Crane finished third, followed by Zach Buff and Bryce Breault.
The limited sportsman had a special Dash for Cash sponsored by Alicia Hughes. The cash was for the six drivers who are the lowest in points, but have perfect attendance during the 2021 season. Dan Seguin walked off with the top prize of $200 and all five of the other participants – Jon Coon, Joey Miller, Scott Bennett, Brandon Jacobsen and Tommy D'Angelo – also received cash bonuses.
Adam Tranka ended a long winless streak by winning the 20-lap Lake Auto Parts street stock feature, which was the final leg of the FantaSStick 4 series with Glen Ridge Motorsports Park. Tranka got the lead on lap 12 when PJ Cram Jr., who had been out front, spun out in the fourth turn on a restart. Tranka clipped Cram's car on the way by, but didn't do enough damage to keep him out of victory lane. Dan Madigan finished second, with Jason Samrov third, Jeff Meltz fourth and Matt Mosher fifth. Unofficially, Mosher won the FantaSStick 4 Series title.
Jaxson Ryan continued to dominate the four-cylinder division, posting his eighth win of the year, finishing with a full straightaway lead over David Frame. They were followed by Damian Ward, Jon Sheppard and Robert Garney, with Sheppard having the first single-cam car across the finish line.
MODIFIEDS: ANTHONY PERREGO, Matt DeLorenzo, Neil Stratton, Marc Johnson, Peter Britten, Adam Pierson, Mike Mahaney Demetrios Drellos, Jessey Mueller, Jack Lehner, Ronnie Johnson, Bobby Hackel IV, Jack Speshock, Scott Huber, Derek Bornt, Don Ronca, John Lutes Jr., Brandon Daley, Rich Ronca, Matt Depew, Jeremy Pitts, Keith Flach, Ken Tremont Jr., James Meehan, Derrick McGrew Jr., Bob Schmidt.
SPORTSMAN: SCOTT DUELL, Tim Hartman Jr., Jeff Washburn, Robert Bublak, Andrew Buff, David Boisclair, Mike Coffey Jr., Chris Johnson, Travis Witbeck, Mike Ballestero, Darryl Nutting, Gerard LeClair, Tyler Rapp, Michael Wagner Fitzgerald, Marty Kelly III, Jim Osgood, Brandon Gibbons, Brock Pinkerous, Drew Cormie, John Stowell, Jim Nagle, Dick Bisson, Dan Grignon, Elliot Lussier, Justin Buff, Fred Proctor, Justin Barber, Nick Lussier.
PRO STOCKS: JASON MELTZ, Chad Jeseo, Jay Casey, Kim Duell, Luke Horning, Rob Yetman, Chucky Dumblewski, Brandon Emigh, Jordan Modiano, Shane Henderson, Jason Casey, Scott Towslee, Mike Baker, Dean Charbonneau, Rich Crane.
LIMITED SPORTSMAN: DYLAN MADSEN, Chris Jakubiak, Chris Crane Jr., Zach Buff, Bryce Breault, Craig Wholey, Mike Parodi, Taylor Wason, Taylor Laplante, Scott Bennett, Phil Arnold, Walter Cook, Dan Seguin, Dakota Green, Steve Burch, Chris Bisson, Shane Powell, Joey Miller, Nick Auspelmyer, Brandon Jacobsen, Dylan Grogan, Jason Manchester, Tommy D'Angelo, David Zelker, Daniel Periard, Wesley Sutliff, Mark Burch, Jon Coon, Steve Wagoner.
STREET STOCKS: ADAM TRANKA, Dan Madigan, Josh Samrov, Jeff Meltz, Matt Mosher, John Filarecki, Mike Arnold, Al Relyea, Jason Samrov, Chris Stalker, PJ Cram Jr., Dana Van Veghten, Jeff Shippee, Josh Hemming, Harold Chadderton, Slater Baker.
FOUR-CYLINDERS: JAXSON RYAN, David Frame, Damian Ward, Jon Sheppard, Robert Garney, Chris Duffney Jr., Jason Mason, Chyanne Garney, David Peek Britten.