Zach Payne Goes Back-To-Back In Sportsman Action At Weedsport; Wins Sunday Night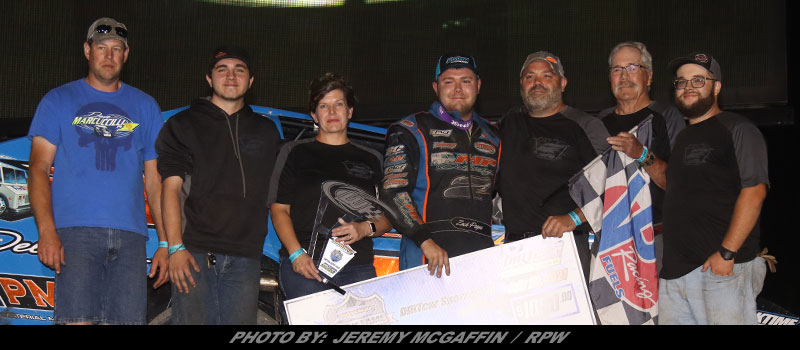 Information By: WEEDSPORT SPEEDWAY – WEEDSPORT, NY – In the Sportsman competition feature to the Super DIRTcar Series event Sunday night at Weedsport Speedway, Zach Payne recorded the win with a 1.8-second victory over Alan Fink.
Payne backed up his Sportsman Classic 75 win with a victory in the 25-lap main event.
Mike Fowler was third followed by Alex Payne and Dalton Rombough.
In undercard action, vintage modifieds took on The Port in celebration of Hall of Fame weekend. Winners were Steven Denton in Sportsman with an '89 Olsen, Ron Whiltse in Mesquite with a '79 Brightbill. Jack Miller in Modifieds with a 1973 replica, John Rose in Late Models with a 40-year-old machine, and Jeff Mitchell in Antiques with a 1980s Scout Frame.
Sportsman (25 Laps) – 7z Zach Payne, 2. 8 Alan Fink (1.854s), 3. 410 Mike Fowler (2.813s), 4. 70a Alex Payne (3.690s), 5. 41 Dalton Rombough (4.733s), 6. 34 Tyler Murray (5.001s), 7. 38 Zach Sobotka (5.329s), 8. 111s Brett Senek (6.963s), 9. 42 Darryl Nutting (8.308s), 10. 10 Steven Marshall (9.726s), 11. 32 Max Hill (10.115s), 12. 11 Ben Wheeler (10.306s), 13. 14A AJ Miller (10.863s), 14. 18e Gavin Eisele (11.414s), 15. 5d Kyle Devendorf (12.293s), 16. 4 Emmett Waldron (13.521s), 17. 51T Rich Townsend (13.962s), 18. 28F Jeff Stevenson (14.429s), 19. 6 Cody Manitta (14.933s), 20. 21 Ryan Barrett (15.637s), 21. 74 Kelly Smith (17.252s), 22. 16x Savannah Leflair (19.075s), 23. 25g Nick Guererri (DNS), 24. 12g Matt Guererri (DNS), 25. 10g Austin Germinio (DNS), 26. 51 Tim Lafler (DNS)
Heat Winners: 410 Fowler, 8 Fink, 7z Zach Payne
Fastest Lap: 7z Zach Payne 17.557s