Ryan Watt Wins Deron Rust Memorial At Georgetown Speedway Over Stangle & Horton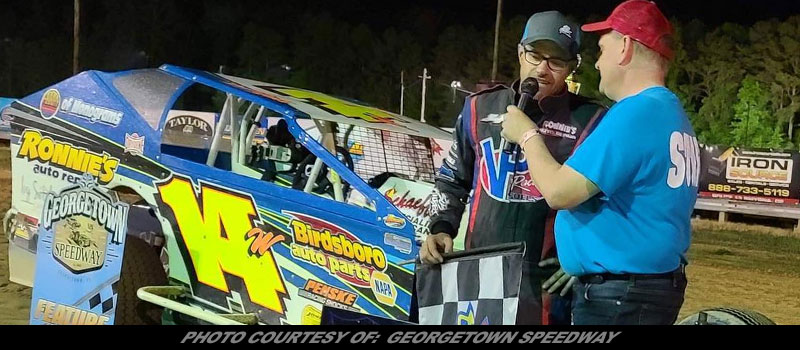 Story By: BRETT DEYO / GEORGETOWN SPEEDWAY – GEORGETOWN, DE – This one was for Deron.
On Friday night, Ryan Watt picked up the Chesapeake Paving Modified feature victory at Georgetown Speedway in dominant fashion. After dominating the 33-lap event, Watt fondly recalled former speedway promoter and racer Deron Rust for whom the event is run annually.
Rust passed away well before his time in 2013 but left behind a legacy and a family, including his wife Tammy, who are very much part of the speedway's operations.
"Deron was a great guy," offered Watt in Victory Lane. "We raced with him when we came down here to Georgetown and Delmar at the year-end Champ show. He did what he could to keep this place going during some hard times.
"It's an honor to win this race for him."
Watt's big-block-powered No. 14W fielded by Ron Roberts was the class of the field. The Boyertown, Pa., driver earned $3,960 from the posted purse and an extra $100 bonus posted by race fan "Lope" in Rust's memory.
While Watt never received a serious challenge during the event, it wasn't a simple green-to-checkered romp from inside the cockpit.
"We had trouble with the battery," he said. "I was having a hard time getting going on restarts. I definitely didn't want to see all those cautions. It seemed like I had a hard time getting going, then after a few laps it would straighten out."
Matt Stangle, driving the Daniel Sommeling-owned No. 51 for the second consecutive Georgetown event, chased Watt from lap eight through the finish.
After a left-front flat tire on lap seven, New Jersey veteran Jimmy Horton recovered to finish third, rim-riding the outside lane of turns one and two throughout the distance. Delaware's Ryan Riddle advanced from ninth to finish fourth and John Willman of Birdsboro, Pa., finished fifth, receiving the $250 bonus as the first PA/NJ Spec Small-Block from Stockley Tavern.
Ad-Art Sign Company $50 heat victories went to Horton and Dom Buffalino.
Starting 16th on the grid was no deterrent to Laurel, Del.'s Adam White in the 20-lap Blue Hen Dispose-All Crate 602 Sportsman main. White received $1,396 for his dramatic outside lane charge through traffic.
Fresh off his high school graduation on Thursday night, Georgetown's own Sean Metz launched off the front row and paced the first 10 laps of the event before White swept to the topside and took over a lead he would not relinquish.
Joe Toth, driving Andy Belmont's No. 14, took second on lap 11 and chased White across the line. Metz settled for third, followed by Greg Humlhanz and Brad Trice.
The Southern Delaware Vintage Stock Car Club had a pair of 12-lap feature events. Jamie Eicholz dominated the 12-lap Vintage Modified main, while Todd Miller topped the Vintage Sportsman 12-lap main.
A competitive 12-lap Little Lincoln feature went to Todd Sammons, who fended off the relentless late-race charges by Melvin Joseph Jr.
Ryan Efford topped the 12-lap Delaware Super Truck main after an intense five-car battle through the race's first half.
Joe Waters dominated the 12-lap Delmarva Charger feature. Waters had such a massive lead that he was able to coast across the line after expiring an engine on the final lap.
FIRST STATE FINDINGS: Three envelopes were provided by the Rust family for the drivers finishing third, sixth and ninth. The envelopes were filled with $100, $75 and $50 and drivers picked randomly. Ninth-place Blaine Bracelin received the $100, Horton the $75 and Norman Short $50….
A 10th-place $100 bonus posted by the Harry Dutton Grandstand went to Trent Willey….
Dominick Buffalino walked away from a violent series of flips on the opening lap of the Modified main event that sent the Keystone Racing No. 126 into a series of pirouettes….
Day-long mist and cloud cover parted in time for a beautiful evening to race on Delmarva….
Racing resumes at Georgetown Speedway on Friday, July 23 with the Rapid Tire USAC East Coast Sprint Cars, Chesapeake Paving Modifieds, First State Chevrolet RUSH Late Models, Southern Delaware Vintage Stock Cars, Little Lincolns, Delaware Super Trucks and Delmarva Chargers.
DERON RUST MEMORIAL RESULTS SUMMARY – GEORGETOWN SPEEDWAY JUNE 4, 2021
Chesapeake Paving Modified Feature Finish (33 laps): RYAN WATT, Matt Stangle, Jimmy Horton, Ryan Riddle, John Willman, Norman Short Jr., Bruce Hooper, Tom Moore Jr., Blaine Bracelin, H.J. Bunting, Carson Wright, Kevin Sockriter, Joseph Watson, Jordan Watson, Richie Pratt Jr., Austin Hubbard, Tom Solderich, Dominick Buffalino, W.B. James.
Did Not Start: James Hill
Ad-Art Sign Company Heat Winners ($50 Each): Jimmy Horton & Dominick Buffalino
"Lope" Winner's Bonus ($100): Ryan Watt
Rust Family Bonuses: Jimmy Horton (third – $75), Norman Short (sixth – $50) & Blaine Bracelin (ninth – $100)
Stockley Tavern Spec Small-Block Bonus ($250): John Willman (fifth)
Blue Hen Dispose-All Crate 602 Sportsman Feature Finish (20 laps): ADAM WHITE, Joe Toth, Sean Metz, Greg Humlhanz, Brad Trice, Ryan Simmons, Wayne Weaver , Bobby Bracall, Anthony Tramontana, Trent Willey, Scott Hitchens, John Stevenson, Greg Reed, Mike White, Logan Watt, Josh Bricker, Jeff Marker, Richie Walls Jr., Tracy Gauger, William Adams, Andy Hammond, David Jenkins
Did Not Start: Zac Weller & Dayton Strohl
Ad-Art Sign Company Heat Winners ($50 Each): Andy Hammond, Mike White & Brad Trice
Harry Dutton Grandstand Bonus ($100): Trent Willey (10th)
Southern Delaware Vintage Modified Feature Finish (12 laps): JAMIE EICHOLZ, Harold Sylvester, Roscoe Clough, D.J. Cameron, Josh Smith, C.J. Schirmer, Robert Paczkowski, Art Workman, Brayden Ritter
Did Not Start: Thomas Hughes
Southern Delaware Vintage Sportsman Feature Finish (12 laps): TODD MILLER, Chris Killen, Don Davidson, David Tucker II, Terry Chaney, Dave Schamp, Robert Blann, Maddy Jefferson, L.J. Walbert.
Little Lincoln Feature Finish (12 laps): TODD SAMMONS, Mel Joseph Jr., Dylan Betts, Sean Smith, Eric Reed, Jordan Herbert, Bunky White, Bryan Piercy, M.J. White, Wayne Seaton, John Wothers, Kirk Lawson.
Delaware Super Truck Feature Finish (12 laps): RYAN EFFORD, Andrew Nelson, Zack Phillips, Dick Beauchamp, Traci Martin, Trent Marine, Thomas "Action" Jackson, Adam Smart, David Smith, Bill Dean, Shane Clogg, Mattie Long, Scott Trice.
Delmarva Charger Feature Finish (12 laps): JOE WATERS, Ashley Merritt, Chris Carroll, Jonathan Pitcher, Randy Merritt, Geoff Carey, Watt Cummings, Sean Martinez, Paul Gary, Kevin Taylor, Jay Lowman.