Orange County Fair Speedway Crowns Erika Bucksbee Ms. OCFS 2021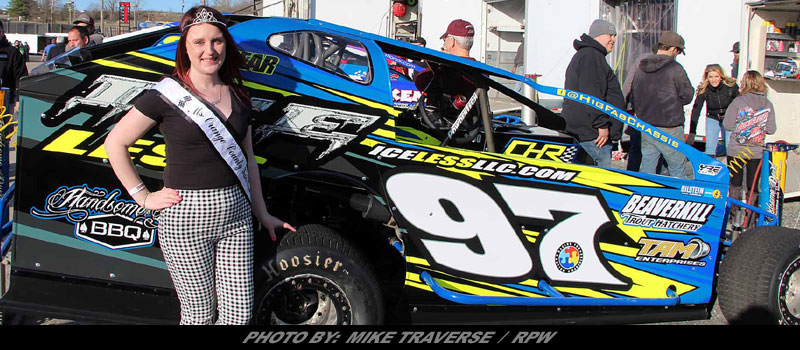 Story By: CHRISTINA CONTENTO – MIDDLETOWN, NY – The Orange County Fair Speedway had it's season opener on Saturday, April 3rd with the Orange County Oval Kickoff 40.
After a season with racing without fans in the grandstands, a limited capacity grandstand crowd and the drive in section welcomed fans back for the 2021 season.
In addition to some great racing, fans in attendance were treated to the first appearance of Ms. OCFS 2021, Erika Bucksbee.
During the 2020 racing season, both the OCFS Car Show and the Ms. OCFS pageant were cancelled. Unfortunately, 2021 also resulted in the cancellation of the show and the pageant. Both the show and pageant for 2021 went virtual and took place on social media and the track's website.
The 2021 Ms. OCFS pageant consisted of 4 round of competition that were scored by a panel of judges. The 9 contestants needed to submit a photo, video biography, video of motorsports wear that would be worn to races and a video of dressy attire that would be worn in Victory lane as a trophy girl.
After a month long competition, Erika was crowned Ms. OCFS 2021. Erika was a standout among the 9 competitors and will be representing OCFS for the 2021 season.
Erika resides in Otisville with her husband, a 4 year daughter and a son who is 1 1/2. She has been attending the races at OCFS since she was 7 years old. She began watching in the bleachers with her mother while her father was working on the crew of the Ferrier Racing Team.
When she turned 13 years old, her parents deemed her old enough to work in the pits with the crew. She began doing lineups and the order of events. Erika kept the crew organized, ensuring that they were ready to go out on time for their heat races. Her most memorable moment, outside of being crowned Ms. OCFS 2021, was when she was Ms. Accord. When the drivers she crewed with, Scott and Kenny Ferrier, won their races and she was able to make appearances with them in Victory Lane.
Erika has been competing in motorsports pageants since she was 16 years old. She takes pride in pageant competitions which is demonstrated in her preparation for them. Not only is she well versed in motorsports, but she ensures that her appearance is meticulous by carefully selecting her outfits, having her makeup done and practicing her poses.
Her first pageant was at OCFS for the Ms. Middletown Motorsports. Since then, she has competed several times in the Area Auto Racing News Ms. Motorsports pageant. In 2017, she placed 2nd runner up in the Ms. OCFS pageant and 1st runner up in 2018. She was also Ms. Congeniality that year. In 2019, Erika was in hiatus as she was pregnant with her son, but was then scheduled to compete for Ms. Speed Sport in 2020 which was cancelled due to Covid..
Erika decided to compete for Ms. OCFS 2021 bring a positive attitude stating, "I've have gotten a 3rd and a 2nd and you can only go up from there. It's been a goal and dream of mine to do this, sooner or later I was bound and determined I was going to get it." With much determination, dedication and passion, Erika was proudly crowned Ms. OCFS 2021.
For the 2021 race season, Erica will be working on the crew for Brad Rothaupt and as well for the Ferrier's who she has been with for so long. She will continue to do the lineups as well as making sure that the crew is taken care of, staying hydrated, helmets are cleaned and so forth. She states, "I'm their crew girl. I've been with them forever."
Erika is very excited that OCFS will be having fans back in the grandstands this season after being closed for all of 2020. It was heartbreaking for her to see everything so empty. Erika explained that the fans are the heart and soul of the races. She stated, "Without you fans, we don't have a sport."
Erika is also looking for ward to seeing the invading drivers who will be making appearances at OCFS including such drivers as Mat Williamson and Peter Britten who will be taking on the hometown favorites such as Anthony Perrego.
Under her reign as Ms. OCFS 2021, Erika plans on distinguishing herself as a good role model both to young ladies that are interested in competing in the pageant as well as the little girls who want to emulate her. She is looking to implement activities and events that would center around her passion which is working with children. Erika is hoping that the Kids Club will be reinstated at OCFS and she would like to be involved with that.
Erika would like to see as many of the race fans that can attend the races in person during the 2021 season. "If you love racing as much as I do, come see me," she said. "Get your tickets and come say hi, I will be there every weekend."
Erika would like to thank the sponsors for all their donations towards the pageant. This includes D'Andrea'a Jewelers, RB Artistry, Creative Nail Salon owned by Ms. OCFS 2017 Amy Congleton, Carol Nowak, who is a mother and grandmother of former Ms. OCFS title holders, Lauren White who was Ms. OCFS 2019, Gabrielle Gallo who was Little Ms. OCFS in 2014, Ladies of Mototsports Magazine owned by Rachelle Molyneaux, and myself who was Ms. OCFS 2018.
Thank you to the judges who scored the 4 round of competition which included Jake Meier and Doug Dulgarian of the OCFS staff, Andrea Randolph owner of D'Andrea's Jewelers and myself.
The Orange County Fair Speedway is thrilled to have Erika represent the track as Ms. OCFS 2021. She has a strong history with the track, bring much passion, excitement and knowledge of motorsports.