Short Track Super Series Cajun Region Competitor Meeting Postponed To February 27th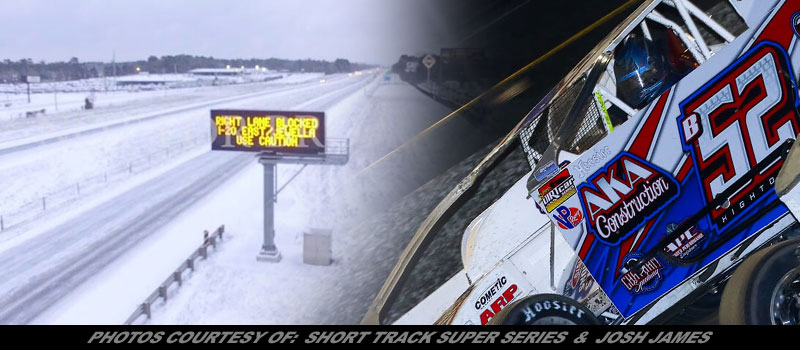 Story By: BRETT DEYO / SHORT TRACK SUPER SERIES – SHREVEPORT, LA – A widespread deep freeze across Louisiana and Texas including iced-over roads and mass power outages, with more freezing precipitation expected, has led to the postponement of the Short Track Super Series 'Cajun Region' Competitor Meeting.
The gathering had been planned for this Saturday (Feb. 20) but has been postponed by seven days until Feb. 27 due to the extreme weather conditions.
The Competitor Meeting will take place Feb. 27 at Shane's Seafood & BBQ Mansfield Road Location in Shreveport, La., starting at noon. The meeting is open to all current and potential STSS Modified 'Cajun Region' competitors and speedway promoters in the area with interest in the series.
The meeting will be led by STSS organizer Brett Deyo and STSS Cajun Region series directors Chris and Tim Bates providing an overview of the 2021 schedule which is in its final stages, race procedures, rules and answering questions.
"Chris and Tim (Bates) saw the interest in new teams wanting to get involved in the series," Deyo said. "They felt a meeting would help answer a lot of questions and I agree 100-percent. We are seeing substantial growth and face-to-face conversations will help continue the positive momentum."
The Cajun Region kicks off on Saturday, March 27 at Jerry Hobson's Chatham (La.) Speedway.
Day Motorsports of Tyler, Texas has been named the official Cajun Region American Racer tire distributor and will provide a point fund for the series' first season.
Competitors can purchase '21 STSS Cajun Region memberships during the meeting.  Shane's Seafood & BBQ Mansfield Road is located at 9176 Mansfield Road Shreveport, LA 71118.