CJB Motorsports' Set For '21; Brent Marks Chasing All Star Crown; Paul McMahan Will Be "True Outlaw"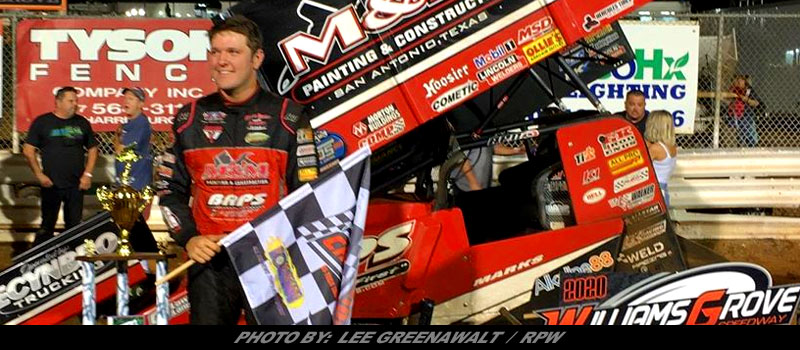 Story By: NATALIE JACKSON / CJB MOTORSPORTS – CARLISLE, PA – After one of the most unique years in memory, CJB Motorsports is proud to announce that it will field a two car effort for the majority of the 2021 campaign.
Returning for a second season behind the #5 machine will be Pennsylvania driver Brent Marks. Joining him in the CJB ranks will be former team driver Paul McMahan of Tennessee. The pairing was featured at the final event World of Outlaws NOS Energy Drink Sprint Car Series event of the 2020 season. For the new year, Marks will chase the Ollies Bargain Outlets All Star Circuit of Champions title, in addition to hitting other major shows.
"I'm really excited to chase after an All Star title with the CJB team," said Marks, pilot of the #5 M&M Painting and Construction, BAPS Paints, Fredericksburg Eagle Hotel, R.E. Pierson Construction Co., Wolfrun Landscapes, Nyce, Crete & Landis Block and Concrete, C&S Lawn and Landscape, Ecynbro Trucking machine. "We have a really exciting schedule for 2021 and adding that into the mix makes it even more exciting. Things are really taking shape in the shop and the guys have been hard at work preparing for this season. I'm just looking forward to this year. We're excited about what we are doing this season and I want to thank Chad and this team for giving me the opportunity."
Marks took home four victories in his inaugural season with CJB, including a victory in the Governors Reign event at Eldora Speedway.
McMahan returns to the CJB stable after a highly successful run from 2013 thru 2015. The veteran driver, wheeling a RE Pierson Construction backed #23 machine in 2021, racked up numerous wins and scored a pair of top-three finishes in the final World of Outlaws NOS Energy Drink Sprint Car Series standings.
"Just really looking forward to being back at CJB Motorsports again and working with Barry," McMahan said. "Chad (Clemens) and Barry (Jackson) have always been like family to me, even after we split back in 2015. Want to be a good teammate to Brent, as well. I think we will really help each other out at the track when we race together. The schedule we put together was something Barry and I worked on so we weren't locked down to a series schedule. We'll run where it makes sense and hit the big money shows."
Team owner Chad Clemens is equally optimistic about the teams prospects for 2021.
"Glad to have both Brent and Paul back in our stable," Clemens said. "Barry believes in both of these guys and our cars had great speed near the end of last year. We're very lucky that sprint car racing is alive and well in many parts of the country and it is affording us the opportunity to put together these types of schedules. We look to add to our win count and chase those big money races and a championship. Hopefully 2021 is more of a return to normal and we can stay racing consistently."