After A Consistent 2020, Richard Smith Looking Forward To New Racing Season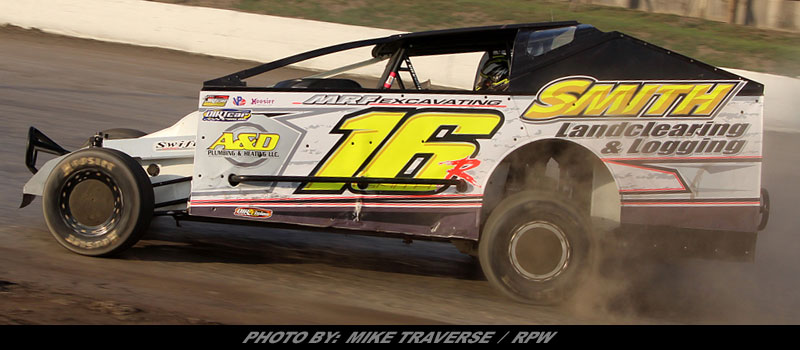 Story By: JORDAN SHEEHAN / RICHARD SMITH RACING – ACCORD, NY – The year 2020 has come to an end and the year of unexpectancies is over. As 2020 began, Richard Smith was set to embark on two full point seasons at both Accord and Orange County. However, the worldwide pandemic of Covid-19 would change the game plan for Smith.
Accord was never able to get their season going and hosted a few practice sessions. Orange County raced several times, but the already limited Small Block season only saw the division compete two times before the track cancelled the remaining point races. With Accord not racing, Smith decided to call Penn Can Speedway home for 2020.
"Consistent," is how Richard described the 2020 season. Smith competed in every event except one at Penn Can and ended up finishing in the top 10 in points.
"We consistently ran well in 2020. I was able to finish 7th in points at Penn Can. I skipped one night and some issues on another night. I'm happy with the 7th," Smith said. "I think if I had made all the shows, I could have ended up in the top five in points. My worst finish was an 11th and to me, that's very good. Every race we raced in, we raced well. We had some not so good things happen, but even then, it wasn't as bad as it could have been."
Although the season was not what Richard or anyone had hoped for, it opened up the door for opportunities. The plan headed into 2020 was to compete at Super Dirt Week. But with the pandemic, OktoberFast was developed and Richard competed for the first time at Can-Am and Fulton Speedway.
"It wasn't what I wanted, but the car came home in one piece and I got to race at tracks I've only seen in videos."
After OktoberFast was completed, Richard would wrap up his season with the annual Eastern States Weekend. He competed in both the Big Block and Small Block divisions for the weekend doing what he thought was unthinkable for him. Smith successfully qualified for both the 75 lap Small Block Championship and the Eastern States 200.
Richard went into 2020 with a new car that he had acquired at the beginning of the season. He had to learn what to do with this car. Unfortunately, the Covid-19 situation, he didn't many chances to even get it on the track.
During the Eastern States Weekend. the speedway allowed Small Blocks the ability to compete for a shot at the Big Block 200. Smith took that chance. The goal for the weekend was to just make it into the Small Block race. The entry for the Big Blocks was designed to get track time to help benefit getting the car into the Small Block show.
When time trials took center stage, Richard posted a faster time in the Big Blocks than in the Small Blocks which put him in position to qualify for both the 200 and the 75. And that is exactly what Smith did. He would go out and qualify for both shows in the heat races and put an exclamation point on his 2020 season.
"Qualifying for the Small Block race was important. But to go out and qualify for both races felt like I had just won a feature," Smith said. "I was literally almost crying in excitement. Eastern States was a great time overall with my family and friends. I accomplished something that some racers only dream of and that's make it into both races."
But it wasn't that easy for Smith as he had struggled at OCFS before ESW.
"I struggled at OCFS during the regular season," Richard said. "However, I got hooked up with Dale and Brandon Planck from Dig Race Products and I think they turned my whole program around. Their support is the best around. I'm looking forward to this season with their support."
The 2021 season is already looking to be an interesting one to say the least. With Covid-19 coming on strong again within the country, it's safe to say that we don't know just yet who and what will be racing and where. However, schedules have surfaced and plans still remain the same with Richard and the team.
"I will certainly be back for the Small Block shows at OCFS. My Friday night plans are completely undecided as of now. It's a tossup between Accord and Penn Can. I really enjoyed racing at Penn Can and their 2021 payout structure is phenomenal."
Richard is very grateful to his sponsors in 2020 which were Metal Roofing, Richard Smith Logging and Landclearing, Tri State Hardwoods, A & D Plumbing & Heating, County Lawnscapes, MRF Excavation and Jimmy Ceccoli.
"Thank you to all my sponsors in 2020 for helping me get out on the road. It was great to have everyone come together and enjoy racing during a very difficult time," Smith said. "Hopefully, everyone sticks around and we can have better results in 2021. The car will have a completely different look than what I'm acquainted to and with this switch up, I hope luck comes with it."