Happy Thanksgiving Everyone!  As you're reading this, all of us at Race Pro Weekly want to wish you and yours the happiest of Thanksgivings and hope you're all staying safe.
To say that 2020 has been a trying year would be an understatement.  That being said, there's still plenty we need to be thankful for…especially in the racing world.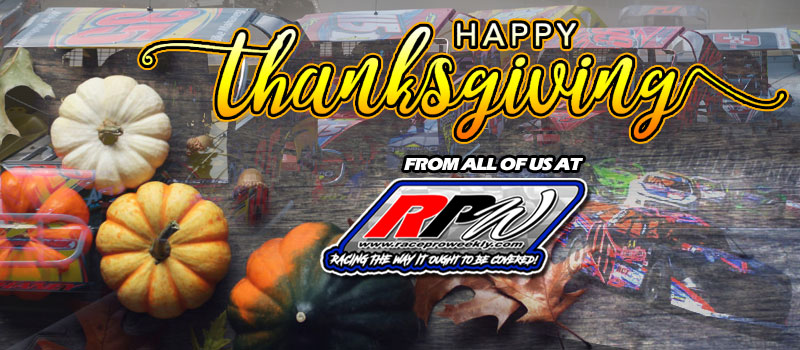 Here's what some of our staff members are thankful for this year…
Mike Traverse: Staff Columnist & Photographer
I'm thankful for my "racing" family.  I have so many that have been incredible to me and my family.

I'm thankful to the great folks at my home tracks, the Orange County Fair Speedway and Accord Speedway, for the courtesy and kindness they have shown to my sons and myself.
Mike Warren: Staff Columnist
I'm thankful for the chance to keep announcing in a year where many of us weren't sure if that was going to happen.

I'm also thankful I had the opportunity to get to two tracks I've never been to this year.  I loved visiting Can-Am and Weedsport during DIRTcar's OktoberFAST.
John Meloling: Staff Photographer
I'm thankful for the tracks that ran in New York State in 2020.  I'm also extremely thankful for all the racing friends and fellow photographers that make every race an adventure.
Toby LaGrange: Staff Columnist
I am thankful for the tracks, teams and sponsors that allowed the 2020 season to happen.  I'm also thankful for the Pay-Per-View streams that allowed fans and those who could not be at the events in person to see them.

On a personal note, I'm thankful that I was able to get in at least a half season of announcing in 2020 between Caroga Creek Racepark and Royal Mountain.
Lucas Ballard: Staff Columnist & Photographer
I am more than thankful I had the opportunity to compete in my rookie year of racing this season.  I was a dream to do so but also take photos and write for Race Pro Weekly.

With such uncertainty during the 2020 racing season, I'm eternally grateful for all of the owners, promoters, track officials, and my fellow Race Pro Weekly staff for making the best we could from this racing season.

Here's to '21.
Brett Horlacher: Staff Columnist
I am thankful for the racers, crews, and promoters that went the extra mile in 2020.  They all did whatever they could to put on some of the best shows of racing in the country.

Also, I'm thankful for the fans that endured the pain of not being able to attend events in person…yet who dutifully purchased online formats to watch from home.  You guys helped keep tracks in business.

Annmarie Van Allen: Staff Columnist
I'm thankful for the track owners / promoters / staff that were able to keep racing alive this year…even with all the restrictions!

On a personal level, I'm thankful for the experiences and people I've met along the way at each and every dirt track.
Bobby Chalmers: Editor-In-Chief
Year 2020 has been one of uncertainty, confusion, disappointment.  Yet, there has still been a great amount of change, optimism and hope.

I'm forever grateful for the health and safety of my family and friends during this pandemic.  That was never in question.  However, when it comes to this sport, since March, I'm thankful there was even a single racecar that was able turned a lap on track.

In New York, many wondered if that would even happen.  I'm glad to say, not only did it happen, I was one of the lucky drivers who had the chance to do so (thanks to my car owner, Alan Catlin, for the opportunity) at Lebanon Valley.  Even after nearly over 20 year away from the seat, the adrenaline still flowed like the first time I strapped in.

I got to see racing from every point of view this year.  I saw it from the driver's seat, the parts supplier truck, the press box and even a fan from my couch through the information superspeedway.  I got to see just how tracks and series officials worked diligently to create events and races for teams to compete in…all the while doing everything they could to make them go off without a hitch.

I'm thankful for every single person in this sport, especially the entire RPW family.  They are the best in the business.  Also, without the drivers, the teams, the promoters, the sponsors, the media and, especially, the fans, who supported in person and virtually, I truly wonder if, on this Thanksgiving Day, we'd still have a sport to enjoy.

Here's hoping the future looks bright for all of us.