RPW Column By: MARTY KELLY III / RPW – TROY, NY – Kevin Groff came back to racing in 2020 as a driver.
His maiden voyage behind the wheel was back the late 80's.  However, he hadn't turned a competitive lap in a car since 1988.
Groff campaigned in the Limited Sportsman division this year at both Albany-Saratoga Speedway on Friday nights and Devil's Bowl Speedway on Sunday's.  Groff finished fifth in points at the Malta, NY oval and seventh at the Bowl.
Now, many may not know "driver" Kevin Groff.  He is probably better known as "crew chief" or "car owner" Kevin Groff.  However, in 2020 Kevin flipped the script and took advantage of his son Kale's year off from racing to climb behind the wheel of his team's blue #1 car.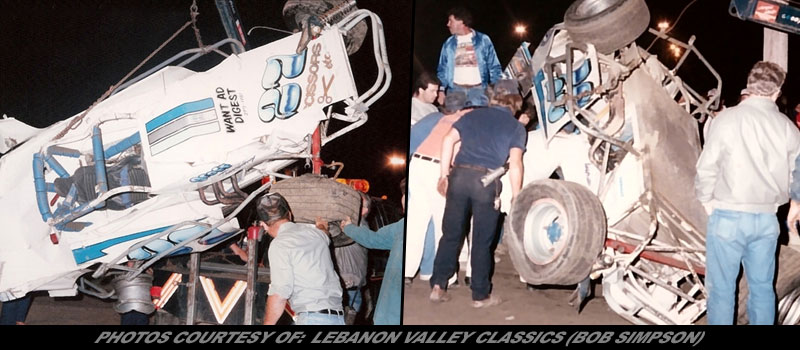 The Troy, NY driver started driving in 1987, racing nine times.  His year ended with a broken arm after a bad rollover down the Lebanon Valley backstretch.  Groff came back in 1988 and drove a car sponsored by Wheels Discount Auto Supply in the Sportsman division.  He was a teammate to Billy Decker's Wheels Modified, and Brett Hearn's Wheels NASCAR Busch Series (Now NASCAR Xfinity Series) car.
This year, in his first race back in the seat, Groff came away with a 10th place run at Devil's Bowl.  Not too bad, indeed.
"I had been out of the seat for 32 years," Groff said.  "Kale has a lot going on in his life.  I decided to jump behind the wheel myself.  I just had a ball."
Since his time away from the seat in '88, Groff has enjoyed fortune in racing.  He was the crew chief in 2016 for Albany Saratoga Speedway Modified Champion Marc Johnson and has had success in racing with a plethora of drivers as a car owner and mechanic.  His most recent drivers include his son, Kale, and Paolo Pascarella.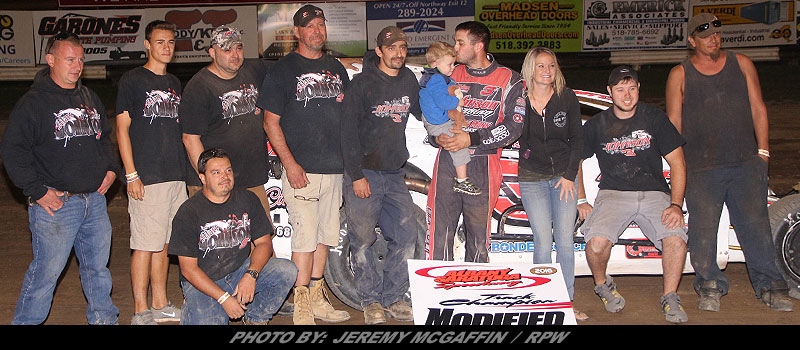 "I've been able to have some good luck with drivers like KC Goewey, Jeff Trombley and Donnie Ackner," he reflected. "I've been very lucky."
When asked what the biggest changes were that he saw in Modified racing, Groff was quick to mention the suspension of the cars through the years.
"I've been around cars with Watt's Links and even the single right-front radius rods Troyers," he said.  "There's also been noticeable differences and improvements in brakes and shocks through the years as well."
Groff motored through the 2020 season, which started in June for most Capital Region New York tracks due to the Coronavirus.  It all paid off, however, when he finally scored a win at Albany-Saratoga on September 4th.
"Winning a race this year was a bonus and very emotional," he said.  "I pointed to the sky as I exited the car in Victory Lane, remembering all the people that had passed away who were a big part of my racing career.  That win was for them."
The goal this season for Groff was to finish top-10 in points at both tracks he ran.  He did that and gave a lot of the credit to his crew and sponsors.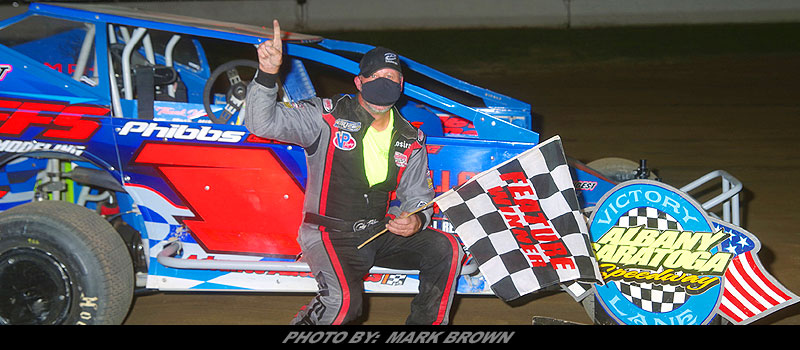 I really have to thank my team and all of my sponsors," he said.  "Kyle Groff, Mike Burdo, Val Burdo, Allen Middleton, Rollie, Phibbs General Contracting, Phibbs Lawncare, Want-Ad Digest, 79 Design, Advance Auto Parts, New Day Motors, Shawn Duffy, Mullally Brothers Refrigeration, Donath 602 Engines, CWG Excavating and Rainbow Cleaners."
What does 2021 have in store for the Groff team?  Initially, Kevin mentioned back in June that he would like to continue racing in 2021.
"The future of KG Racing will continue next season," he said recently.  "I just won't be behind the wheel.  My son Kale will be piloting the #1 next season."